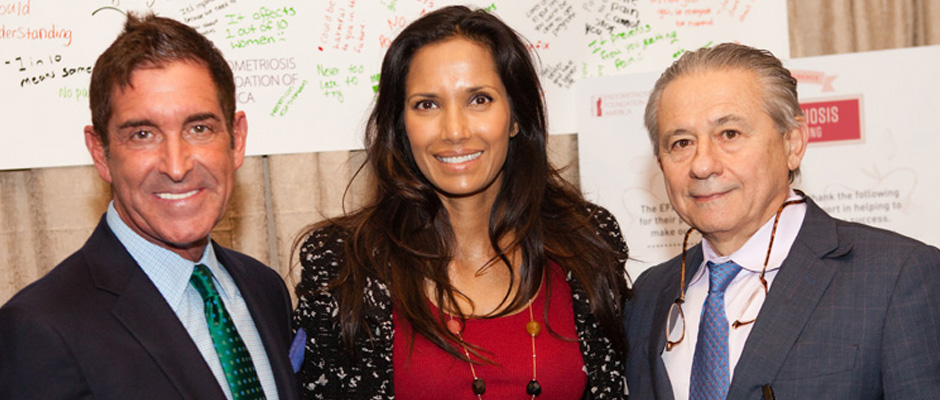 Grant Supports the Endometriosis Foundation of America's ENPOWR Project
APRIL 15, 2015, NEW YORK, NEW YORK -- New York State Senator Jeffrey Klein (D-Bronx/Westchester), together with Padma Lakshmi and Dr. Tamer Seckin, Co-Founders of the Endometriosis Foundation of America (Endofound), today announced $200,000 in state funding for Endofound to expand its ENPOWR (Endometriosis Nation Promoting Outreach and Wide Recognition) Project that strives to educate adolescents in New York State about endometriosis. A public health crisis, endometriosis affects 1 in 10 women of childbearing age and as many as 176 million women and adolescent girls worldwide.
"When I first launched the New York State Teen Health Awareness Campaign two years ago, I made a commitment to address today's most pressing teen health and wellness issues head-on. Endometriosis is a debilitating, painful disease that affects millions of women and sadly, all too often, goes undiagnosed during adolescence," said Senator Jeff Klein. "Today, I am proud to announce I have secured an additional $200,000 in state funding for Endofound and I look forward to continuing to work with Padma, Dr. Tamer Seckin, the medical community, patients and advocates to combat this harrowing disease and help those in need."
"This funding is transformational for Endofound and has truly given us the ability to change the lives of young women. Through three grants now totaling $650,000, Senator Klein has shown Endofound and The ENPOWR Project unparalleled support. This program is essential for early identification and intervention of endometriosis, and without the state's endorsement, it might not be possible," said Padma Lakshmi, co-founder of Endofound with Dr. Tamer Seckin.
Endofound was founded in 2013 and is funded primarily by New York State as part of the New York State Teen Health Awareness Campaign. The ENPOWR Project strives to educate adolescents about endometriosis and promote early intervention. So far, The ENPOWR Project has reached 6,500 adolescents throughout NYC, Long Island, Albany, Westchester, Syracuse, and Rochester.
"With this continued funding for the 2015-2016 school year, ENPOWR will be able to expand its push into additional New York State catchment areas, bringing this critical public health education to thousands of deserving adolescents," said Theresa Davidson, Managing Director of Endofound.
Endometriosis is one of the top three causes of female infertility and hysterectomy, often goes undiagnosed, and leaves millions of women in sick, debilitating pain. Each year, endometriosis costs the U.S. in excess of $110 billion. To learn more about endometriosis and the ENPOWR Project visit endofound.org or call 212-988-4160.
# # #
Available for interviews:
Dr. Tamer Seckin & Padma Lakshmi, co- founders of Endofound
Theresa Davidson, MPH, MEd, Managing Director, Endofound
New York State Senator Jeffrey Klein, (D-Bronx/Westchester)
Endometriosis is a disease in which tissue similar to the lining inside the uterus (called the endometrium) is found outside the uterus, where it induces a chronic inflammatory reaction that may result in scar tissue. The symptoms of endometriosis include painful periods, painful ovulation, pain during or after sexual intercourse, abnormal bleeding, chronic pelvic pain, fatigue, and infertility, and can impact general physical, mental, and social well-being. A general lack of awareness combined with a "normalization" of symptoms results in a significant delay from when a woman first experiences symptoms until she eventually is diagnosed and treated.
The Endometriosis Foundation of America (Endofound) was founded by Tamer Seckin, MD and Padma Lakshmi in 2009 and strives to increase disease recognition, provide advocacy, facilitate expert surgical training, and fund landmark endometriosis research. Engaged in a robust campaign to inform both the medical community and the public, Endofound places particular emphasis on the critical importance of early diagnosis and effective intervention, while simultaneously providing education to the next generation of medical professionals and their patients. For more information visit endofound.org.
Media Contacts:
Endofound - Find us on Twitter, Facebook
KLEIN
Abbey Fashouer | 518-429-5102 | afashouer@gmail.com