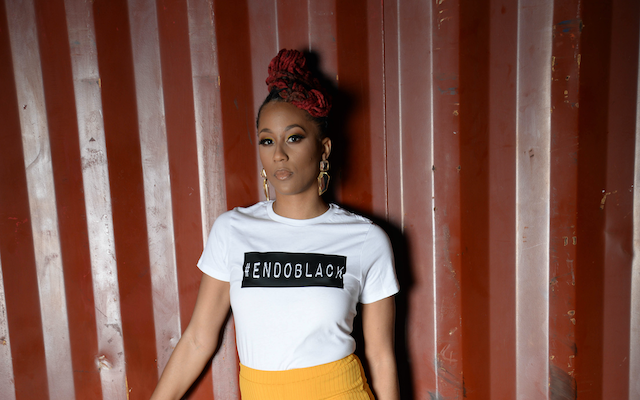 Lauren Kornegay had never heard of endometriosis when she first experienced debilitating symptoms in college. She had experienced pain with her menstrual cycle, but wasn't taught to discuss taboo subjects such as menstruation. So she never brought it up, and figured her symptoms were due to stress.
One month later, when her debilitating symptoms returned with her menstrual cycle, Lauren knew something more serious was happening. She saw Dr. Maria Y Que in Baltimore, who asked her how her cycle usually felt. When Lauren told her that she experienced sharp abdominal pain, as well pain in her left knee before her cycle and pain in her right knee after her cycle, Dr. Que was alarmed, and told Lauren that these symptoms weren't normal. After performing a Pap smear and learning that Lauren had a reverted uterus, Dr. Que informed Lauren that a reverted uterus was a common denominator for women who have endometriosis.
Lauren knows that her endo story of getting diagnosed is unique: the first doctor she saw mentioned endometriosis, and her surgery was scheduled for a few months later. But at the time, she had no idea that endometriosis was an ongoing journey and that it is rarely treated with just one surgery. "I was young," Lauren explains. "I thought, 'I'm going to have this procedure and it's going to be the end of it.'" Her surgeon didn't explain to her that she would have to change her diet and constantly monitor her body and symptoms. "[My surgeon] may not have even known that," Lauren adds, "and that's why I support awareness and education in the first place."
Unfortunately, Lauren's symptoms continued. A few months after her surgery, Lauren began passing out after using the restroom. Lauren went to the hospital, where she received MRIs, CAT scans, and other tests. She needed surgery, again. She had a ruptured cyst and two gallons of blood in her abdomen. Post-op, Lauren realized she had to take her own health even more seriously than she already had been.
She started by doing research. Lauren's mother was a nurse, who passed away before Lauren was diagnosed with endometriosis. Lauren knows that if her mother was around when she was struggling to find answers, she would have immediately tried to figure out what endometriosis was. "Anytime something was wrong she said, 'Get that book. Go ahead and read on it,'" Lauren says. "That's why I have this love for researching this disorder to figure out what we can do and what's the right way to approach treatment."
By 2015, Lauren had begun changing some of her eating habits and learning more about the disease. But she often only found women who didn't understand her particular questions or journey as a Black woman with endometriosis. "I saw that Tia Mowry and Whoopi Goldberg had endometriosis, but they were unreachable for me. I knew that if these two women have it, what about the other women who look like me that may have it?"
Lauren embarked on more research and began to ask questions about whether there was a difference in how women of color were diagnosed. She knew there was, but the communities she had joined didn't understand. "Even in support groups on Facebook," Lauren says, "I would ask questions about whether the experience of endometriosis diagnosis may be different for African American women, and I always would get 'endometriosis isn't racist.' I would say, I know. I know that. But there is a difference in how African American women are diagnosed."
As Lauren continued receiving negative feedback on how race shouldn't be the defining feature in different endometriosis journeys, she became certain that there were many other women of color struggling with endometriosis who didn't have the support they needed. "I know for a fact that in our community," she says, "we tend to not talk about certain things." In Lauren's own experience, she was told to be ladylike, and being ladylike meant not talking about her period.
From this effort to connect with these women, Lauren founded EndoBlack, an organization that advocates for Black women and women of color with endometriosis. Since its founding, EndoBlack's reach has grown exponentially. The organization offers events, resources on endometriosis, merchandise to raise awareness, as well as a unique and supportive Ambassador program. EndoBlack Ambassadors are based in Georgia, Florida, New York, California, and Arizona and are dedicated in their mission to connect with other women and spread endometriosis awareness and education. "This was a difficult year for a lot of different people," Lauren says, "and EndoBlack Ambassadors have been there for many people."
Lauren is also dedicated to using her platform to raise awareness of endometriosis among medical professionals. As an overwhelming amount of research highlights, the racial bias inherent to the healthcare system makes endometriosis care even more difficult for people of color. "Endometriosis as a whole takes about seven to ten years to diagnose," Lauren says. "But with the African American community, that number doubles. There is systematic racism when it comes to the healthcare system and different people have had different experiences on plenty of different platforms." From Black maternal mortality rates to the percentage of doctors who incorrectly assume that Black people have a higher tolerance for pain, the statistics on racial bias in the medical community are overwhelming, and change needs to take place as soon as possible.
Concerning the recent rise in the national consciousness about systemic racism, Lauren expresses that it's a bittersweet moment where many people are finally listening and having necessary dialogues about race. "If we don't communicate about bias," Lauren says, "we're not going to reach a resolution."
In late June of this year, Lauren set out to initiate this resolution by launching the Black Women's Health Coalition. Lauren was on a call with April Christina, Samantha Denäe, and Kyla Canzater to discuss the concerns their supporters were raising about how Black women and people of color are treated in the healthcare industry. They had to make something that was going to make a lasting and life-saving difference.
"We founded the BWHC based on the idea of African American women being treated equally and with equity in the healthcare community," Lauren says. To enact this change, The Black Women's Health coalition has six essential actions that hospitals should take: equity accountability, health education for adolescents, diversity training, prejudice free communication, pain management protocol, and inclusivity in research. The BWHC also provides a petition, statistics, resources, and pre-written templates for people to easily send out to the ten major hospitals in the United States to demand a change in healthcare.
Of the BWHC's six demands, Lauren emphasizes pain management protocol and the fact that many doctors treat patients based on the incorrect assumption that Black people have a higher threshold for pain. "This has to be changed," Lauren says, "because it's simply not true."
As Lauren explains, racial bias in the healthcare community is far from a new problem, but the change has to occur now. "I get really frustrated," Lauren says, "that I even have to have this conversation and say, 'Hey, African American women should be able to live after childbirth.' I should not be misdiagnosed because of stereotypes or your bias. I should not go to the hospital and be the last person to be seen. I should not have to be in the hospital throwing up outside and still not even being seen afterwards."
Decades of neglect from the medical community also leads to a critical lack of trust, resulting in a decline of treatment-seeking behavior. "Many African American women," Lauren explains, "already don't want to go to the hospital. You have African American men that don't want to go to the hospital because sometimes they don't make it out. And if I'm not going to make it out of the hospital, I might as well just stay home and try to figure this out with a home remedy." Lauren knows home remedies are important, and can be critical to managing pain, but she explains that when it's time to go to the doctor, you have to go to the doctor. But without the necessary trust, less people of color seek the medical treatment they need.
"On numerous occasions," Lauren says, "history has really shown us how we are treated as African American women. Take the Tuskegee Syphilis Experiment. Henrietta Lacks. J. Marion Sims. It makes some of us in the African American community feel like we can't trust the medical industry. When we see doctors and experience this, it makes us feel like we really don't matter at all."
Lauren explains that the purpose of the BWHC is not to call hospitals and doctors out—it's to advocate for these hospitals to make the necessary changes. "I'm just here to ask them for what we should already be getting," Lauren says. "We want every African American woman or woman of color to be treated fairly. Because after African American women get what they need, we're coming for everybody else. We want everybody to get what they need to get."
To learn more about the Black Women's Health Coalition, and find out how you can help advocate for change, visit their website here. To access the easy-to-send templates to hospitals, visit this page. And to learn more about EndoBlack, please visit this page.
---
Lauren R. Kornegay was born in Washington, DC, and grew up in Oxon Hill, MD. She attended Morgan State University in Baltimore, MD, where she received her B.A. in Speech Communications. While at Morgan State University, she experienced a series of events that led her to a gynecologist in Baltimore, MD. In meeting her new gynecologist, she would be introduced to a disorder that was unfamiliar to her at the time—endometriosis.
Diagnosed with endometriosis at the age of 20, Lauren experienced the pain, struggles, exhaustion, and confusion that accompany the disorder. This led her on a search to find someone that looked like her, who was also dealing with endometriosis. Each time, she would end up empty-handed. Due to the lack of representation of women of color, she felt alone. She felt like there wasn't anyone that looked like her that had been impacted by endometriosis that she could reach out and contact. Having searched Facebook, Instagram, support groups, and other avenues of social media, she knew something had to change. Her mother always told her, "If there's a void, fill it, and if you want something done, do it yourself." Lauren believes in "creating a space where there is no space."
In October of 2015, she started her journey and created ENDO Black, a platform that was designed to connect women of color affected by endometriosis together. The goals are: to create a safe atmosphere for those affected by endometriosis; to foster endo-sisterly love across the globe; and to facilitate opportunities for constant dialogue on the topic of women's reproductive health for women of color, as well as policies, laws, and regulations that affect women and their reproductive health. Lauren believes in inclusivity and making sure that everyone is represented in some form or fashion. One of her biggest goals is to not only raise awareness in the community about women of color being affected by endometriosis but also to raise awareness among doctors and other medical professionals about understanding how endometriosis affects women of color differently so that they can make proper diagnoses. It's time to make some noise so that women who are suffering in silence can be heard loud and clearly. It's now time to push for real change and acknowledgment within the community, and she hopes that you join the fight for change.