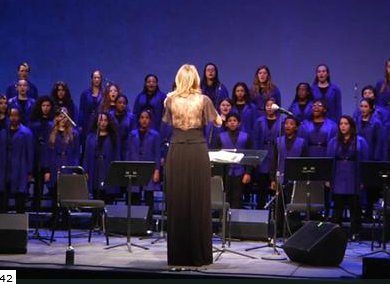 The Endometriosis Foundation of America and Brooklyn Youth Chorus would like to thank all those who came out in support of our organizations on Thursday evening, December 15, 2011 for an incredible concert with famed soprano Harolyn Blackwell and the BYC. We appreciate your support! "Songs for the Holidays" was a highly anticipated concert event featuring world premiere works by Ricky Ian Gordon and new holiday arrangements by Joel Martin. Hosted at the World Financial Center's incredible Winter Garden, over 200 guests gathered for an amazing display of talent followed by VIP cocktails and hors d'oeuvres under the famed marble staircase. Thank you all for your support, and we hope to see you again next year. Happy Holidays from the Endofound & BYC family to you and yours! Special thanks to Dr. Tamer Seckin, Endofound President & Founder, and Valerie Lewis, Executive Director of the Brooklyn Youth Chorus Academy.
Brooklyn Youth Chorus Founded in 1992 by Artistic Director Dianne Berkun Menaker, Brooklyn Youth Chorus's after-school program encompasses over 600 students in multi-level training divisions and advanced performing ensembles. In addition, students can enroll in a full complement of enrichment classes, individual lessons and summer camp.
All students perform in the Chorus's annual concert series, and our advanced ensembles appear regularly at prestigious venues—from Carnegie Hall to the Barbican Theatre. Advanced singers also enjoy opportunities for touring and recording.