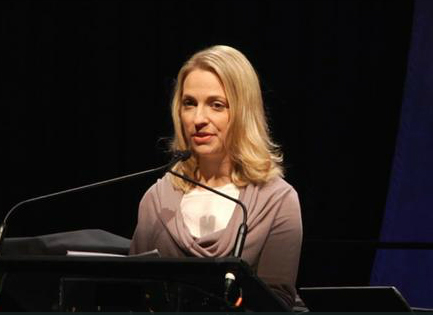 Valerie Lewis: Good evening. My name is Valerie Lewis. I'm the executive director of the Brooklyn Youth Chorus, and I'm so pleased that you're joining us here this evening for Songs for the Holidays, which is presented by the Brooklyn Youth Chorus and the Endometriosis Foundation of America. The Grammy-award winning Brooklyn Youth Chorus is commemorating its 20th anniversary season, and what a season it is. We are celebrating all year with performances and venues at Carnegie Hall, the Brooklyn Academy of Music, and Lincoln Center and performing with artists, such as Philip Glass, the New York Philharmonic, the Kronos Quartet, and Bryce Dessner.
Tonight, we have a wonderful show in store, featuring over 100 choristers from three divisions, the Young Men's Ensemble, Concert Chorus, and Senior Chorus, conducted by the lovely and talented artistic director, Dianne Berkun.
We are so fortunate tonight to have the extraordinary voice of soprano, Harolyn Blackwell, joining our choristers in song. Harolyn has graced the stage of the finest opera houses, concert halls, and theaters across the globe, and we are so delighted to have her here.
Tonight, we are premiering a new work by Ricky Ian Gordon called I Dream a World, and Ricky is here tonight. Glad you're here.
We will also debut five new holiday arrangements from master arranger, Joel Martin, who will be on piano for these works.
I want to thank, of course ... I want to thank the Endometriosis Foundation for co-presenting tonight's work and thank Dr. Seckin for introducing BYC to Harolyn Blackwell.
I also want to thank Debra Simon, Karen Kitchen, and her team at Arts World Financial Center for making us feel so welcome and for hosting this lovely evening. Almost done.
In addition, I want to thank and recognize the institutional funders who are here tonight, the Fannie and Morris Sklaw Foundation, the Brooklyn Community Foundation, the Concordia Foundation, the Tiger Baron Foundation, Verizon, Con Edison, the Morris and Alma Schapiro Fund, and, of course, we are joined by our incredible board of directors chaired by Mary Anne Yancey. Please give them a round of applause because that's how we get here every time.
Well, we have a wonderful show in store for you tonight, so sit back, relax, let the world slide away, and enjoy the music. Thank you for being here.
The Endometriosis Foundation of America and Brooklyn Youth Chorus would like to thank all those who came out in support of our organizations on Thursday evening, December 15, 2011 for an incredible concert with famed soprano Harolyn Blackwell and the BYC. We appreciate your support! "Songs for the Holidays" was a highly anticipated concert event featuring world premiere works by Ricky Ian Gordon and new holiday arrangements by Joel Martin. Hosted at the World Financial Center's incredible Winter Garden, over 200 guests gathered for an amazing display of talent followed by VIP cocktails and hors d'oeuvres under the famed marble staircase. Thank you all for your support, and we hope to see you again next year. Happy Holidays from Endofound & BYC family to you and yours! Special thanks to Dr. Tamer Seckin, Endofound President & Founder, and Valerie Lewis, Executive Director of the Brooklyn Youth Chorus Academy.

Harolyn Blackwell (born November 23, 1955) is an American lyric coloratura soprano who has performed in many of the world's finest opera houses, concert halls, and theaters in operas, oratorios, recitals, and Broadway musicals. Initially known for her work within musical theater during the early 1980s, Blackwell moved into the field of opera and by 1987 had established herself as an artist within the soubrette repertoire in many major opera houses both in the United States and in Europe. Feeling that she was being "type cast" into one particular kind of role, Blackwell strove to establish herself within the lyric coloratura repertoire beginning in the mid-1990s. With the aid of such companies as Seattle Opera, Blackwell successfully made this move and is now an interpreter of such roles as Lucia in Donizetti's Lucia di Lammermoor and Olympia in Offenbach's Les contes d'Hoffman. She has also periodically returned to musical theater performances throughout her career in staged productions, concert work, and recitals. Blackwell is known for her interpretations and recordings of the works of Leonard Bernstein.
Harolyn Blackwell was born in Washington, D.C. on November 23, 1955, the eldest of five children.[1] Both of her parents were teachers and active participants in the Civil Rights Movement. Her father, Harold Blackwell (for whom she was named), was also a redevelopment specialist with the Department of Housing and Urban Development in Washington, D.C. for many years, and her mother taught physical education and health at the University of the District of Columbia.[2]
Blackwell first became interested in music through the influence of her fourth grade teacher, Nancy Notargiacomo, who eventually became her voice and piano teacher when she was 10. She also credits her high school choral director for encouraging her to pursue a music career. In a 2003 interview Blackwell recalled, "I did not come from a musical family. I had a fourth grade teacher that introduced me to music and I sang at the Catholic church. In high school I started doing musicals − The Sound of Music, Brigadoon, Oliver!, and so forth. I thought maybe this would be what I would pursue after high school, although even in my senior year in high school I had doubts. I wanted to go into history or fashion design. But, I had a wonderful choral director who said 'no, your calling is music,' and she convinced me."[3]
Blackwell attended Catholic University where she majored in vocal music education and also spent time in activities and classes related to the University's drama and musical theater programs.[4] Blackwell said, "I wasn't quite sure whether I wanted to pursue classical or musical theater. I knew that whichever I chose, I wanted to have a classical training. It was important to me to have the technical expertise as well as also the theory and understanding of classical music. Catholic University was the best of both possible worlds, because they had a very strong drama department as well as a very good music department. They were next door, so I spent quite a bit of time going back and forth between the drama department and the music department."[3] After graduating with her undergraduate degree in 1977, Blackwell taught music in two parochial schools while simultaneously continuing her vocal studies on the graduate level at Catholic University. She graduated with a Masters in Vocal Performance in 1980.[2][5]