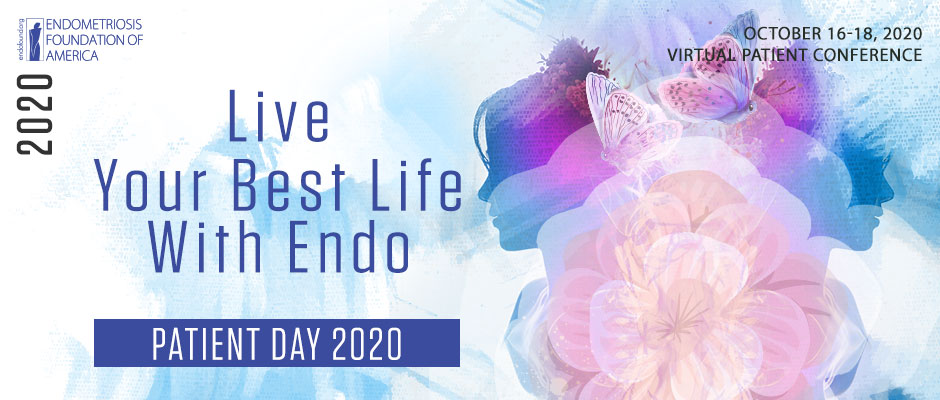 New York, NY - October 7, 2020 –
Journalist Diana Falzone & Actress Lexie Stevenson Launch Endometriosis Foundation of America 3-Day conference on October 16
The Endometriosis Foundation of America (EndoFound) announced today that their annual patient conference, Live Your Best Life with Endo, is going virtual from October 16th through the 18th.
Diana Falzone, journalist, endo advocate and EndoFound's Director of Media Relations and Advocacy, is moderating the three-day conference, and actress and endo advocate Lexie Stevenson of the Young & the Restless will deliver the keynote address.
"We look forward to welcoming everyone to our first virtual patient conference to educate and support individuals, family members, friends, and the public about endometriosis, a disease that affects one in ten women in the United States," said Margaret Caspler Cianci, EndoFound's Executive Director. "Education is key to early diagnosis and treatment. While we can't be together in person, we can come together as a community for this important cause."
Live Your Best Life With Endo kicks-off Friday at 6 pm with a happy hour featuring mocktails and cocktails and a welcome from EndoFound co-Founders Padma Lakshmi and Tamer Seckin, MD., followed by Stevenson's keynote. On Saturday and Sunday presentations run from 1 pm to 4 pm and will include Q & A's with leading physicians.
This year's presenters include physicians and surgeons from Northwell Health, the Cleveland Clinic, Lenox Hill Hospital, McLean Hospital/Harvard Medical School, University of Tennessee Health Science Center, Fibroid and Pelvic Wellness Center of Georgia, and University of Washington School of Medicine's WWAMI Program.
Joining the weekend conversations are Les Henderson, Founder of endoQueer and host of the "Be a Beacon" podcast. New York-based writer, Eva Hagberg, who's written for several publications including The New York Times and Wired, and is the author of the critically acclaimed, "How to Be Loved: A Memoir of Lifesaving Friendship." Lauren Kornegay, founder of Endo Black; author, screenwriter, and EndoFound educator and advocate, Samantha Denäe; and Brianna Majsiak, Senior Health Producer at Everyday Health.
Live Your Best Life With Endo is organized in partnership with EndoFound's Patient Advisory Committee and scientific and clinical advisors.
The Zoom conference is free, but you must be registered to join. For the schedule of events and to register visit EndoFound.org/PatientDay.
Social Tags:
About EndoFound:
The Endometriosis Foundation of America (EndoFound) was co-founded by Padma Lakshmi and Tamer Seckin, MD. in 2009. It strives to increase disease recognition, provide advocacy, facilitate expert surgical training, and fund landmark endometriosis research. Engaged in a robust campaign to inform both the medical community and the public, EndoFound places particular emphasis on the critical importance of early diagnosis and effective intervention while simultaneously providing education to the next generation of medical professionals and their patients.
# # #
Media Contact:
Megan Cecil
Scenario PR
Megan.Cecil@scenariopr.com
269-487-6316