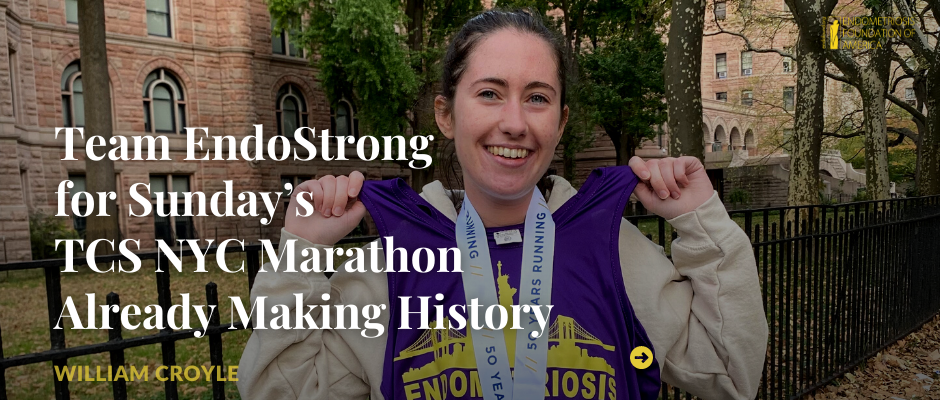 More than 50 runners for Team EndoStrong are on pace to raise over $150,000 for EndoFound in this Sunday's TCS New York City Marathon. Both numbers are records for the organization, in its eighth year as a charity partner with the race.
"It's truly organizational-changing to have that many people wearing Team EndoStrong shirts and raising over $150,000 for the community," said Jake Carlin, EndoFound's assistant executive director. "This will allow us to be more succinct with our national vision. We will be able to make an impact not only in New York City but across the country."
Four runners with different perspectives on endometriosis have raised significant money thus far: Sarah Austin of Chicago ($7,200), Courtney Warren and Christian Knight of Manhattan ($5,300 in a joint effort), and Boston Bautista of Menlo Park, Calif. ($5,120). Each expects more donations this week.
Sarah's heartbreaking story was featured by EndoFound earlier this year (see links below). Her daughter, Trinity Graves, took her own life on Aug. 23, 2021, after years of daily pain that was repeatedly undiagnosed, misdiagnosed, and even dismissed by doctors.
Sarah has never run a marathon and has been training since May. She will write on her shirt more than a dozen names of women she knows who have endometriosis.
"I struggled a lot after Trinity's passing. It took me nine months before I had a day that I didn't cry," Sarah said. "I'm doing okay today. A lot of people want to know my story, and it's hard to tell it, but each time I do, I feel like I heal a little more. Preparing for this race has allowed me to advocate for my daughter and others who have this devastating disease. I'm really grateful to have this to focus on."
Courtney and Christian have run a half-marathon but never a full one. They are running with a friend who has had several surgeries.
"I consider myself pretty up to speed on women's health issues, but when our friend first told me she had endometriosis, I had to look it up. I couldn't believe I'd never heard of it," Courtney said. "And it wasn't until about five months ago, when we started talking about the marathon, that I learned her full story and the impact on her life. Since I've been fundraising, I'm finding many people who have the disease or know someone who does. They know what a great cause this is."
This will be Boston's first full marathon after running the United Airlines NYC Half Marathon in March. Though he doesn't know anyone with endometriosis, he learned about it by watching an online TED Talk.
"I have read and heard many heartbreaking stories about how endometriosis has severely impacted the lives of countless women globally, and I am appalled by the evident disconnect between male and female health care," Boston said. "I am thrilled to be raising more awareness for endometriosis and the incredible work and accomplishments of the foundation. I truly hope my fundraising can help more women receive better, more advanced care."
The 2021 marathon had 25,020 finishers from 91 countries. There will be nine different start times Sunday beginning at 8 A.M. For more information, visit www.nyrr.org. Donate to Team EndoStrong at https://fundraisers.hakuapp.com/teams/endometriosis-foundation-of-america?partner=16065a28d27626872d1d
For more on Sarah Austin's story, visit www.endofound.org/sarah-austin-whose-daughter-committed-suicide-due-to-endometriosis-pain-speaks-out and www.youtube.com/watch?v=8Jjei1lvvDM