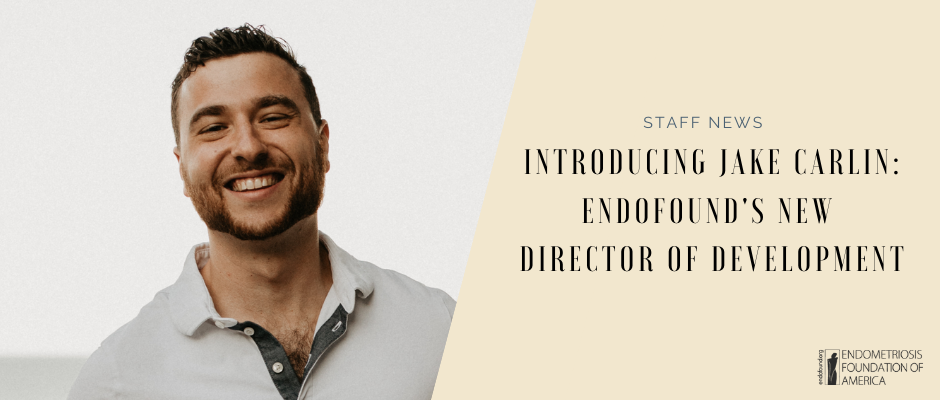 Entering college, Jake Carlin knew he wanted to work in the nonprofit industry. He wasn't sure in what capacity, but healthcare eventually rose to the top.
"Being on the healthcare side was coincidental at first, but then I realized and embraced the sense of unity around research and those afflicted by disease," Carlin said. "There is an obstacle to be overcome in every case, and everyone jumps in to help. It's an all-hands-on-deck mentality."
Carlin, who lives in Tinton Falls, New Jersey, was named EndoFound's new director of development on January 10. He worked the past three years for the Ovarian Cancer Research Alliance (OCRA)—the first two as manager of development and events, and this last year as the associate director of donor relations. He's also worked as the manager of fundraising and special events for the ALS Association Greater New York Chapter and as the development coordinator for CancerCare.
Carlin had some exposure to endometriosis at OCRA, given the link between the disease and ovarian cancer. He also has a personal connection to it.
"One of my fiancée's best friends has had endometriosis for a long time, but initially, I didn't know what it truly meant," he said. "I knew that she had horrible issues with it, but I had no sense of the internal pain. As I'm learning now, it's like we are conditioned to push the conversation about menstrual cycles and periods to the back of our brains."
Carlin continues to educate himself about the stigma and other aspects of the disease.
"This is a real issue that affects millions that we all should know about," he said. "It doesn't matter if you can or cannot have endo—there has to be a unified fight. We should empower mothers, fathers, sisters, brothers, daughters, sons, and friends to learn about it and ask those difficult questions."
Carlin grew up in Freehold and graduated in 2016 from Rutgers University with a degree in Sports Management and Exercise Science. He said the school did not have a major in nonprofits at the time, so he chose one that combined his love for science with his desire to learn about event planning and managing budgets. Carlin did two internships—one with the Special Olympics and another with a wedding planner. That second one confirmed what he wanted to do post-graduation.
"I loved the gravitas of an immaculate wedding and the unity and celebration it created, but I wanted to take that spending and sense of community and put it toward a bigger purpose. It was such an easy transition for me to go into nonprofits."
Carlin will manage all aspects of fundraising at EndoFound.
"I've always said that fundraising is the ability of an organization to make sure donors are heard," Carlin said. "There must be transparency so that they know where their money is going and how they can get involved in programs by hosting events and initiatives in their area. We cannot exist without them."
Carlin is eager to get to know EndoFound's donors, empower more endo warriors, and make "endometriosis" a household word.
"You only have one life, and it's a short one," he said. "You should make it fun and do good things, and that's why I'm here at EndoFound. I'm excited to be along for the journey."