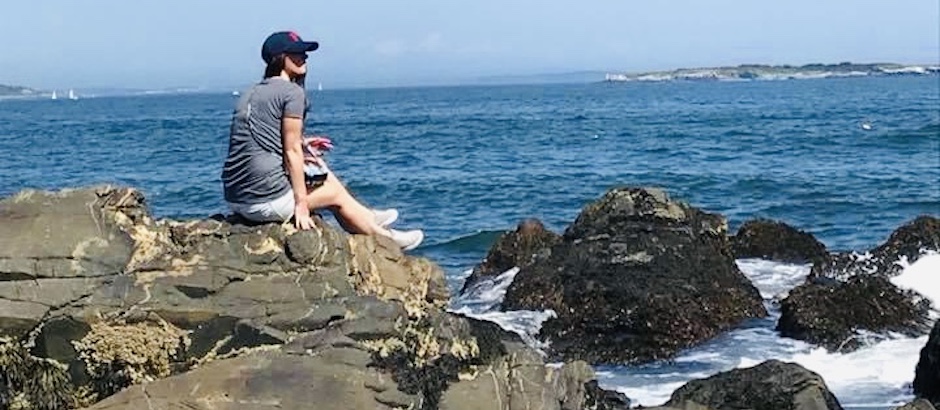 Growing up with two older sisters, I thought painful periods were normal. My mom had them, my sisters had them, every woman I knew had "cramps," and I grew up thinking that this was just part of being a woman.
It was not until I was 17 that the pain increased, and additional symptoms occurred. I suddenly began feeling severe abdominal pain, accompanied by unusual bowel movements and blood in my stool. Given my family history, my father took me to his GI doctor, where I had a colonoscopy performed. I was diagnosed with IBS and told to avoid greasy foods. Now I know that this was one of my first misdiagnoses.
My pain persisted until I became pregnant at 18. However, after the birth of my son, my monthly pains persisted. I was put on birth control to help with cramps, heavy bleeding, and the development of cysts, which would consistently give me pain. This is how I lived for the next 10 years. Each month I felt intense pain in my pelvis, abdomen, and back. I thought it was normal. I thought it must just be another ruptured cyst.
Fast forward 10 years to 2018: I had just undergone a C2 ganglionectomy for hemiplegic migraines and occipital neuralgia. With one debilitating issue behind me, another one began.
I was suffering from increased bowel issues and, once again, blood in my stool. I also started developing new pains in my groin, thighs, and upper back. Approaching 30 and due for another colonoscopy, I went back to the GI. This time, they found a benign polyp, which they removed.
But I still didn't have an answer for my pain, so I went to my gynecologist. He performed an ultrasound, again said I had two ruptured cysts, and told me to use heat and Motrin. (This would be his go to solution constantly.) Knowing something was not right I continued to seek answers from him.
He then diagnosed me with pelvic inflammatory disease and told me I must have gotten it from an STD, which he then tested for (I was negative). I was given antibiotics and sent on my way. Again, pain persisted, and I finally gave in and went to the emergency room, where a 7.5cm cyst was present on my left ovary. My gynecologist's solution was more birth control to shrink the cyst.
Given my level of pain and fear of ovarian torsion, I had to convince him to remove the cyst. Does a patient convincing a medical professional to relieve her pain sound familiar to my fellow endo warriors?
Once the surgery was completed, he said I had a lot of scar tissue, and again, blamed it on an STD, which I did not have. It was shortly after this incident that I decided it was time to change doctors.
She was a breath of fresh air, and was the first doctor to use the word endometriosis. I did not know much about the disease, but given my symptoms, she wanted to schedule an exploratory laparoscopy to diagnose me. With that surgery scheduled, I had an abnormal pap which detected high-risk HPV.
After a colposcopy, my new doctor decided to hold off on an exploratory laparoscopy and perform a LEEP instead. It was then that I was told I had non-invasive cervical cancer. Yet again, another roadblock on the journey to relief.
It was successfully removed during the procedure, but due to how aggressive it was, my doctor suggested a hysterectomy to prevent recurrence.
With much thought, some tears, and a lot of emotion, I decided to move forward and have the operation. I was sent to another surgeon for this and was told the hysterectomy would also cure the endometriosis. Keep in mind, I was never educated on the disease itself and was told it would kill two birds with one stone. I underwent a hysterectomy at 30-years-old, leaving only my right ovary. I thought this was the moment I would get my life back.
Less than four months post-op, my symptoms returned with a vengeance. I again began suffering from severe pelvic pain, groin pain, pain after sex, serious bowel issues, back pain, rib pain, neck pain, and leg pain. I was given a "natural method" of medications, including an estrogen suppression and progesterone increase. This was unsuccessful. Then I attempted Lupron. It was one of the worst decisions I ever made. I dropped 10 pounds in a matter of weeks, I could not eat, my bones hurt, and I was becoming physically ill. I refused to repeat a second dose.
It was at that time that I was told that my pain was due to nerve damage, and not recurring endometriosis. I developed spasms in my leg and neck, accompanied by constant dizziness and nausea. I was told surgery would not be beneficial. I began nerve pain medication, which, to this day, is unsuccessful. I was referred to a pelvic nerve specialist, who referred me to a pelvic floor therapist and pain management. While pursuing therapy and nerve blocks, I was also seeking medical help from my neurologist, as some of these symptoms seemed to be neurological. After an EEG and lower back X-Ray, everything was unremarkable.
At this point in my life, I was in pain every day, with no answers. I was defeated, and depression and extreme anxiety really came to the surface. I became physically unable to care for my children and be a good partner and teammate to my fiancé, who deserves the world for constantly supporting me. At 31-years-old, I was using a cane every night just to walk from my bedroom to the bathroom. And on really bad days, the cane was used throughout the day.
Imagine being my age, with no outward appearance of being physically sick, and using a cane to walk. You will never forget how other people look at you. These looks engrave your mind. These constant blank stares from strangers who do not understand, or do not believe your symptoms. The "but you don't look sick" faces. Those are the faces that make you want to continue to fight, because you are in fact, very sick.
Nothing was helping, and I was losing hope of ever feeling better. You never realize how much a physical disease can mentally bring you down until you experience it yourself. I was struggling with being a woman, a mother, and a partner. I began to feel helpless, and less of a human. Most days, getting out of bed was hard, and when I pushed through the pain, the fatigue took over. Then there was the anxiety. I felt extreme guilt for being sick. I was constantly apologizing to my family, though I knew they understood, but I truly do not believe someone understands until they themselves are suffering as well. I needed to seek out others like me, where I could freely speak without judgements.
I decided to join a support group, where for the first time, I did not feel alone. My symptoms were validated and there were so many other sufferers out there. In this support group, I learned of Dr. Seckin's book, The Doctor Will See You Now. I bought it immediately. Reading it was eye opening, and for the first time, I learned about this terrible disease. There were moments of clarity, moments of tears, and moments of reassurance that it was not all in my head. I just knew I had to meet him and seek help. I asked to have my case reviewed and was immediately contacted to get me scheduled. From that moment, I have had hope, hope for a better life. With the constant support from my fiancé, my family, and the entire staff at the Seckin Endometriosis Center, I was ready to have my life back. For good this time.
I underwent excision surgery with Dr. Seckin and Dr. Goldstein on October 30, 2020.
Since the moment I woke up from surgery, my leg did not hurt—not one bit! It was confirmed endometriosis, and for once, I could breathe because my symptoms were validated. This was not all in my mind.
As the days went by, the pain never returned. Any pain, anywhere. Was this real? Yes, yes it was.
I cannot begin to describe how amazing this feeling was. For the first time in years, I was pain free. I could wake up without a fear of what the day was going to bring. I could do simple activities again. I could live my life, how I wanted to live it, and I have my team of doctors to thank for that.
As I am writing this, the emotions and gratitude I have cannot even be put into words. They changed my life. I have a bright future to look forward to thanks to Dr. Seckin and Dr. Goldstein.
My journey is not over, this is only a new chapter in my life, and I am extremely excited to see where this journey will take me. If my story has done anything, I hope it helps at least one person suffering to see that there is light at the end of the tunnel. The most important piece of advice that I can offer is to always advocate for yourself. Listen to your body and know that there is help. I will devote my life to help in any way I can, as other patients, advocates, and doctors have helped me. These are the battles that people don't talk about. The taboo of women's health. As women, talking about your period is icky, and any symptoms associated with it is normal and a part of life. As a young woman, it was an embarrassing and private subject, and as women today, we are still facing the stigma. I hope with my story, and the story of all the other brave sufferers, we can continue to break the stigma.
Always remember: do not give up, do not back down. Keep fighting, educate yourself and others, and always know that you are not alone. We are all warriors, and we are all in this together.
Jenna is 32 and living in Pennsylvania with her fiancé Ryan, son Noah, and two bonus daughters, Ashlin and Mikenna. She enjoys live music, campfires, new adventures and her fur babies, Tinsley and Leia. She hopes her story will help any patient suffering or lost, find the support and care they need. She believes that sharing her experience and finding her voice, will help other Endo warriors find solace in knowing they are not alone.
---
Editor's note: Would you like to contribute to EndoStories? Click here to learn how to submit your work.
*Patient stories submitted to EndoFound.org are the views of the patient and not necessarily those of the foundation. All testimonials are from real patients, and may not reflect the typical patient's experience, and are not intended to represent or guarantee that anyone will achieve the same or similar results.