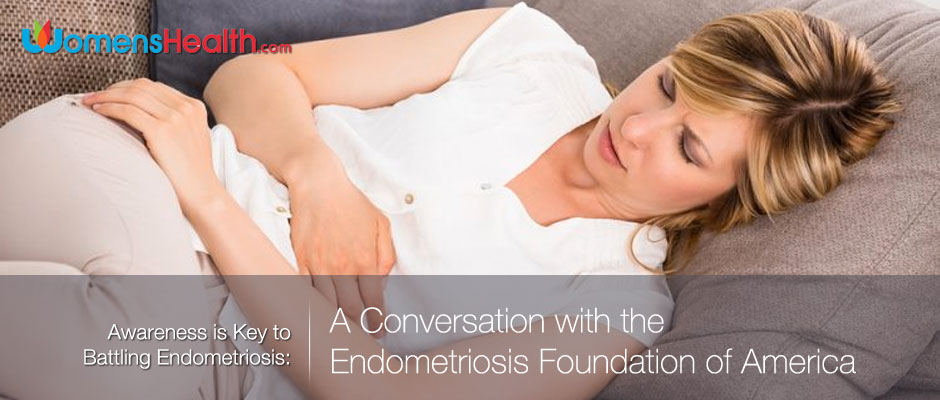 Lisa A. Goldstein — February 7, 2017
When a condition like endometriosis affects 176 million women worldwide –or 1 in 10 girls and women in the U.S. — but takes 10 years on average to receive an accurate diagnosis, an organization like the Endometriosis Foundation of America is a ray of light. Endofound' goal is to increase awareness, fund research, and advocate for endometriosis. It emphasizes the importance of early diagnosis and effective intervention while educating medical professionals and patients.
WomensHealth talked with co-founder and medical director Dr. Tamer Seckin — whose book The Doctor Will See You Now: Recognizing and Treating Endometriosis was published in March 2016 — about the latest research and developments from 2016 and goals for 2017.
WomensHealth: Tell us about 2016. What research is Endofound excited about?
Dr. Tamer Seckin: We see an increased interest in the medical community about endometriosis research. For years, this disease has flown under the radar of the medical community as a whole – both clinicians and researchers. That's now changing, and I think Endofound has been instrumental in this new mindset. Research is so important because it helps us to understand the sub-types of endometriosis; something that will assist us to develop better treatment strategies
A couple of studies that are currently underway that I'm excited about include a John Hopkins Medical Institutions study exploring the relationship between endometriomas and endometrial cancer, and the ROSE study at the Feinstein Institute for Medical Research. ROSE seeks to identify genetic markers associated with endometriosis by characterizing various tissues found in women with the disease and those without it.
WH: What new therapies or drugs are available that our readers should know about?
Dr. Seckin: There are a lot of therapies and drugs used to treat endometriosis, but no earth-shattering new treatments have evolved in the past year. I don't recommend the usage of drug therapy for long-term treatment of endometriosis. These medications only treat the symptoms; they DO NOT treat the disease. I mainly take issue with painkillers because with narcotic pain medication there is the risk of dependency and addiction, and right now America has a well-documented prescription opioid epidemic. To be clear, holistic or alternative therapies are also not substitutes. No alternative therapy will rid you of long-term pain as effectively as laparoscopic deep-excision surgery will. None of them will prevent the endometriosis from progressing.
WH: What continue to be the biggest challenges to those working in the field of endometriosis?
Dr. Seckin: The biggest challenge is to decrease today's statistics that plague early diagnosis and misdiagnosis. On average, it takes a woman 10 – 12 years to be correctly diagnosed. That is unacceptable. Endometriosis is frequently misdiagnosed due to an overall lack of awareness in the medical community about the complexity and prevalence of this disease. Most of my patients were misdiagnosed by other doctors at least once, if not multiple times. The way to overcome this is to educate more doctors, and to do this, endometriosis needs to be added as a specialty in medical school.
Another challenge is research funding. There just isn't enough research out there on endometriosis, and this is a disease that approximately 40 percent of infertility is associated with. Don't get me wrong; there have been studies that have yielded some valuable insight into the disease, but just not enough. More funding is needed to prioritize endometriosis research to make a significant difference in diagnosing and treating this disease.
WH: What support is available to individuals and families who are living with endometriosis?
Dr. Seckin: There are a variety of support systems available to those suffering from endometriosis, but the challenge is making sure that these women and their loved ones know about them. There are multidisciplinary pain therapies, physical therapy, integrative nutrition and acupuncture that all can offer support in helping with the physical and emotional pain of endometriosis. I recommend that women with endometriosis talk to other women with the disease, find doctors and other health care providers who are knowledgeable about endometriosis and its treatment, and educate themselves about endometriosis from reliable sources.
WH: What goals does Endofound have for 2017?
Dr. Seckin: Endofound is expanding its research initiatives in 2017. In response to the first Endofound RFP put out last year, Endofound has had an overwhelming number of responses. We are very excited about these requests and believe that research is going to open the door to new diagnosis and treatment options.
WH: What areas of research is your association excited about for the future?
Dr. Seckin: We have 10 new research projects that Endofound will be funding in 2017 that embrace the pertinent and important topics that cover the social impact of endometriosis as well as looking at the cellular and molecular make-up of the disease. We are seeing some great opportunities to understand endometriosis from all perspectives. This is a disease that not only causes debilitating physical pain, but also causes extreme mental anguish. Women with endometriosis should be able to live pain-free and this research will move us closer to that goal.
WH: What would you like readers to know about Endofound that you haven't addressed?
Dr. Seckin: One of the most important roles of Endofound is creating awareness about endometriosis in both the medical community and in the general population. Too often endometriosis is considered a "woman's disease," and for that reason, it's taboo to talk about it. We need to speak about it a lot! Through its one-of-a-kind school and community-based endometriosis education program, The ENPOWR™ (Endometriosis: Promoting Outreach and Wide Recognition) Project, Endofound is taking the message directly to the populations affected most by the disease – adolescents and young women.
Also, for the past seven years, Endofound has gathered the top physicians, researchers, and integrative service professionals from around the world together in New York City for an annual medical conference. The conference is an opportunity for discussing cutting-edge research and new clinical procedures including diagnostic techniques, and surgical removal of the disease that can help a woman live a normal and productive life free of pain.
Source: https://womenshealth.com/awareness-key-battling-endometriosis-conversation-endometriosis-foundation-america/