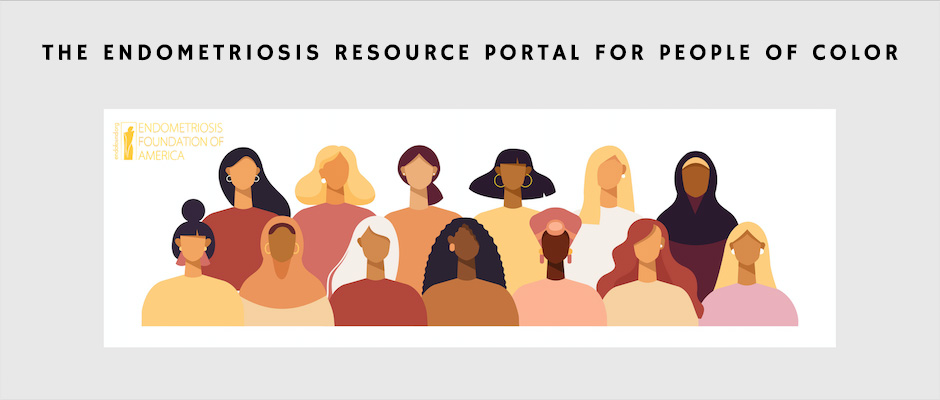 Endometriosis treatment and support is vastly under-funded and continues to be an incredibly difficult disease to diagnose and treat. Black, Indigenous, and POC individuals face these barriers to receiving proper diagnosis and treatment in higher numbers. In order to combat diagnostic racism, increase disease awareness among POC communities, and help support people of color with endometriosis, we recently launched The Endometriosis Resource Portal for People of Color. Featuring videos from patients and doctors, as well as a patient resources sheet of questions to ask your doctor(s), this resource portal is an ongoing project for people of color who are experiencing pain and suspect they may have endometriosis to receive the correct information and hear from patients who look like them and have had similar experiences with the disease.
Many Black or Brown individuals google endometriosis for the first time, see the misinformation that endometriosis is only a white women's disease, and look for another cause for their pain. It is then common for that person to lose years of their lives due to misdiagnosis and improperly-managed and incorrectly-treated pain. As minimally invasive gynecology surgeon and endo patient Dr. Soyini Hawkins shares in her video, she was taught that an endo patient typically looks like a young, slim, caucasian woman. This is incorrect, as endometriosis can affect people of every race and ethnicity.
Thank you to Kyla Canzater, Lauren Kornegay, Samantha Denäe, Kanwal Ojha, and Soyini Hawkins for sharing their diagnostic journeys, as well as tips for managing endometriosis symptoms, pursuing proper treatment, and advocating for yourself as a person of color with endometriosis. We encourage you to use these videos in conjunction with the Resource Sheet for Endometriosis Patients of Color to arm yourself with as much information and support as you need to receive proper diagnosis, management tools, and treatment.
If you're a person of color with endometriosis and would like to share your story on this portal, please email info@endofound.org