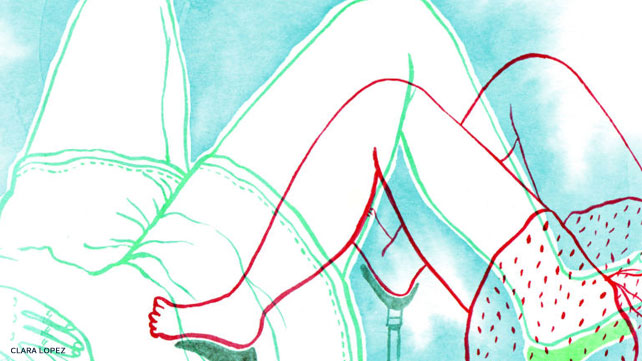 Dr. Tamer Seckin is a New York–based gynecologist and laparoscopic surgeon who specializes in treating endometriosis. He co-founded the Endometriosis Foundation of America with Padma Lakshmi, and he's the kind of cool doctor who isn't interested in just the science behind the disease, but also in talking about the systemic issues surrounding treatment. He'll throw out phrases like "cultural misogyny" and discuss shame around menstruation when describing what makes endometriosis so hard to properly diagnose.
Dr. Seckin grew up in Turkey idolizing the doctor, musician, and Nobel Peace Prize winner Albert Schweitzer for "his commitment to healing patients." In his spare time, Seckin, who lives in Brooklyn, plays the guitar, violin, and mandolin. Sometimes his kids - who went to the same high school as Lena! - will sing a song with him, but he really wants them to start a family band. Lenny spoke with Dr. Seckin about how he ended up specializing in endometriosis, why it takes so many years for women to get diagnosed with the disease, and what to look for in a doctor if you suffer from endo.
Marisa Meltzer: What made you so interested in endometriosis?
Tamer Seckin: I grew up in Turkey. To be honest, I was raised in an environment where I saw a lot of injustice to women. In medical school, I saw girls from the village come to the referral center who had been raped or had attempted abortions. That was all deeply implanted when I came to the U.S. And then with endometriosis patients, I saw that other doctors were missing the true cause of their pain and there was a lot of misdiagnosis that was being practiced. I was sucked in - I cared, and I felt their pain. It was a calling, and today I only see endometriosis patients.
MM: What is endometriosis, exactly, and what causes it?
TS: Endometriosis is the menstrual blood that goes backward - we say reflux - usually into the main abdominal cavity, so our bladder, bowel, and pelvic nerves are all affected. It's evasive and enigmatic and difficult to diagnose.
MM: Why is it so difficult to diagnose?
TS: It's a disease of periods, really, and in general there is a lot of societal misconception about periods and menstruation. People still don't talk about their periods openly. The first symptoms usually start around the first period. There's often some degree of downplaying or assuring from the family. Let's say a girl goes to her mom and tells her she's in pain. Her mom might say, "I had painful periods, it's just normal." I had a patient today who said, "My pain started early, and I was told by my mother it was normal, and finally I convinced myself it was normal because I didn't have a frame of reference."
MM: And girls are so often taught to second-guess themselves.
TS: It's cultural misogyny. These women think that having pain of all degrees - to the extent of tortuous pain - is part of being a woman. That suffering and pain is part of their sexuality. But this pain is not normal, and the taboo that surrounds it must not be either. Girls are accused of exaggerating or performing, like it's some kind of excuse. They're told it's all in their head. As a result, they can lose confidence and turn inward and get withdrawn and depressed. Am I convincing you this is serious?
MM: Yes! What is the pain like?
TS: Debilitating, excruciating, killer cramps.
MM: How do you know if it's just a particularly bad period or endometriosis?
TS: We notice severe increased bleeding, heavy and long with clots. When the pain lasts more than one or two days. Look for pain in sex, bloating, gassiness, diarrhea, constipation, all around the period. Severe back pain and leg pain. Or if there's vomiting, nausea - a doubled-over situation. Eighty percent of the time, there are severe gastrointestinal symptoms that overlap, which tells us the cramps aren't just of uterine origin, that something else is happening and the body is fighting it. The patient's symptoms usually point to where the disease is, whether it is in the bowels, it occurs during periods, or there's pain with intercourse. However, in early stages of the disease, the correlation isn't as recognizable by the majority of gynecologists.
MM: Why is that?
TS: These gynecologists are generalists, not trained to recognize early endometriosis, which is one of the root causes for why most women are not diagnosed until much later in their lives, when the endometriosis has spread considerably.
MM: How many women have it?
TS: We don't know how many women and girls are affected by this disease, we can only guess, but we think one out of ten have this disease. It could be much more. Some women aren't as symptomatic or are misdiagnosed as having IBS, and they never know they have endometriosis.
MM: How do doctors usually treat endometriosis?
TS: Patients are basically given pain medicine and birth-control pills and sometimes antidepressants. Drug therapies and pain medication are over-practiced. We have a serious, national problem with prescription-drug addiction. Birth-control pills are good to diminish the flow so the period doesn't reflux as much, but it's important to have the right ones and the right timing. I want the lesions excised, so I treat this disease microsurgically and remove the inflamed tissue.
MM: What happens if you don't get diagnosed early?
TS: The first thing is the quality of life over time decreases. Being in pain eight, ten, 16 days a month is not easy. And then there's the fertility issue. Many endometriosis patients fail to have more than one kid. If the disease is not treated, eventually it settles on to side organs, and the patient ends up having to have radical surgery, or have her bowel taken out, or she loses her uterus, or some lose ovaries.
MM: What should an endometriosis patient look for in a doctor?
TS: Educate yourself. If a patient brings their knowledge to the table, that can help. I changed because my patients changed me.
http://www.lennyletter.com/health/news/a163/an-interview-with-dr-tamer-seckin-endo-expert/