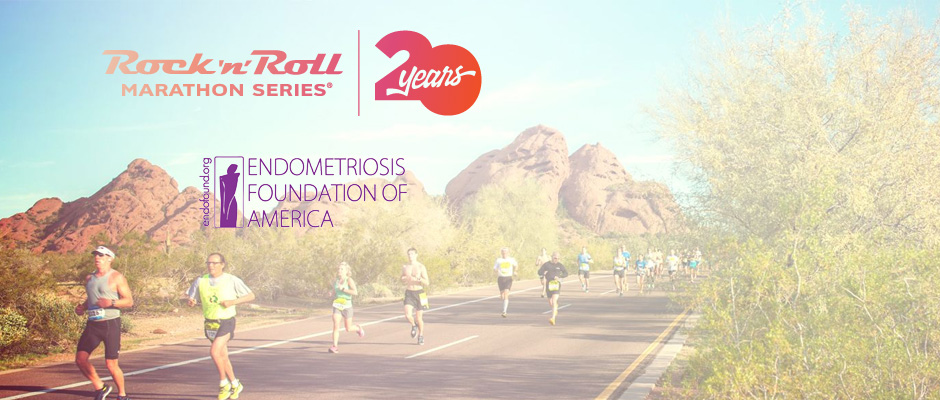 Run, Rock, and Roll with the Endometriosis Foundation of America!
The Endometriosis Foundation of America is thrilled to announce that this year we will be participating as a charity team in the Rock 'n' Roll Marathon Series! Learn more and apply below!
Rock 'n' Roll holds 5ks, 10ks, half and full marathons in different locations all year round- so you can decide how far and where you'd like to run!
This year Endofound has 25 charity team spots that can be used in any North America-based Rock 'n' Roll Marathon now through April 2018. We are saving a minimum of 10 of these 25 spots for the Washington, D.C. series, which will take place during Endometriosis Awareness Month on March 10th, 2018!
Update: EndoFound's Rock 'n' Roll Teams are FULL for the 2017/18 Season!
Spots are still available on our 2018 TCS NYC Marathon Team. Apply here!

*All Official Team EFA members are required meet a fundraising minimum of $500.00
Rock 'n' Roll Marathon Series
Since 1998, the Rock 'n' Roll Marathon Series has made running fun by infusing the course with live bands, cheer teams, and creating a block-party atmosphere for participants and spectators. Fueled by each runner's journey, we celebrate running and all of the moments worth running for. Join us in 2017 as we celebrate 20 Years Running.
Please note:
Applications will be rolling for Rock 'n' Roll Marathon events taking place from April 2017-April 2018
All official charity runners are responsible for raising a minimum of $500.00
Endofound only has 25 spots to award over the next year. Applying does not guarantee entry
Contact marathon@endofound.org for "own place" runner options.