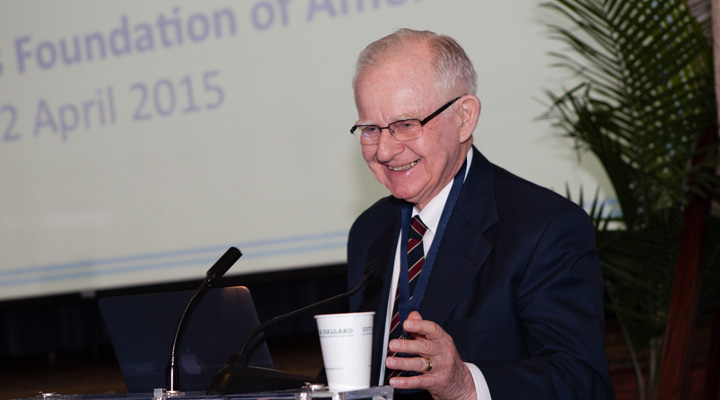 On Sunday, April 25, 2017, Ronald Batt, MD, a pioneer in the field of endometriosis, and a friend and respected colleague, passed away. For nearly 30 years, Dr. Batt focused his private practice on endometriosis-associated infertility and conservative surgery for endometriosis in the infertile couple. During these years, he studied pelvic peritoneal pockets. In 1985, he observed bilateral peritoneal pockets with endometriotic brim nodules and postulated they were congenital endometriosis. Dr. Batt presented lectures at international meetings based on this research, which included, "Congenital and Acquired Endometriosis," "Congenital Endometriosis," and "Müllerianosis."
Following years of research, Dr. Batt and colleagues published the theory of Müllerianosis in 2007. In 2009, guided by Müllerianosis theory, Signorile et al. discovered endometriosis and adenomyosis in human female fetuses between 15 and 25 weeks' gestation, and published, "Ectopic endometrium in human fetuses is a common event and sustains the theory of müllerianosis in the pathogenesis of endometriosis, a disease that predisposes to cancer." In 2013, co-published "Müllerianosis: Four Developmental (Embryonic) Müllerian Diseases."
In France in 2011 at the 11th World Congress of Endometriosis Dr. Batt and I were sitting together at a picnic table and we discussed endometriosis and the Endometriosis Foundation of America (Endofound) that I founded with Padma Lakshmi. Four years later, Endofound was honored to have him as a keynote speaker at the "Sixth Annual Medical Conference: Ending Endometriosis Starts at the Beginning" where he presented "Müllerianosis: Embryonic Endometriosis, Adenomyosis, Endosalpingiosis and Endocervicosis."
Immediately following the medical conference at the 7th Annual Endometriosis Foundation of America Blossom Ball, it was my honor and privilege to award Dr. Batt with the annual Harry Reich Award for his over 30 years of work on endometriosis. The award recognizes endometriosis specialists and scientists who are making a difference in women's lives through their practice, research and advocacy efforts. Dr. Batt did all that and more.
Dr. Batt's passing is a great loss to the endometriosis community, and to all who knew and worked with him. Our thoughts and prayers are with his wife Kathleen, family, and friends during this difficult time.
Tamer Seckin, MD