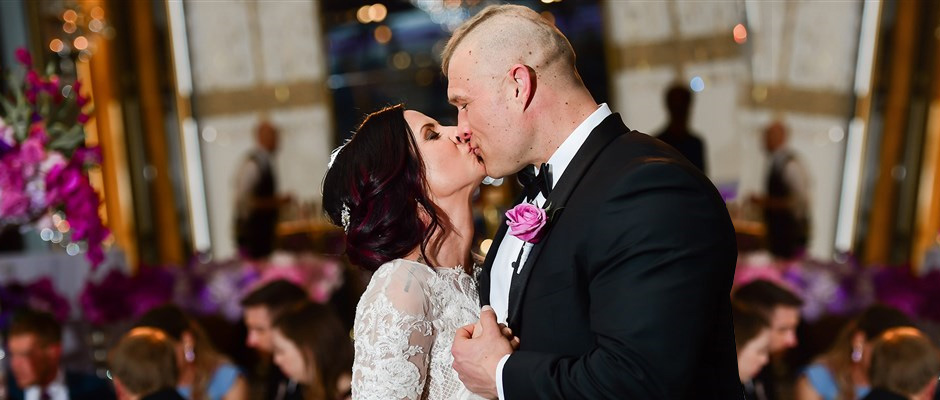 Photo Credit: NBC/The Today Show
On Feb. 9, millions watched as Today's Kathie Lee and Hoda Kotb threw Kyle Otte and her groom Jordan Taylor a picture-perfect fairytale wedding. The bride stunned in a dreamy lace wedding gown from Kleinfeld Bridal and beamed at her tuxedo-clad hubby. The duo, both WWE fans, could hardly believe their luck when pro-wrestler Jon Cena officiated. After the duo swapped "I Do's" and the cameras stopped rolling, they were supposed to be whisked away on an all-expense-paid honeymoon to Italy's scenic Amalfi Coast.
But Otte says those plans have now hit an unexpected snag—and it's all because of endometriosis. After a 20-year endo-battle and six surgeries, "I actually might have to have another surgery, unfortunately," Otte exclusively tells The Blossom. "Endometriosis is just evil. I feel better now, thank goodness, but I'm still on the road to recovery."
Otte won the 2018 Today Wedding contest by sharing with producers her heartbreaking tale of why she canceled her December wedding. After three years of dating, Otte, 38, and Jordan, 37, planned to jet from their home in Harrisburg, PA to Las Vegas for a quickie ceremony when her Stage IV Endometriosis worsened, leading doctors to schedule a hysterectomy. Despite that nightmare, Otte says she recently got even more sobering news. "I'm seeing a different doctor right now, a local surgeon, and he thinks that endo was not completely removed in my abdominal area."
It's not the way any bride wants to start off her new life with her new husband, but Kyle says she remains focused on her health—and she wants other endo women to do the same.
"There is hope. If you don't like what your doctors are saying, get a second opinion. Get a third opinion. Do your homework, read up on [endo], go into the doctor's office and be knowledgeable. If you're knowledgeable about your health, they can't shut you down."
As she prepares for a seventh procedure, Kyle says she's looking forward to the day that she can tour the Vatican and ride Vespas around the sunny, seaside Amalfitan Coast with her brand-new husband. "Once [surgery] is taken care of, we'll go on our honeymoon—our very well-deserved honeymoon!"