Above, Team EndoFound runners Chiara Amendola (at left) and Kelly Kasprzyk plan to show endometriosos who's boss at Sunday's TCS NYC Marathon.
Endometriosis can eat their dust!
On Sunday, Nov. 4, two determined endo warriors will join over 50,000 runners as they navigate the windy and winding 26.2 miles of New York City's five boroughs for the TCS New York City Marathon. What was it like to train for the world-renown marathon while battling a chronic illness like endo? Both women, who will proudly run while representing The Endometriosis Foundation of America's charity race team, the seven-member strong Team EndoFound, share their inspiring stories and what they're most looking forward to when they cross the finish line.

Kelly Kasprzyk, 38, Jersey City, N.J.
Bib #: 49032
NYC marathon first-timer Kelly Kasprzyk can hardly believe her luck: in less than 48 hours, she'll be elbow-to-elbow with the world's greatest distance runners. It all began during a fateful yellow cab ride, when she discovered EndoFound's call for runners to apply to our charity team.
"I submitted through the [TCS] lottery and didn't get picked, so I was thinking this wasn't my year," Kasprzyk tells The Blossom. "Then I saw an email from endofound.org stating they were looking for ten people to participate in the marathon."
During her the ride, she wrote an essay on why she wanted to run. It worked.
"I was so excited when I got accepted."
Ringer she isn't; Kasprzyk is a force to be reckoned with. She already has two half marathons under her belt and immediately began training for the 26.2 with a whirlwind 12-week program. She says the race is a labor of love for the surgeon that helped her regain her strength to run again.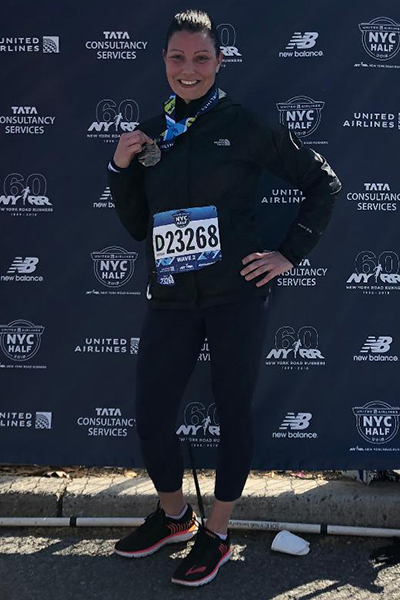 "Running on behalf of The Endometriosis Foundation of America essentially became a thank you to [founder] Dr. Tamer Seckin," Kasprzyk says. "I wanted to thank him for all he has done for me."
Kasprzyk suffered from endometriosis pain for more than a decade before another OB-GYN performed surgery and confirmed endo was the source in December 2012.
After experiencing excruciating abdominal pain each month, Kasprzyk was wrongly diagnosed with Crohn's Disease and was referred to a biliary specialist in 2016. However, Kasprzyk just knew in her heart that her pain was endometriosis-related.
In January 2017, she had her first appointment with Seckin at his NYC practice, Seckin Endometriosis Center.
"Dr. Seckin immediately knew I didn't have Crohn's," Kasprzyk said.
Once she underwent surgery with Seckin, Kasprzyk got all the answers she was searching for.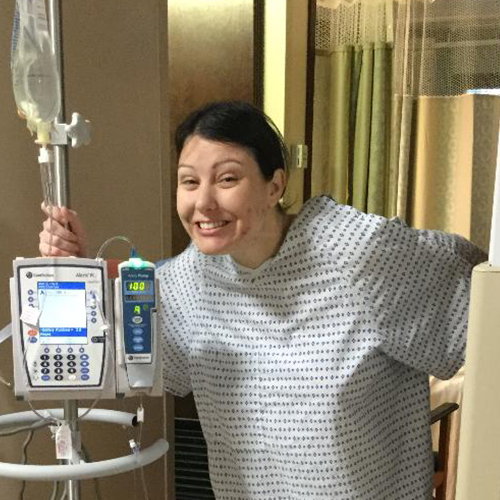 "Adhesions were found on my intestines, which were misdiagnosed as Crohn's and endo had traveled to my upper abdomen and were affixed to my gallbladder. My gallbladder had essentially been sealed shut by endo," Kasprzyk recalls. "A week after my surgery, I felt like a new person. Had I not seen Dr. Seckin, where would I be today?"
Running has helped Kasprzyk cope with her endometriosis pain and raising awareness about the disease is what inspires her to keep going mile after mile in her Brooks PureFlow 7 sneakers.
"There are some days I don't want to get out of bed and run, but when you get out there and get past that first mile, you keep fighting through the discomfort and it's such a sense of accomplishment. A few years ago, it would've been really difficult for me to run a marathon. I'm thankful to Dr. Seckin for giving me answers and the ability to get out and run."
Kasprzyk is also looking forward to her boyfriend cheering her on at the finish line—along with a victory pint of Guinness.
"My boyfriend, who has run the NYC Marathon before, has been so supportive," Kasprzyk says.
"His family and friends have also been incredibly supportive along with my mother and my family and friends."
Chiara Amendola, 30, Providence, R.I.
Bib #: 65864
Chiara Amendola has days where her endometriosis pain is so intense, she doesn't feel well enough to run, but, like a true warrior, she gets up and pounds the pavement anyway.
"I can't push as hard on the days I have endo fair-ups," Amendola tells The Blossom.
"But I still do what I can."
After enduring five endo-related surgeries in as many years, Amendola is thrilled to be training to run the TCS New York City Marathon—her very first 26.2.
Amendola's journey to the Staten Island starting point is a particularly painful one.
She was a sophomore in college when she was diagnosed with endometriosis.
"I got my period when I was 10 and had crazy cramps growing up," recalls Amendola. "I saw a bunch of doctors and eventually had surgery that confirmed it. My endo was cauterized, which made everything worse, but I was happy that I was, at least, finally diagnosed."
While she was reluctant to share her endo journey at first, Amendola posted her story on social media in March and quickly found comfort in seeing all of the stories from a sea of proud #1in10 warriors.
"So many women are struggling with endo and don't talk about it," says Amendola. "Women are also having emotional issues with it. I don't think I'm strong or brave. I didn't choose to have endo, but I am choosing to speak out about it and raise awareness for it."
When she's not training for the marathon or speaking out about endo, Amendola loves traveling and spending time with her husband and rescue dog, Penelope. She's been to 31 countries.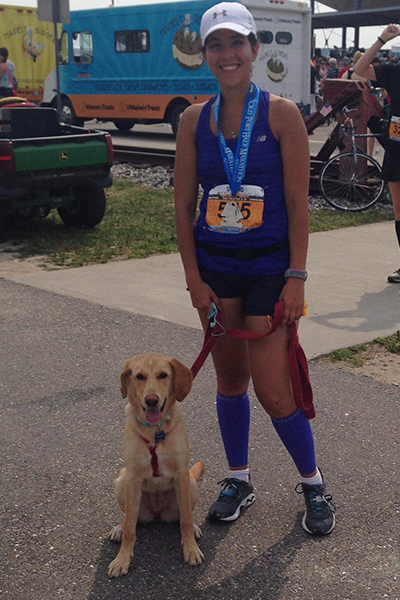 "I had excision surgery in April, and they found some new growth," Amendola says. "I still experience pain, but I refuse to let it hold me back from doing the things I love."
When she crosses the TCS finish line, Amendola is sure to shed some tears.
"Training for this marathon has brought up a lot of emotional stuff. While I sometimes run to music, many times I run in silence and like to be alone with my thoughts. Sometimes my body is a jerk to me, but I'm still capable of doing great things with my body."
On Sunday, she predicts she'll need a little help from her playlist of saccharine-sweet throwbacks like *NSYNC and Britney Spears.
With her playlist planned, she's also dreaming of a cheesy post-run treat.
"When my Nikes cross that finish line, a lot will be on my mind, but I have to admit, I'll also be thinking about pizza!"
Editor's note: Want to cheer on Kelly and Chiara and the rest of Team EndoFound? Both women have set up fundraisers to help them meet their collective $30,000 team goal. Help them sprint to the finish here and here. Interested in running for Team EndoFound in an upcoming marathon? Check out our Rock 'n' Roll Marathon races here.