Virtual Patient Conference, October 16 - 18
EndoFound is excited to announce that our annual Patient Conference is going virtual this year! Join us on Oct. 16 - 18 for this conference designed specifically for individuals with endometriosis, organized in part by EndoFound's Patient Advocate Committee. This event is FREE and open to all members of the endometriosis community. Full detailed schedule coming soon.
Some of the topics we're going to discuss include,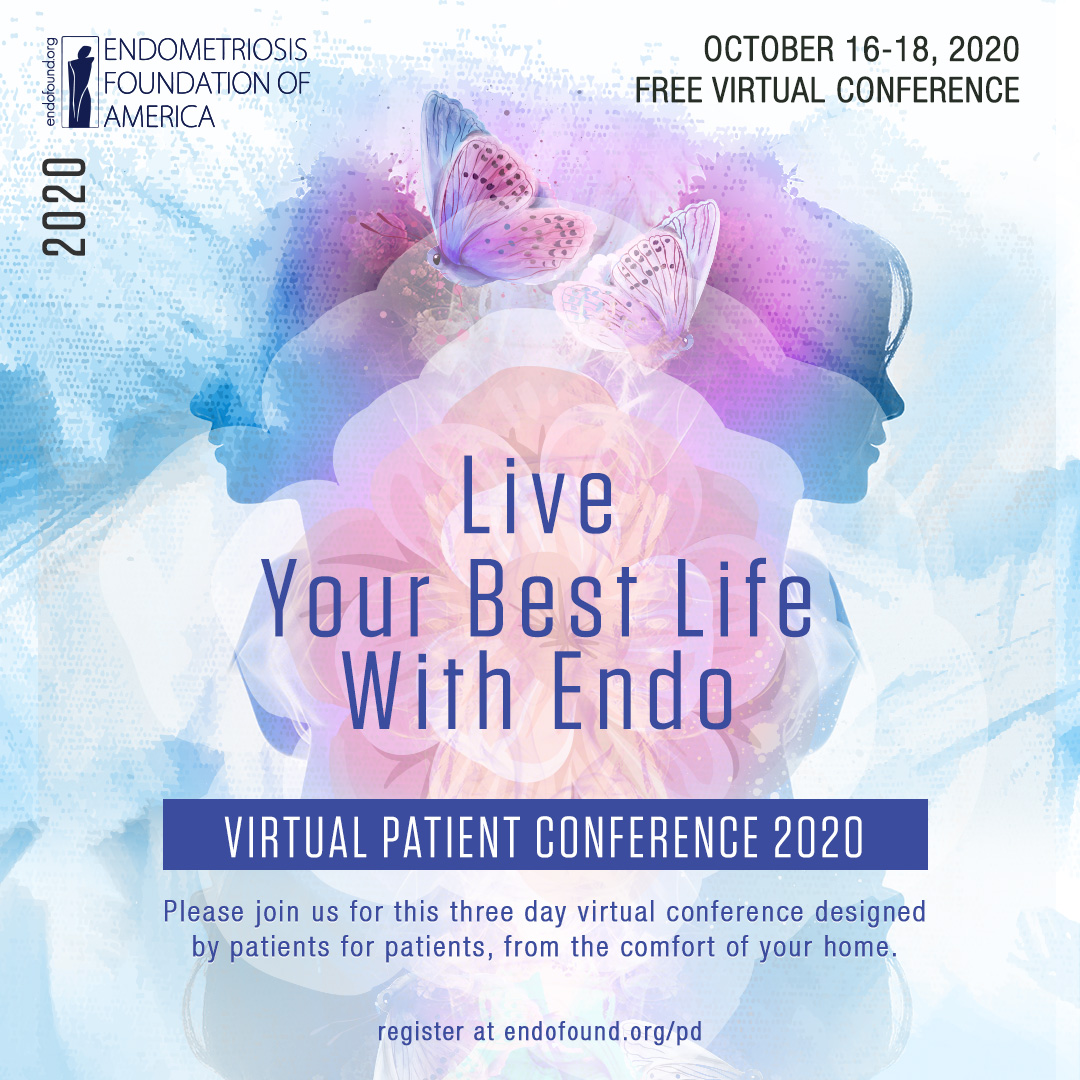 The Life Cycle: Endo from Adolescence to Menopause and Beyond
How Pain Affects the Brain
Endo 101
Meditation & Yoga for Endo
Endo & Nutrition
How to Advocate for Yourself
Endo, Hormones, and Menopause
Extra-Pelvic Endometriosis
Hidden Endometriosis
This virtual conference will also offer:
Happy hour
Virtual goodie bag
And more!
---
SPEAKERS
---
PROGRAM
Friday, October 16, 2020
| Time | Topic | Speaker |
| --- | --- | --- |
| 6:00 PM - 6:30 PM | Opening and Welcome | Welcome - Margaret Caspler Cianci, A Special Welcome - Padma Lakshmi, Welcome & Foundation impact - Tamer Seckin, MD, Yellow Drink Cheers- Patient Advisory Committee |
| 6:30 PM - 7:00 PM | Endometriosis 101 | Dr. Goldstein and Dr. Hawkins |
| 7:05 PM - 7:25 PM EDT | Keynote | Lexie Stevenson |
| 7:25 PM - 7:50 PM EDT | How to talk to your doctor about Endometriosis | Tracey Haas, DO |
| 7:55 PM - 8:00 PM EDT | Closing | |
Saturday, October 17, 2020
Time
Topic
Speaker
1:00 PM - 1:20 PM EDT
Soothing the Pains of Endometriosis: Mind & Body
Corinne Idzal
1:20 PM - 1:40 PM EDT
Follow Your Gut: Endometriosis & Nutrition
Lilia Bolgov
1:40 PM - 2:00 PM EDT
IBS is BS when it is Endometriosis….Culprit in the misdiagnosis, and years of delay.
Tamer Seckin, MD
Moderator: Diana Falzone
2:00 PM - 2:45 PM EDT
Endometriosis Advocates: Supporting yourself and others with endo
Les Henderson, Lauren Kornegay, Samantha Denae, Kylie Gomez
2:45 PM - 2:55 PM EDT
How to advocate with your insurance
Latia Lee, Moderator: Melissa Boudreau
2:55 PM - 3:00 PM EDT
Break
3:00 PM - 3:45 PM EDT
The Endo Life Cycle: Endo through the ages
Natalie Vavricka Chanier, Dr. Deepa Barot, McCall Huey, Moderator: Mary Ray
3:45 PM - 4:30 PM EDT
Closing Q&A
Moderator: Diana Falzone, Harry Reich, MD, Dan Martin, MD, Tamer Seckin, MD
Sunday, October 17, 2020