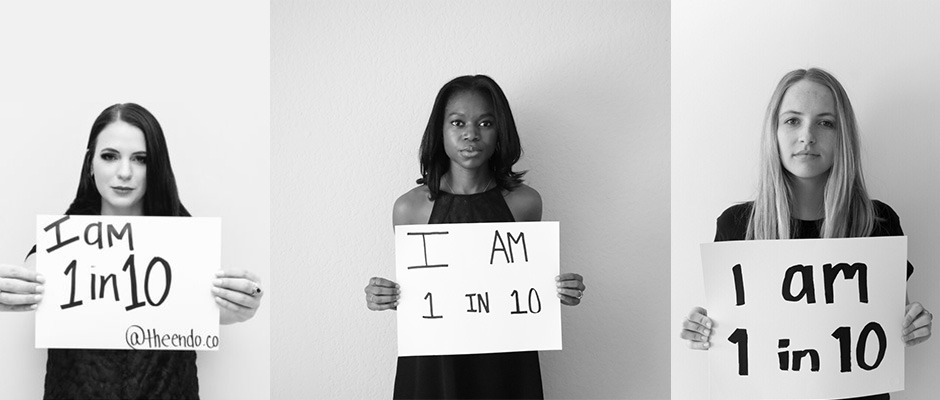 We are hitting like on this one!
The viral I am #1in10 campaign that has taken social media by storm is all thanks to Endometriosis Coalition founders Natalie Archer and Jenneh Bockari. To date, the hashtag has racked up an impressive 15,000 Instagrams and counting, and even the duo are surprised by how quickly it's picked up steam.
"We are so overwhelmed by how it has just caught on, to the point where we are having a hard time keeping up with all the people who are tagging us in their photos," Bockari, 31, tells The Blossom. "We are noticing so much positive feedback and family members who have never talked about endo publicly and women who have never talked about endo themselves. People from different countries, all over the world that are participating."
It's true. Men, children and even some four-legged friends, have joined in with thousands of women on the endo awareness-hashtag by simpling holding up a sign that announces that one of their nearest and dearest suffers from endometriosis.
For Bockari, 31, it's more than a social media campaign—it's a passion project. She herself was diagnosed with endometriosis, which ravaged her diaphragm and encumbered her work as an adult internal medicine nurse in Beverly Hills. "I first started having symptoms in 2013, I was 26," she shares. "I kinda had atypical symptoms in that I really did not have pelvic pain, but I was having a stabbing pain in my chest and shortness of breath. Those were my first symptoms of anything endo, but I did not know that is what it was at the time."
She says she's endured two endometriosis-related surgeries, the second, in 2016, restored her health enough to help her lead a largely asymptomatic life. "It is like night and day difference. I am back to work again, I am not needing pain meds anymore. It was in that time, in the recovery from excision [surgery], that I actually met Natalie on Instagram. We both kinda just bonded over our shared stories. We really feel it is so important for the mainstream and even medical professionals to be seeing the words more and hearing about it more, giving women a platform to feel more comfortable talking about it."
The duo's clever social media campaign wasn't born overnight. Bockari says she and her team began planning it in September, and finalized it in December, and sat on it until March 1, the beginning of awareness month, "I came up with the idea of playing off the statistic that 1 in 10 women have endometriosis, which is something that would be eye-catching and simple to take part in, especially since many women with endo are not feeling well most of the time. We wanted to do something that involved not just the women who have the disease, but people in their lives as well. A way for them to be supported and a way for them to start a conversation about something that is usually a bit uncomfortable to have a conversation about."
Mission accomplished!