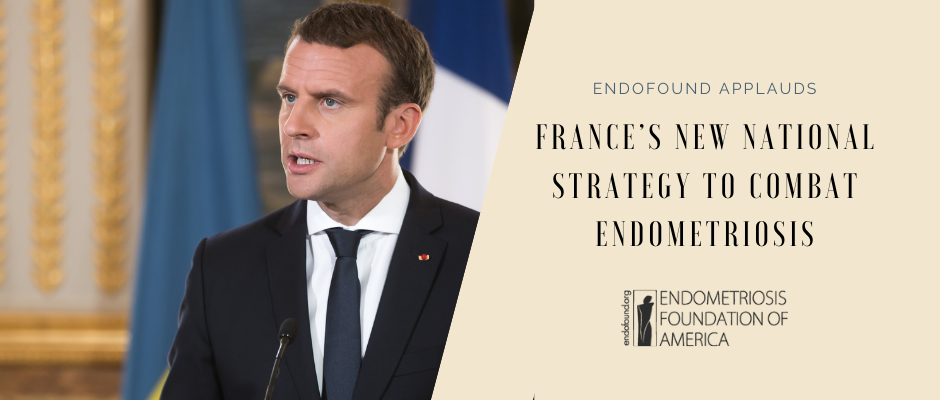 Great news from France! Yesterday, President Emmanuel Macron announced that he is launching a new national strategy to combat endometriosis in France. The national plan will address awareness and education, encourage early diagnosis, and advance treatment on the disease by allocating designated centers of treatment in each region of the country. The plan will also focus on forming research teams to study the etiology of the disease. The plan has been developed, in huge part, by gynecologist and European Parliament member Chrysoula Zacharopoulou.
We're thrilled about this news and we're committed—as we have been for over a decade—to seeking a similar strategy in the United States. We're encouraged by the progress being made in the United States through the recent re-establishment of the bipartisan Congressional Endometriosis Caucus by Congresswomen Nikema Williams (D-GA) and Jenniffer González Colón (R-PR). We're also working to support the caucus and bring more attention and awareness to the disease through the newly announced UpEndo Coalition. Through the caucus and the UpEndo Coalition, we will be working to support increased research funding, awareness, and advance policy around endometriosis within the US Congress and the Biden-Harris Administration.
As Padma Lakshmi, cofounder of EndoFound, says, "I look forward to a day in the near future when we see the same priority from policymakers here in the United States. Our foundation is committed to making this a reality and letting the millions of women and their families here know that they're not alone." She applauds President Macron for the "global precedent" that he set with the launch of national stategy to combat endometirosis. "It has been a long day coming for many of us who suffer from this disease," Padma says. "Endometriosis is not a woman's issue; it is a global issue."
Dr. Tamer Seckin, cofounder of EndoFound and medical director of the Seckin Endometriosis Center, concurs, stating, "France should serve as an inspiration for what we must achieve here in the United States by furthering the foundation's work with our partners, patients and policymakers. Washington should join Macron's call to action in order to create the global movement for endometriosis awareness and reproductive health that we have been fighting for for so long."
Former Congresswoman Abby Finkenauer, who launched the first House Endometriosis Caucus in 2019, states that she's "grateful today to see important steps taken across the globe as France has declared endometriosis not just a 'woman's problem, but a social problem." She states that Macron's announcement has "set the tone for the kind of urgency that is necessary to tackle a condition that affects 1 in 10 women worldwide. We must continue to elevate, partner, advocate and do all we can in the United States of America to up endometriosis awareness, research, and funding."
Our EndoFound Ambassadors agree that we must priortize the same kind of national plan in the United States. "There is no better time than now for the United States to show the same commitment to improving the quality of treatment and care for the endometriosis community," says Diana Falzone, Journalist, EndoFound Ambassador, and Host of EndoTV. Olivia Culpo, also an EndoFound Ambassador as well as an UpEndo Leadership Council Member, reminds us of the diagnosis delay that presents such a barrier to treatment. "Those with endometriosis around the world are facing delays up to 10 years to get a proper diagnosis," Olivia says. "France has taken the all-important step of showing its citizens that endometriosis must be a priority with the announcement of their national strategy. I hope the United States will follow in their footsteps and give endo patients the voice and platform they deserve."