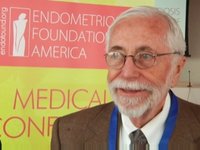 – Franklin D. Loffer, MD, EVP of AAGL
Interviewer: We are joined today by one of our chairs, Dr. Frank Loffer, Executive Vice President of AAGL. We are very privileged to have you here with us, thank you for joining us today. Of course you have a famed career, an illustrious, inestimable career and I wonder if you could share with our audience in the course of your career since you began through today what progress have you seen in endometriosis, if any, and I hope you will say some, and where do you think we need to go?
Franklin D. Loffer, MD: Oh, I think clearly there has been some changes. The availability of the laparoscopy to allow the early diagnosis to be made, and for that matter for the diagnosis to be accurately made, really began the whole process of improving care for women for endometriosis. But we still have long ways to go. This meeting has been wonderful though and it has brought together some of the newer thinking and it is quite possible that in the not too distant future we may see some real advances being made.
I think the other thing this meeting has brought forth is the need for the public to understand the magnitude of the issue. It affects so many women in such a disastrous fashion.
Interviewer: Thank you very, very much for your extremely valuable and insightful comments. Thank you, Dr. Loffer, we are really privileged to have you here with us today, thank you.