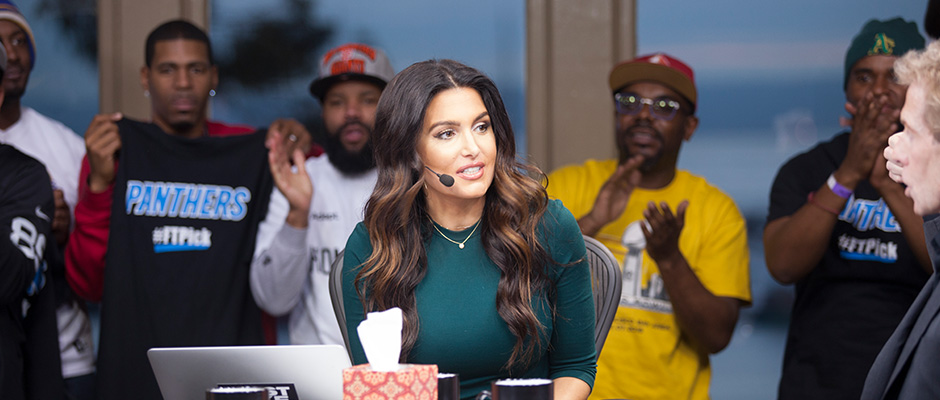 ESPN sportscaster Molly Qerim is known for her energetic and magnetic on-air presence as a host of one of the networks' hottest shows, First Take—and now she's opening up about just how hard it can be to do her job. In a recent interview, Qerim, 33, revealed she has Stage IV Endometriosis and has often had to hide its nagging symptoms like fatigue, pelvic pain and bloating all while appearing on live television. Qerim spoke to The Blossom about her journey to diagnosis, how she's managing her symptoms, and her plans to use her platform to raise endometriosis awareness.
You were at our 2018 Blossom Ball. How did you first hear about The Endometriosis Foundation of America?
"I think it was Padma Lakshmi or Lena Dunham speaking out about their endometriosis. So, I did a little more searching and found The Endometriosis Foundation of America's website and found out about the Blossom Ball. It was an incredible experience."
Qerim (above) walked the red carpet at the 2018 Blossom Ball. "I didn't realize until I had gone to the Blossom Ball how prevalent endometriosis was," she shares. "I didn't realize how many people were suffering."
At what age did you first experience endometriosis symptoms?
"Describing my symptoms is challenging because I didn't realize anything was wrong with me. But looking back, I definitely suffered pain, and I would say migraines as well, and a lot of fatigue, chronic fatigue. After a full night's sleep, I would think, 'Why don't I have the energy that I should have?'. At 26, I was diagnosed with Stage IV Endometriosis. The endometrium was all over my organs."
After you were diagnosed, how did dealing with endometriosis affect your work and personal life?
"I have to really be diligent about getting my sleep, getting eight hours a night, limiting alcohol and sugar, getting acupuncture once a week. Exercising, meditation. I really implement all of that to keep the inflammation down and keep me feeling like I can be 'on' all the time. The [on-air] light comes on, and I need to be on. When you're on morning television, people want to see happy, positive people, and my job is 24/7. So in my offtime, it became more about taking care of myself, than maybe other things I would normally do on the weekends. There are times when I can't leave the house all weekend. Or, I come to work and then it's straight to bed after work. It's the ebb and flow of having a chronic illness. It can be frustrating at times because you'll feel really good for a while, and then it hits and its like, 'Ugh! You're back.' So it's kind of like your body is naturally keeping you in check at all times. It has almost become a second job."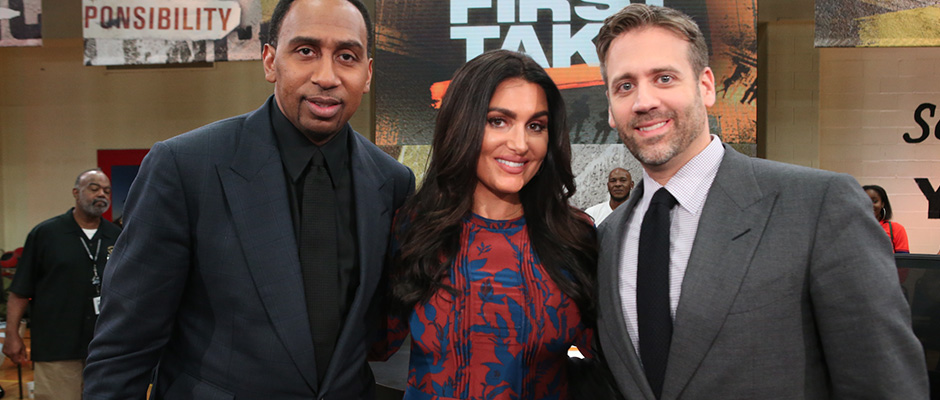 Qerim (above, center) huddles up with her ESPN First Take colleagues Stephen Smith (at left) and Max Kellerman on-set.
How were you able to find a doctor to diagnose you?
"One night, I landed in New York City, and I was in my hotel room, and I had horrific pain. I went in for work, and I doubled over. And I said, 'Maybe I am ovulating,' but my mom said, 'That's not normal, call the doctor.' I went to my OB-GYN, who did an ultrasound. I needed to get another ultrasound, and then the doctor said, 'I think you may have endometriosis. We can't confirm it until we perform surgery.' I flew back to LA and spoke to an advanced reproductive endocrinologist, and that is how I found my doctor, Dr. Mark Surrey."
After surgery, how did you feel?
"I did feel much better. I don't want to act like surgery should be your first choice of treatment, but my endometriosis was so severe. But, unfortunately it didn't last, and the endometriosis came back."
When your symptoms returned, did your doctor put you on birth control or any form of hormone therapy?
"They put me on Lupron, and I would not recommend that to someone. I do not find that as an effective treatment to just deal with endometriosis. I found acupuncture to be much more helpful than Lupron."
Were there any other surgeries you chose to undergo?
"I had a second surgery, knock on wood."
What kind of specific dietary and lifestyle changes have you made?
"I very rarely drink alcohol. I will have a splash of prosecco for celebratory occasions, but pretty much no alcohol and no sugar. I am up at 5 a.m., so I have not been able to entirely cut out caffeine. Don't get me wrong, I enjoy going out to eat. I am a total foodie, but I try to eat at home. I grew up on a very Mediterranean diet, and that goes hand-in-hand with also being anti-inflammatory, like a lot of fruits, vegetables, meats, and lots of unprocessed foods. I got into meditation."
Recently, Diana Falzone, a former reporter for Fox News, settled her discrimination suit with the network after revealing her endometriosis diagnosis. Did you have any fears in revealing your diagnosis?
"It's very personal to talk about your reproductive health. It is obviously not the sexiest subject to discuss when you work in a male-dominated industry, but also I did have some fear that it would be held against me, and that is why, initially, when I was diagnosed, I thought to keep it to myself. I didn't know if someone would say, 'Oh well she's got this, she can't do this job. She can't hang, she can't work these hours.' And that is one of the things I pride myself in: I have been working at ESPN for two-and-a-half years, and I have never called in sick once."
What was it like telling your colleagues at ESPN that you have endometriosis?
"Initially, I didn't tell anyone. Even a lot of people now, after they saw the article say, 'We had no idea,' and that makes me feel good because I came to work and people couldn't tell that some days I did not feel well and I am still able to bring my A-game. I felt inspired and empowered at the same time, after going to The Blossom Ball, hearing all of these women's stories. So, I felt empowered to tell my story, too, and do my part. Hopefully, I can encourage other women and also let them know that they can manage this, they can live with this, and hopefully, if we get behind this and bring awareness, we can drive some research, so down the line, people won't feel like this."
Editor's note: This interview has been edited and condensed for clarity.