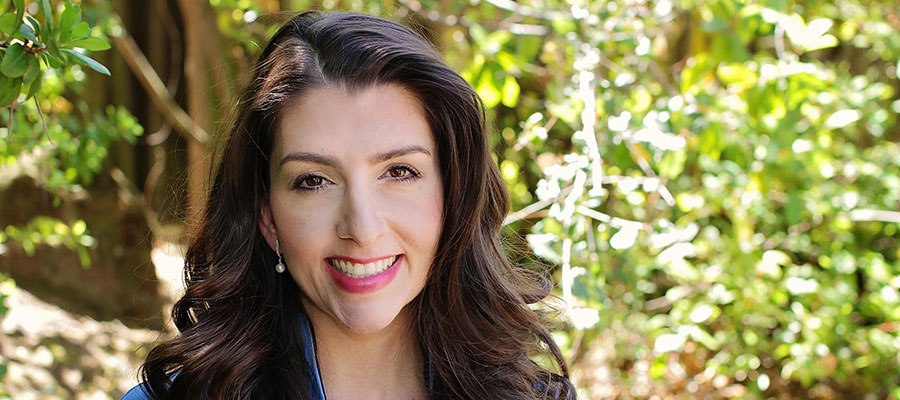 A decade ago, one of Dr. Aimee Eyvazzedeh's patients couldn't get pregnant and was about to abandon the hope of growing her family.
"I told her, 'Don't give up. I still think there's a chance,'" said Dr. Aimee, as she's known to her patients and colleagues. "Long story short, she had beautiful twins and gave me the website eggwhisperer.com as a gift."
That moniker stuck as the national media caught on to the notable name and Dr. Aimee's extraordinary approach and care to helping women conceive.
Dr. Aimee will share her expertise as one of two dozen presenters at EndoFound's Endometriosis 2023 Global Patient Symposium. The event, titled "Together for Tomorrow," will be on March 18 and 19 in the Einhorn Auditorium at Lenox Hill Hospital in New York City. She will hold her 90-minute virtual Q&A from her San Francisco office on March 19.
A graduate of the UCLA School of Medicine in 2001, Dr. Aimee completed her residency in obstetrics and gynecology at Harvard Medical School in 2005. Her pedigree in medicine is strong, as her father and grandfather were OBGYNs and her grandmother was a midwife. But, primarily, her mother's trauma led her to the profession and to focus today strictly on fertility.
"My mother suffered at least three second-trimester miscarriages that just ripped her heart out," she said. "I've known that I've wanted to do this since I was 12. I told myself that I wanted to dedicate my life to helping women who suffer the way my mom suffered."
Dr. Aimee said that at least 40 percent of the women who come to her for fertility treatments have some degree of endometriosis. That statistic aligns with the National Institute of Health's claim that between 25 and 50 percent of infertile women have the disease.
"Endometriosis robs many women of their ability to have a baby with their own eggs," she said. "I tell my patients that it causes a young woman's eggs to behave chronologically older than her age and makes them less viable, less mature, and have higher chromosomal abnormalities. And if it's left untreated for years, she also may have to deal with adenomyosis, which can impact her ability to get pregnant, stay pregnant, and have a healthy full-term baby."
Along with helping women find the cause of their infertility and solutions to conceive naturally if possible, Dr. Aimee presents options in creative ways to those searching for alternative ways to have children.
One example is her egg-freezing parties, which she's hosted for the last decade and now conducts virtually. The interactive event enables a group to speak live to Dr. Aimee and ask questions about the egg-freezing process and its costs, advantages, and risks.
Another example is the Freeze & Share program. This allows women to freeze their eggs when they're young at a fraction of the typical five-figure cost by agreeing to donate half of their eggs to those who need them. Dr. Aimee founded the program after a 40-year-old patient came to her in 2008 searching for the eggs she'd donated to a company for cash 20 years earlier.
"I told her there weren't any to find—people had families with her eggs," Dr. Aimee said. "She wanted them because now she needed eggs and wanted her own. I created the Freeze & Share program because of too many stories like that."
Dr. Aimee is excited to be part of the symposium, which is intended to provide women with the tools they need to navigate their endometriosis journey. She finds that many of her patients don't know that endometriosis could be the cause of their infertility. They may not have even heard of the disease.
"Unfortunately, there's still not enough awareness," she said. "I have patients who complained for years and nobody paid attention to them. They were made to feel that the debilitating pain they couldn't leave the house with was normal, so we need to do a lot better. That's why all of these public awareness efforts are still needed."
For a symposium schedule and to purchase tickets, visit www.endofound.org/patientday. For more information on Dr. Aimee, visit www.eggwhisperer.com.