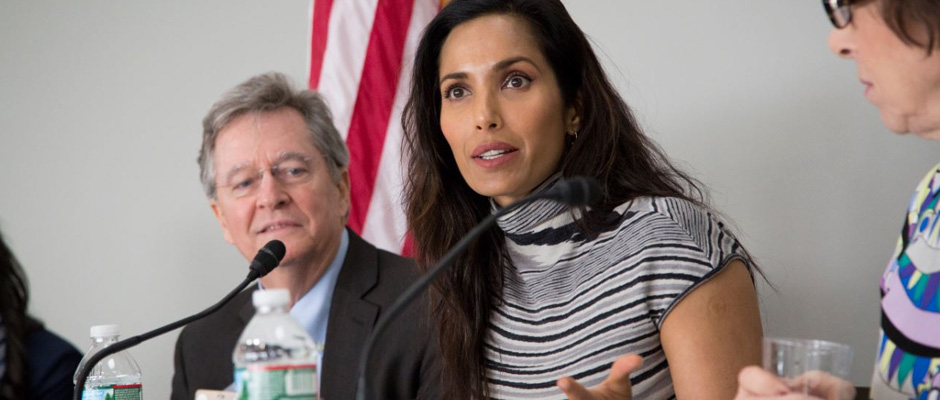 Celeb: Willowy model-turned "Top Chef" host Padma Lakshmi, who on Thursday visited Capitol Hill on business related to another line on her resume — that of the founder of the Endometriosis Foundation of America.
Cause: Awareness, education and funding for the disease, which Lakshmi, 45, said debilitated her from her teenage years to her diagnosis at 36, costing her "25 percent of my life" and playing a role in the 2007 breakup of her marriage to novelist Salman Rushdie.
Scene: A lunchtime briefing in the Hart Senate office building, which was only one stop during Lakshmi's packed day of lobbying (also on her daybook were meetings with lawmakers, including senators Chuck Schumer, Elizabeth Warren and Kirsten Gillibrand). Boxed lunches might not have been "Top Chef"-worthy, but the crowd of young staffers and NIH officials gathered for the discussion didn't seem to mind. Lakshmi played the part of the middle-school health teacher you always wanted, explaining the condition with a mix of metaphors (if the uterus is a garden, "endo is the weeds") and plain talk: "I'm going to be talking about my vagina … but you'll make it out of here — it will be okay."
Soundbite: Lakshmi stressed how often endometriosis is misunderstood and misdiagnosed, especially among teenagers. "No young girl should feel guilty, and no young girl should fall through the cracks," she said.