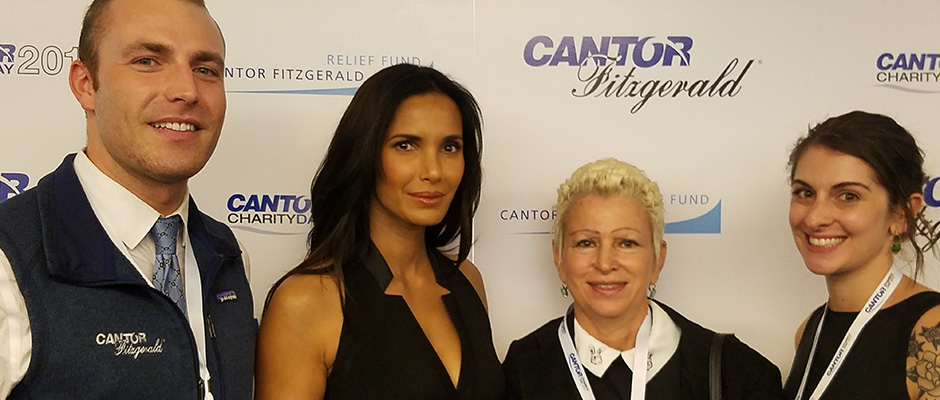 Each year on September 11th Cantor Fitzgerald, along with its affiliate BGC Partners, Inc. and the Cantor Fitzgerald Relief Fund donate 100 percent of their global revenues to dozens of charities around the world. The Relief Fund notes "Charity Day is our way of turning a tragic day into one that is positive and uplifting by helping others". The Endometriosis Foundation of America (Endofound) has been an honored Charity Day participant since 2015. Yesterday, EFA co-founder Padma Lakshmi attended the event to help raise endometriosis awareness and make some sales on the Cantor Fitzgerald trading floor!
Ms. Lakshmi, who has attended Charity Day on the Endofound's behalf every year, spoke about the importance of supporting those in need. According to Ms. Lakshmi, "The best way to deal with tragedy like 9/11 is to double down on our efforts to help each other. I want to turn my years of suffering with endometriosis into a positive effort to help the approximately 200 million women around the world who currently have endometriosis. They should not have to suffer in silence." Cantor Fitzgerald Charity Day provides awareness and financial support to each participating organization, allowing a number of different and important initiatives to thrive in assisting the communities they serve.
Endofound Executive Director Leslie Wolf-Creutzfeldt, also in attendance at yesterday's event, lauded the work Charity Day makes possible "We thank Cantor Fitzgerald and Padma Lakshmi for their continued support of Endofound. The money raised today will be used for EFA research, education and awareness programs to combat and eventually conquer this disease of the female reproductive system that can affect other body systems. About 1 out of every 10 females of reproductive age has endometriosis. Early diagnosis and treatment is the best solution."
While unable to attend Charity Day Endofoun co- founder Dr. Tamer Seckin expressed his sincere thanks to Cantor Fitzgerald, BCG, and Ms. Lakshmi for their deep dedication to the cause.
"I want to thank all those, particularly Endofound co-founder Padma Lakshmi, who gathered in NYC on 9/11 to help Cantor Fitzgerald and their affiliate, BCG Partners, raise money for Charity Day. Charity Day is a reminder of the power we have to help others, and it takes a tragic day and turns it into an opportunity for hope."
Endofound is honored to have been able to, once again, participate in Cantor Fitzgerald Charity Day and looks forward to continue this work in order better serve women around the world.