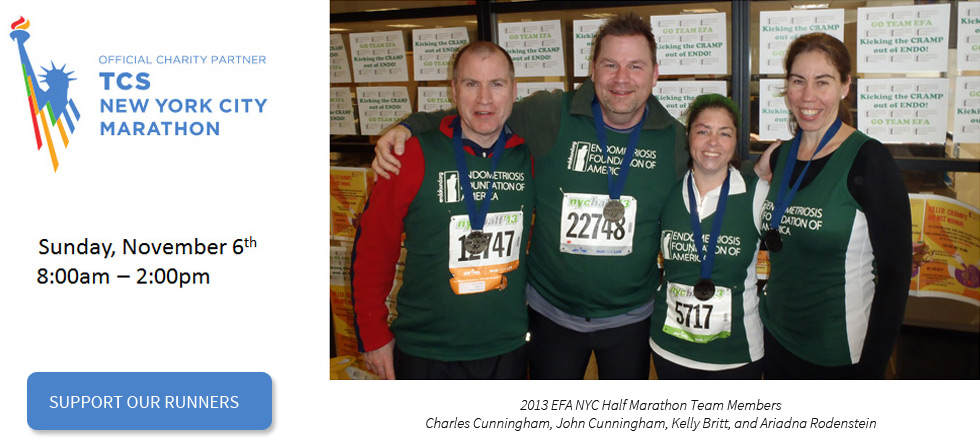 Run for Endometriosis and Add Meaning to Your Miles!
The Greatest Race in the World
The TCS NYC Marathon is New York City's greatest block party. With over 50,000 participants anda million spectators, you can traverse all five boroughs of the greatest city in the world, and be apart of the largest marathon to date. Runners gather to test their limits, summon their strength, and take on one of life's greatest challenges. The EFA is thrilled to have been selected as an official charity partner for this year's race. Every runner has a story. Let endometriosis be yours.
Meet Our Runners!
George Sanchez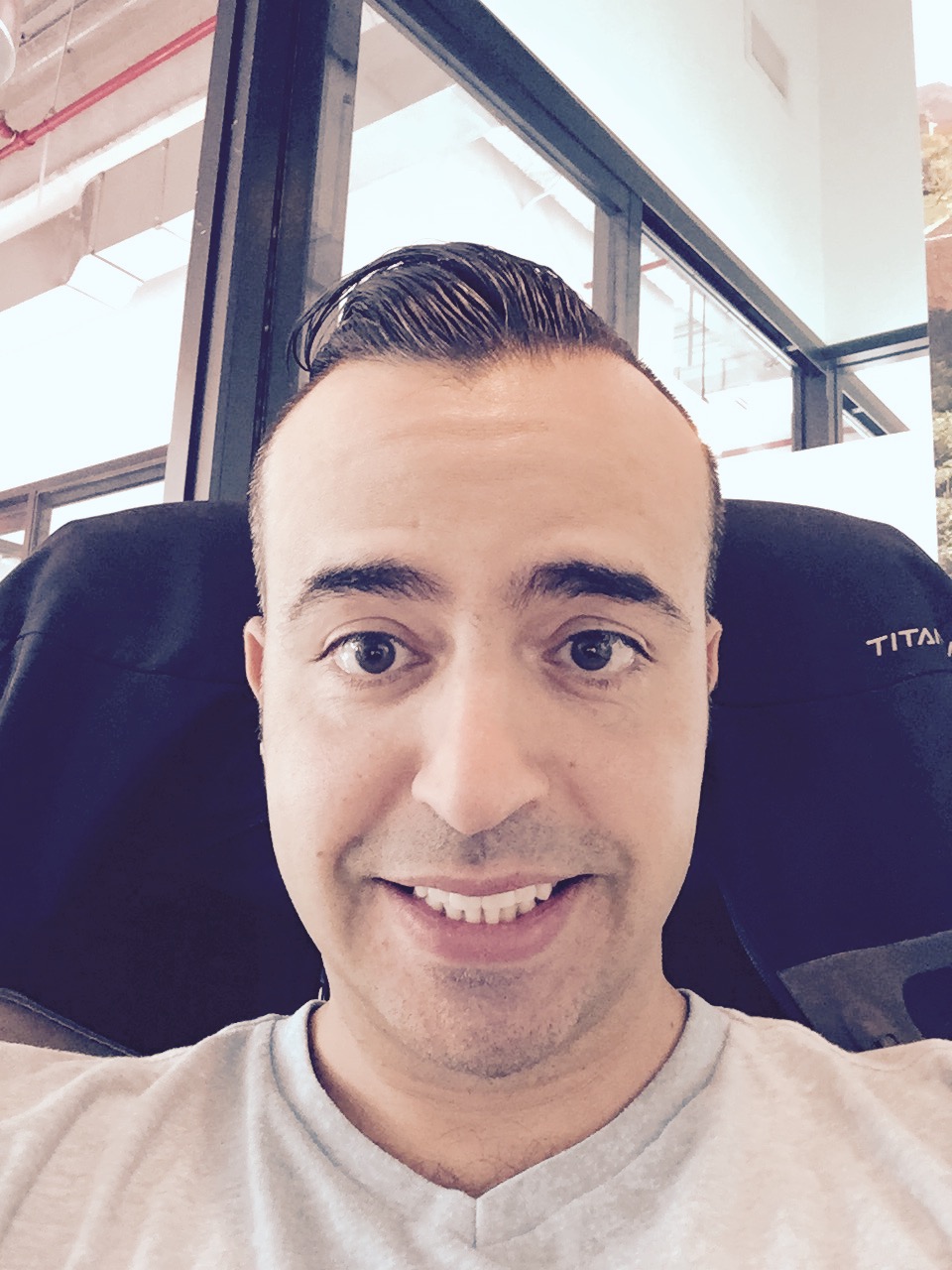 George was born and raised in Westchester County, NY and is of Cuban decent. He and his wife currently live and work in NYC, where they both enjoy everything the city offers like top notch theater, new pizza spots, spin studios, a sample sale or two and of course figuring out ways to NOT cook through the latest food delivery app! After a career on Wall Street, George found his inner creative and currently represents top design, strategy and technology firms in NYC through his consultancy 49co:. George is not a runner but the opportunity to support his wife and the Endometriosis Foundation of America was to good to pass up. He hopes to raise awareness and help other couples that may not know about the disease. Donate through George's Crowdrise page here!
Sylvia English

Sylvia English joined the EFA marathon team fresh from her third endometriosis excision surgery in late February 2016. She's running for every woman who has experienced endometriosis and every support person who has stood by their side. Born and raised in New Zealand, Sylvia came to New York for graduate school (MS bioethics, Columbia University). She works as a project manager to advance precision understanding of endometriosis through novel technologies (like apps). She lives —and runs— in Brooklyn with her husband Matt, and their deaf and one-eyed dog Quinn. Donate through Sylvia's Crowdrise page here!
Michael T. Breen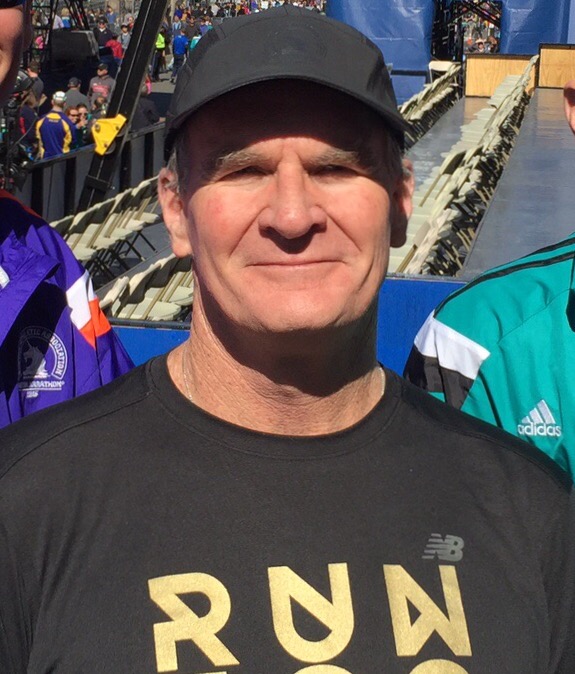 Michael ran his first marathon in Medical School in 1977. He has been running ever since, now running 2-3 marathons yearly. He has been helping women with endometriosis since 1988 as a surgeon and he is proud to represent the Endometriosis Foundation of America and to help raise funds for such a great cause. In addition to running with his group Rogue Running in Austin, he enjoys walking the green belt trails with his wife Anna, sailing and skiing. Donate through Michael's Crowdrise page here!
Ben Willig
Ben, a self-employed real estate professional at Anchor Associates, has been living in New York City for the past ten years. A newly dedicated runner, he ran two half marathons last spring and will be completing an 18 mile race in October, all building up to his first time ever participating in the TCS NYC Marathon. Ben is excited to be running on behalf of the Endometriosis Foundation of America! Dontate to Ben's Crowdrise page here!
Daniel Gunter

Daniel Gunter moved to New York City to pursue a career in acting. After performing two shows off-Broadway he became obsessed with writing a book. Currently, Daniel works in the media industry proving advanced addressable advertising to national advertisers. He continues to write and continues to dream of winning the Oscar. He is running for his sister. Donate through Daniel's Crowdrise page here!
Volunteer on Race Day!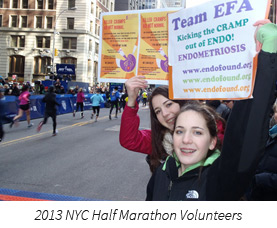 Interested in being a part of race-day magic, but wary of running 26.2 miles? Bring your energy, enthusiasm and voice to help the EFA cheer on our runners!
At this time, all guaranteed entry spots have been filled for the 2016 TCS New York City Marathon.
However, there are spaces remaining for runners who already have entrance to the marathon!
Please contact [email protected], if you have any questions about this year's race.