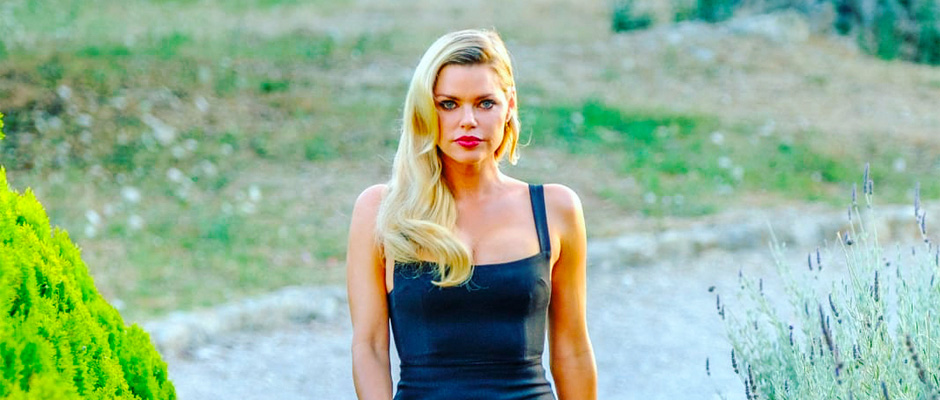 credit: Instagram/SophieMonk
Sophie Monk is #1in10.
The Australian-born model/actress, who recently hosted the reality dating show Love Island Australia, is using her social media to raise endometriosis awareness and recently revealed her endo diagnosis via Instagram. In a series of InstaStories, Monk shares: "So many women live not knowing they have endometriosis. If you have annoying cycles, you should ask your doctor."
In another video the 38-year-old, who first gained fame as a member of the reality TV girl band Bardot, bravely allows herself to be filmed, still groggy in a hospital bed wearing a respirator mask, during a post-procedure consultation at the Monash IVF clinic with her surgeon, who informs her, "We did find some endometriosis but not a lot."
"Only I'd ask to be filmed under [anesthesia.] Best sleep I've had in years," she joked, before calling the staff at Monash "angels."
Monk, who was recently photographed kissing a mystery man she says she met on a flight, opened up during an interview on Australia's KIIS FM radio station back in May about her desire to be a mother someday. During that chat, Monk dropped the bombshell that she was moving forward with plans to freeze her eggs in order to ensure that her dreams of motherhood would eventually become a reality.
RELATED: Singer Halsey Won't Let Endometriosis Stop Her Family Plans: "I'm Going To Freeze My Eggs"
"I'd love to [have kids] because I know they'd be so loved. I'd love to be a mum, but I'm going to have to freeze eggs," she's said. "I've made a plan. It's just the injections and all of those things..and fitting them into my schedule. I'm definitely doing it."
While she finds the prospect of being single mom daunting and "lonely" she's determined. "I feel like I'm missing out [by not being a mother]."
It was that desire to be a mom, that helped Monk get a proper endometriosis diagnosis.
"The reason I found out I had endometriosis was I went to freeze my eggs at Monash—I'm just in discussions about it," Monk's shared. "[My doctor] suggested—because I'm in a lot of pain, and I'm in and out of hospital a lot that people don't know about, and no one could find what it was—he suggested I might have endometriosis, and found it. That's how it came about."
Monk joins a number of celebrities who speak out about having endometriosis, including EndoFound Co-Founder, Padma Lakshmi, EndoFound board member Lena Dunham, Julianne Hough , Tia Mowry and singer Halsey.