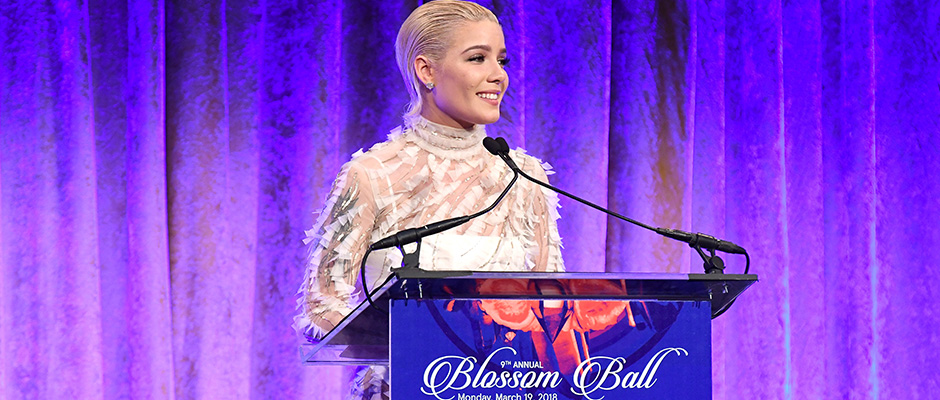 Outspoken endometriosis advocate and singer Halsey is on a mission to one day become a mother—and she recently revealed she plans to start that journey at any moment thanks to modern-day medicine.
"I'm 23 years old, and I'm going to freeze my eggs," Halsey confided during a sit-down on Thursday's episode of The Doctors. The singer has been dating rapper G-Eazy since August. "And when I tell people that, they're like, 'You're 23, why do you need to do that? Why do you need to freeze your eggs?' Doing an ovarian reserve is important to me because I'm fortunate enough to have that as an option, but I need to be aggressive about protecting my fertility, about protecting myself," added the Grammy Award-nominated artist, who was recently honored at EndoFound's 2018 Blossom Ball.
RELATED: Watch and Read: Halsey's Tearful Acceptance Speech From The 2018 Blossom Ball
The singer also detailed how a particularly bad flair-up of endometriosis, which affects an estimated 200 million women worldwide, caused her to collapse while on tour.
"My tour manager had to take me to a hospital. And the whole time I was there no one knew what to tell me. Dehydration, stress, anxiety and I was saying, 'What about my pain?' A lot of the time they can make you think it's in your head."
She says after years of going undiagnosed, one doctor, Dr. Thais Aliabadi, diagnosed Halsey with endometriosis.
"It was so bittersweet because the relief of knowing I wasn't making it all up and I wasn't being sensitive, and it wasn't all in my head, but it also kind of sucked to know that I was going to be living with this forever," she shares.
This isn't the first time Halsey has given fans an unfiltered look at her life with endo. Back in January 2017, she revealed that she had undergone a series of endometriosis-related surgeries who treat the condition. She later announced at the 2018 Blossom Ball that at the time, she "had the laparoscopic diagnostic surgery and endometriosis ablation. And I walked the red carpet at the Grammy's with stitches in my stomach."
The singer was also joined on the show by "MacGyver" star Kate Bond who revealed she also struggles from endometriosis and likened her periods to feeling like someone dealt her a "gut punch."
Halsey joins a growing number of celebrity women who have come forward to help educate others about the disease. EndoFound Co-Founder, Padma Lakshmi, EndoFound board member Lena Dunham, and Julianne Hough, have all bravely spoken about their experiences with the disease.