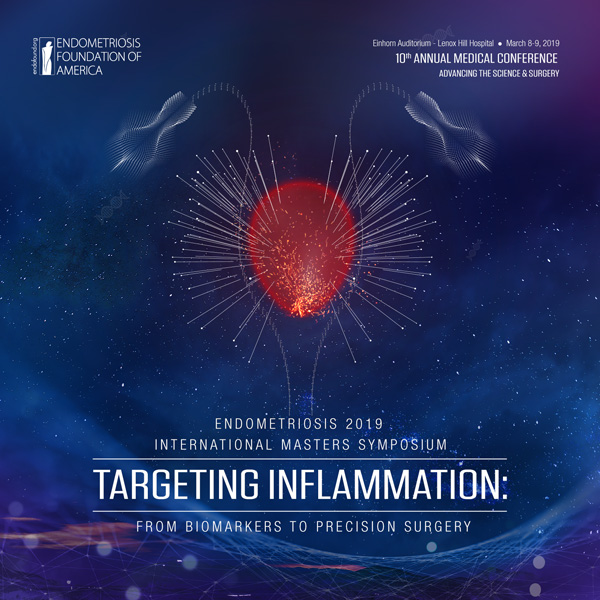 Dear esteemed friends and colleagues,
We are excited to invite you to witness a new era for endometriosis; both in fundamental science and in surgical technique. On behalf of the Endometriosis Foundation of America (EndoFound), please join us at the Tenth Annual Medical Conference on March 8th to the 10th in NYC. This exciting international symposium will explore the critical topic "Targeting Inflammation: From Biomarkers to Precision Surgery." Inflammation is the flame igniting a cascade of symptoms and pathologies that lessen quality of life, cause repeat surgeries, and devastate with infertility. We are thrilled to convene in New York City for another landmark meeting exploring this original topic.
This international symposium will cover primary peritoneal endometriosis as it advances to its end stage in extreme cases of diaphragm, bowel, and kidney disease. Particular emphasis will be placed on neuroanatomy and endometriosis causing neuropathies. A live surgery will be broadcasted from Italy.
We are proud to inform you that for the first time in our history we will surpass 1 million dollars in research grants for endometriosis. Our 2019 Request for Proposals are now open until March 7, 2019. It is through your continued support and generosity that we can sponsor events such as these, fund exciting new research and collaborate on new surgical techniques.
We thank you and look forward to our time together in the vibrant metropolis of Manhattan.
Warmly,
Tamer Seckin, MD, FACOG
Founder, Endometriosis Foundation of America (EndoFound)
---
Honorees
---
Honarary Chair
---
Program Directors
---
Faculty
---
Friday, March 8, 2019
Time
Topic
Speaker
7:00am - 8:00am
Breakfast & Registration
8:00am - 8:30am
Opening and Welcome
EndoFound 2019: How Did We Get Here & Why Are We "Targeting Inflammation"?
Tamer Seckin, MD,
Harry Reich, MD
MODERATORS
Serdar Bulun, MD, Stacey Missmer, ScD & Harry Reich, MD
8:30am - 9:00am

Professional Ethics of the Diagnosis and Management of Endometriosis

Frank Chervenak, MD
9:00am - 9:30am

History of Endometriosis Surgery &
Difficulties in Recognition of Endometriosis: Superficial, Retroperitoneal, Deep Infiltrating, and Bowel

Dan Martin, MD
9:30am - 10:00am

Endometriosis, Menstruation, and Stem Cells

Ray Garry, MD
10:00am - 10:30am
Break
10:30am - 11:00am
Inflammation, Biomarkers, and the Origins of Endometriosis
Piraye Beim, PhD
***All speakers are to leave 5-10 minutes for Q&A and discussion. This is included in their time slot.
MODERATORS
Dan Martin, MD, Bruce Lessey, MD, PhD & Ray Garry, MD
11:00am - 11:30am
Endometriosis and Pelvic Nerve Dysfunctions in the Pelvis
Marc Possover, MD, PhD
11:30am -12:00pm
Origin of Endometriosis: Cartoon Science vs Evidence-based Medicine
David Redwine, MD
***All speakers are to leave 5-10 minutes for Q&A and discussion. This is included in their time slot.
12:00pm -12:50pm
Lunch
MODERATORS
Linda Griffith, PhD, Hugh Taylor, MD & Juan Salgado-Morales, MD
12:50pm - 1:10pm
Tissue Stem Cells: Steps Toward Regenerating the Uterus
Serdar Bulun, MD
1:10pm - 1:30pm
Endometriosis: Stem cells, MicroRNA and Inflammation
Hugh Taylor, MD
1:30pm - 1:50pm
IVF and Endometriosis
Avner Hershlag, MD
1:50pm - 2:10pm
Importance of Diagnosing Endometriosis for Unexplained Infertility, Failed IVF and Recurrent Pregnancy Loss
Bruce Lessey, MD, PhD
2:10pm - 2:30pm
Endometriosis and Risk of Adverse Pregnancy Outcomes
Leslie Farland, MSc, ScD
2:30pm - 2:50pm
Q&A with Panel
2:50pm - 3:10pm
Break
MODERATORS
Asgi Fazleabas, PhD, Avner Hershlag, MD
3:10pm - 3:30pm
Is Diagnostic Laparoscopy Really the First Step for the Diagnosis of Endometriosis?
Juan Salgado-Morales, MD
3:30pm - 3:50pm
Tissue Engineering the Endometrium: Can it Help "Personalize" Medicine for Endometriosis?
Linda Griffith, PhD
3:50pm - 4:10pm
NOTCH1 Mediated Inflammation in Ectopic Lesions: Opportunities for Targeted Therapy
Asgi Fazleabas, PhD
4:10pm - 4:30pm
The Analysis of Menstrual Effluent: Emerging Insights into Endometriosis Pathogenesis
Christine Metz, PhD
Peter Gregersen, MD
4:30pm - 4:50pm
Environmental Immunotoxicants: Do They Affect the Development of Endometriosis?
Katherine Burns, PhD
4:50pm - 5:10pm
Q&A with Panel &
Closing Remarks
Saturday, March 9, 2019
Time
Topic
Speaker
8:00am - 8:30am
Breakfast & Registration
8:30am - 8:50am
Good Morning and Run of Show

Symptoms of Many Systems Leading to Multiorgan Surgery
Tamer Seckin, MD
MODERATORS
Dan Martin, MD, David Redwine, MD & Harry Reich, MD
8:50am - 9:20am
Critical Issues in Endometriosis Incidence and Risk
Stacey Missmer, ScD
9:20am - 9:50am
A Trial of a Trial of Endometrial Resection
Professor Ray Garry, MD
9:50am - 10:20am
Primum Non Nocere vs. Definitive Bowel Surgery for Endometriosis

Horace Roman, MD, PhD

10:20am - 10:50am
15 Years of Evolution from Laparoscopic Oncology to Neuropelveology
Professor Marc Possover, MD, PhD
***All speakers are to leave 5-10 minutes for Q&A and discussion. This is included in their time slot.
10:50am - 11:10am
Break
MODERATORS
le-Ming Shih, MD, PhD, Horace Roman, MD, PhD & Bruce Lessey, MD, PhD
11:10am - 1130am
The Role of Inflammation due to Menstrual Reflux and Current Treatments for Endometriosis
Jennifer Knudtson, MD
11:30am - 11:50am
Leuprolide: The 'd' is Silent.
David Redwine, MD
11:50pm -12:20pm
Great Debate on the ORIGINS of Endometriosis
Dan Martin & David Redwine
12:20pm - 1:20pm
Lunch
MODERATORS
Marc Possover, MD, PhD, Ray Garry, MD & Keith Isaacson, MD
1:20pm - 1:40pm
Inflammation in Endometriosis - What We Can Learn from Cancer Biology
le-Ming Shih, MD, PhD
1:40pm - 2:00pm
Endometriosis and Ovarian Cancer
Vance Broach, MD
2:00pm - 2:20pm
Adenomyosis Dilemma
Keith Isaacson, MD
2:20pm - 3:00pm
Rerun of Live Surgery from Bordeaux France:
Management of Rectosigmoid Nodules without Bowel Resection
Horace Roman, MD, PhD
3:00pm - 3:20pm
Break
MODERATORS
Juan Salgado-Morales, MD & Lora Liu, MD
3:20pm - 3:40pm
Training the Next Generation of Endosurgeons
Michael Nimaroff, MD
3:40pm - 4:00pm
Pelvic Comorbidities with Endometriosis
Ayse Ayhan, MD, PhD
MODERATORS
Michael Nimaroff, MD, Jeannine Villella, DO
4:00pm - 4:20pm
1999-2019: Surgical Empiricism to Robotic Precision in Ovarian Auto Transplant with Cryopreserved Tissue
Kutluk Oktay, MD, PhD
4:20pm - 4:30pm
Complex Urinary Tract & Bowel Surgery & Unintended Consequences


Lora Liu, MD
4:30pm - 4:40pm
10 years on lupron and 2 bowel resections later...
Karli Goldstein, DO
4:40pm - 4:50pm
Extended Hysterectomy Classifications for Endometriosis Surgery
Serin Seckin, MD
4:50pm - 5:10pm
The Role of Inflammation in Pelvic Floor Hypertonia and Neuropathic Pelvic Pain
Allyson Shrikhande, MD
5:10pm - 5:30pm
Q&A with Panel &
Closing Remarks
Tamer Seckin, MD