On Sunday, March 18, 2018, women with endometriosis from the tri-state area gathered at NYC's Einhorn Auditorium inside Lenox Hill Hospital for our Patient Awareness Day 2018: Living Your Best Life with Endo. The day centered around three themes. "Exploring Hidden Pain," looked at mental and sexual health, as well as the biases that keep endo invisible to the public. The second session, "Management of Endometriosis Symptoms" covered everything from diet and exercise to pelvic floor therapy and acupuncture. And last but not least, "What's Next For Endo: Medically and Beyond" explored new research studies and diagnostic tests on the horizon.
Abby Norman signed copies of her new memoir, Ask Me About My Uterus, and staff presented an ENPOWR Award to our volunteer educator, Stephanie Satchell Morris. We also had a handful of groups educate our attendees including My Endometriosis Team, Celmatix, and Flutter, to the research studies Citizen Endo and The Rose Study, as well as medical tech company Lumenis. The day brimmed with hope as women met one another, asked questions, and took home useful resources.
Check out our photo gallery and lecture videos below!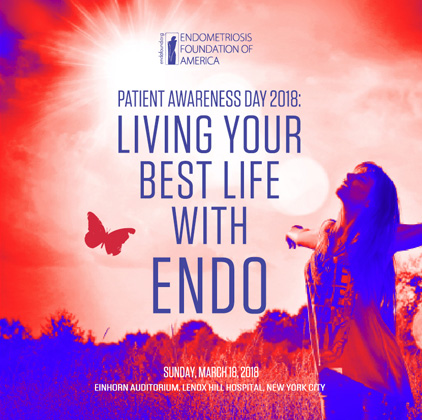 Patient Awareness Day 2018:
Living Your Best Life With Endo
Sunday, March 18, 2018, (8am-5pm) Einhorn Auditorium (131 E76th st) at Lenox Hill Hospital, NYC
PHOTOS
PROGRAM
Time
Topic
Speaker
8:00am - 8:30am
Registration and Breakfast
8:30am -8:45am
Where are we now with endometriosis?
Tamer Seckin, M.D.
SESSION I: Exploring Hidden Pain
8:50am - 9:05am
A "Hystery" of Endometriosis through Review of Historical Medical Literature
Abby Norman
9:10am - 9:25am
Endometriosis through a Biopsychosocial Lens
Seth Berger, M.D./M.B.A
9:30am - 9:45am
Panic and Endometrial Pain Syndrome
Arnold Wilson, Ph.D.
9:50am - 10:05am
Endometriosis and Sexual Functioning
Carli Blau, LMSW, MEd., MA., Ph.D. Candidate
10:10am - 10:25am
How Clinical Gender Bias Prevents Diagnosis and Treatment - and What You Can Do About It
Meghan Cleary

10:30am - 10:55am

Keynote

Why and how can ACOG help? From a Historical Perspective to the Future
Harry Reich, M.D.
11:00am - 11:10am
Session I Discussion
The ENPOWR Award 2018
11:15am - 11:30am
How do adolescent girls and boys perceive symptoms suggestive of endometriosis among their peers? Findings from focus group discussions in New York City
Courtney Harris
11:35am - 11:45am
ENPOWR Volunteer Award Presentation

Nina G. Baker, MPH

Award Recipient: Stephanie Satchell Morris

SESSION II: Management of Endometriosis Symptoms
11:50am - 12:05pm
Eating for Endo
Jessica Murnane
12:10pm - 12:40pm

Lunch

Abby Norman's Ask Me About My Uterus Book Signing

12:45pm - 1:00pm
Fertility workup and preservation in patients struggling with endometriosis
Tomer Singer, M.D.
1:05pm - 1:20pm
Enhancing Fertility with Chinese Medicine in Women with Endometriosis
Mary Sabo, L.Ac, DACM
1:25pm - 1:40pm
Uncovering the Black Box of Pelvic Pain: Understanding the Role of the Pelvic Floor
Allyson Shrikhande, M.D.
1:45pm - 2:00pm
What is Pelvic Floor Physical Therapy: Self-Help Tips and A Guide to Finding an Experienced PT
Amy Stein, DPT, BCB-PMD
2:05pm - 2:20pm
Spinal Interventions for Pelvic Pain
Gerard DeGregoris, M.D.
2:25pm - 2:40pm
Endo Warrior One: Finding your inner warrior through yoga to battle endometriosis
Brandilee Coon
2:45pm - 2:55pm
Break
3:00pm - 3:10pm
Session II Discussion
SESSION III: What's Next for Endo: Medically and Beyond
3:15pm - 3:30pm
DotLab: The first non-invasive test for aiding in the diagnosis of endometriosis
Juliana Ansari, Ph.D.
3:35pm - 3:50pm
The Citizen Endo Project: Phendo Update
Noemie Elhadad, Ph.D.
3:55pm - 4:10pm
Approaches to diagnosing, curing, and preventing endometriosis in the post-genomic era
Piraye Beim, Ph.D.
4:15pm - 4:25pm
Session III Discussion
4:30pm - 4:45pm
Closing Remarks
Karli Goldstein, D.O.
*Subject to change
Speakers: