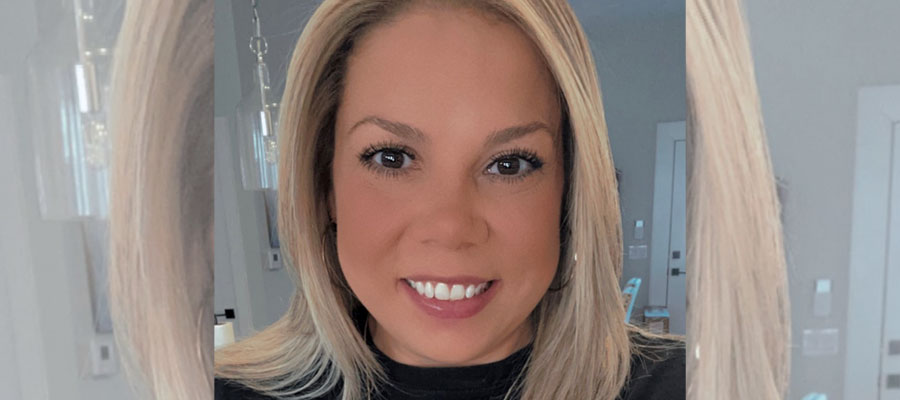 My name is Jillian Heaney. I'm 33 years old, born and raised in Staten Island, New York, and currently living in Philadelphia. My boyfriend and I have been trying to have a baby for more than three years. Endometriosis has prevented that from happening, but we're still trying and still hopeful.
I hit puberty when I was nine but didn't have my first symptoms until I was around 15. Pain and heavy bleeding were the primary ones, though I thought they were normal. I figured every woman went through this each month and I just had to deal with it.
I usually missed school the first two days of my period because I'd be bleeding through tampons and pads every 45 minutes. The pain felt like someone was wringing out my insides, and only high doses of prescribed Naproxen would give me relief. If I did go to school, my home was close enough that I could go there in the middle of the day to change my clothes and try to find the strength to return for afternoon classes. I also had a job after school as a cashier, so I was required to be on my feet. When the symptoms kicked in, my boss would send me home because I'd be doubled over, unable to do my job.
I went to the emergency room three or four times. In each case, they did a sonogram and told me I had a cyst or ruptured cyst. They'd give me pain meds through an IV at the hospital, more meds to take home, and that was it. I finally stopped going. What was the point? I also went to three doctors in New York, three in Pennsylvania, and two in New Jersey. I don't want to say they didn't do anything because they ran a bunch of tests, but their conclusions were always the same: everything was normal.
My boyfriend and I tried to have a baby starting in late 2020. After a year without success, I called a fertility clinic. The soonest appointment I could get was six months out. I took it, and it was life-changing. After several tests, they diagnosed me with endometriosis. I'd heard the term, but I didn't know what it was, and this was the first time a doctor had ever mentioned it to me. My chances of getting pregnant were pretty much zero without surgery.
They operated on me in June 2022, and the endometriosis was severe. They removed it from several places, including my uterus and ovaries. They found my right fallopian tube encased in it to the extent that they had to do a salpingectomy (removal of the tube). They couldn't get all the disease for fear of damaging my ovaries, but they got as much as possible while still giving me a chance to have a child.
My recovery was rough, as I couldn't stand on my feet for about two weeks, but thank goodness for my mother, a retired nurse who waited on me hand and foot. After letting my body heal for two months, I felt better than I had in nearly 20 years.
My boyfriend and I tried to get pregnant again beginning in September 2022. After six months without success, we began intrauterine insemination (IUI) treatments this past March. And so my story continues.
The good news is that I have a large egg reserve. The challenge is trying to get pregnant before the endometriosis grows back to the extent that it affects my reproductive organs again. I don't know how I stay so positive because sometimes this journey consumes my thoughts. But with all of the testing after the surgery and my body's positive response to everything they're giving me to help me get pregnant, I'm very hopeful.
For women who can relate to my story and are still trying to figure out what's wrong, the best thing you can do for yourself is to speak up about it until someone listens. Trust what your body is telling you. Looking back on everything, I knew something was wrong from the beginning. Even after the first emergency room visit, I knew but didn't know what to do. There has to be a way for women to be diagnosed sooner, and it begins by speaking up.
Editor's note: Would you like to contribute to EndoStories? Click here to learn how to submit your work.
*Patient stories submitted to EndoFound.org are the patient's views, not necessarily those of the foundation. All testimonials are from real patients, may not reflect the typical patient's experience, and are not intended to represent or guarantee that anyone will achieve the same or similar results.