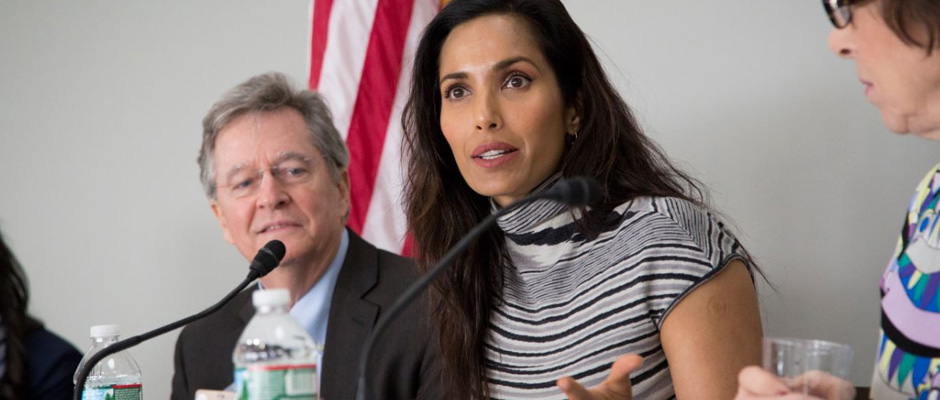 New York, New York (PRWEB) March 06, 2014
Top Chef's host Padma Lakshmi joins a guest list of notable New Yorkers and celebrities, including Honorary committee members Susan Sarandon and Deborah Harry along with Fátima Ptacek (Dora the Explorer), Inez Van Lamsweerde and Vinoodh Matadin (Inez and Vindooh), Joel Schumacher, Kelly Killoren Bensimon, Lizzie O'Leary (former CNN correspondent), Maura Tierney, Russell Simmons, and more, for the Sixth Annual Blossom Ball Gala on Friday, March 7, 2014, benefitting the Endometriosis Foundation of America (Endofound) and to celebrate Endometriosis Awareness Month (March ). The black-tie optional affair will be held at a private venue located at 583 Park Avenue, New York City. Auctioneer Nicholas Lowry from Swann Galleries and Antiques Roadshow will inspire quests to purchase live auction items and DJ Questlove will provide music for the after party.
Blossom Ball hosts, Lakshmi and her surgeon Tamer Seckin, MD, co-founded Endofound as a result of a lifelong mission to raise awareness for endometriosis, a disease that affects one in ten women worldwide.
Charitybuzz, the leading destination for online charity auctions, will be hosting an online auction in conjunction with the event featuring one-of-a-kind packages:
Sit down to lunch with Padma Lakshmi and Bridget Moynahan in New York City
Meet Russell Simmons with two tickets to the 15th Annual Art for Life Gala in the Hamptons, July 26, 2014
Receive a portrait shot by world-renown fashion photographers Inez and Vinoodh! Winner will receive a 16" x 16" black and white print from the edit selected by the photographers.
Receive an in-home cooking lesson with Kristen Kish, winner of "Top Chef" Season 10, in Boston or New York
Enjoy a 4-day/3-night stay at a Sandals Resort location of your choice in Jamaica, Antigua, Saint Lucia or the Bahamas
The auction kicks off at the gala and will continue until March 23rd. For more information on the auction and to bid on items go to http://www.charitybuzz.com/blossomball2014.
The red carpet "Arabian Nights" themed event includes a cocktail reception, seated dinner, auction, awards and music and dancing. Lanterns will greet guests as they enter the venue with welcoming arrangements of palm leaves, jasmine vine, tuberose and cherry blossoms and white cherry blossom trees leaves and lush cascading Amaranth in urns on pedestals. Inside the ballroom, tables will feature gold candelabras with pampas grass, palm leaves, black cat orchids, cascading amaranths and lanterns. The center dome adorning the ballroom will feature a sunset throughout the course of the evening ending with the starry night sky.
Fiji Water and Sterling Wines will be serving beverages throughout the event.
Honorees for the Blossom Ball include two pioneering endometriosis surgeons who will receive the inaugural Harry Reich Award at the Blossom Ball and will be key faculty members of the MD Congress earlier that day: Liselotte Mettler, MD,PhD Professor in the Department of OB/GYN at University Clinics of Kiel, Germany and Linda Giudice, MD, PhD, Distinguished Professor and Chair of the Department of Endocrinology and Infertility at the UCSF and director of the UCSF Women's Reproductive Health Research Career Development Center.
The Endometriosis Foundation of America strives to increase disease recognition, provide advocacy, facilitate expert surgical training, and fund landmark endometriosis research. Engaged in a robust campaign to inform both the medical community and the public, Endofound places particular emphasis on the critical importance of early diagnosis and effective intervention while simultaneously providing education to the next generation of medical professionals and their patients.
The Honorary Committee is a prestigious group of supporters that include: Andy Cohen, Tom Colicchio, Bebel Gilberto, Deborah Harry, Naeem & Ranjana Khan, Emeril Lagasse, Lakshmi Menon, Bridget Moynahan, Ujjwala Raut, Susan Sarandon, Joel Schumacher, Gail Simmons, Russell Simmons, Mary Alice Stephenson and Alek Wek.
Individual tickets for dinner start at $750 and tables begin at $10,000. To reserve tables, make a tax-deductible donation to Endofound, or to get more information on the event please go online to http://www.endofound.org/blossomball. For more information on the Foundation or sponsorship opportunities please visit http://www.endofound.org, follow them on Twitter @endofound or call 212-988-4160.
On Friday, March 7, 2014, to coincide with Endometriosis Awareness Month, Endofound will host its Fifth Annual Medical Conference, "Politics, Ethics, and Controversy: Exploring Endometriosis 2014," at the Metropolitan Club in New York City. The goal of this annual conference is to advance the dialogue about and treatment of endometriosis by uniting the most innovative thinkers and practitioners from an array of disciplines. As the title of this year's conference suggests, the major themes to be explored are the politics of women's health rights, and the treatment of women, historically, in the healthcare arena from medical, legal and ethical perspectives. A patient's day: "Outsmarting Endo: A day of multidisciplinary collaboration for women and their loved ones" will be held on Saturday, March 8, 2014, at the Scandinavia House in New York City. To register or for more details on the program, visit http://www.endofound.org/medicalconference or call the event hotline at 201-941-6064. Pre-registration required.
Read more: http://www.digitaljournal.com/pr/1777782#ixzz3RNTI8cpX