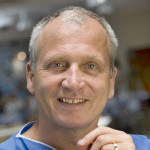 Director for Advanced Courses in Gynecological Endoscopy at IRCAD France, founder of MIS Academy in Dubai and past President of the European Society for Gynaecological Endoscopy, Pr. Arnaud Wattiez has been a mentor and instructor to surgeons in minimally invasive gynecologic surgery all over the world.
Pr. Wattiez's work is at the forefront of technical advances in endoscopic gynecological surgery and is Chairman of the European Academy of Gynaecological Surgery (EAGS).
Pr. Wattiez is a professor at the University of Strasbourg since July 2015, and he is the head of the gynecological department at Latifa Hospital in Dubai. Pr. Wattiez has had the distinction to be awarded for his contributions in international teaching in MIGS, honorary professorships at Russian Academy of Medical Sciences, Lièges University, and the Catholic University of Rome. Since 2004 he has served as Director for Advanced Courses in Gynecological Endoscopy of IRCAD (Institut de Recherche Contre les Cancers de l'Appareil Digestif ) [translation: Institute for Research on Cancer of the DigestiveTract].
Disclaimer: The opinions shared by each of our panelists and speakers belong to each of them respectively and may not accurately reflect the beliefs of the EndoFound organization as a whole.
Please register (free registration) to receive the password to access the presentations.