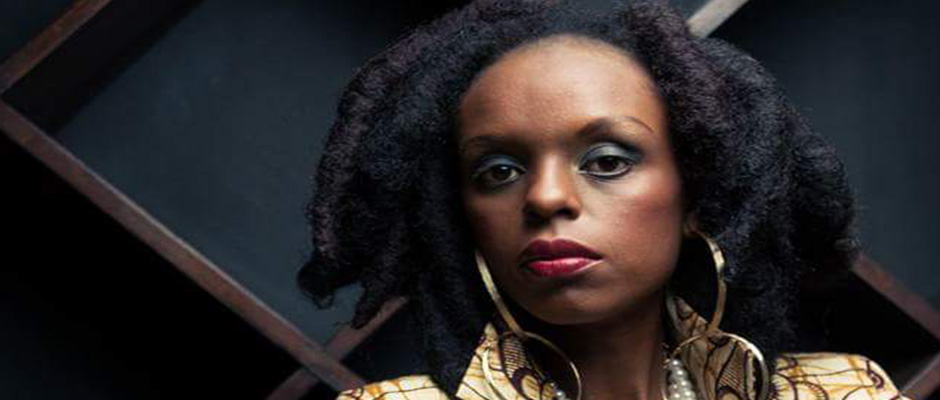 Thoracic endometriosis, or the presence of endometriosis in or around the lung, is a rare but extreme expression of the disease, and as The Blossom recently reported, a case can require multiple specialists to be called in to help treat a patient.

For Kenyan-born TV and radio personality Njambi Koikai, 32, that nightmare became a reality when, after enduring painful periods for 18 years, she suffered a lung collapse during her menstrual cycle three years ago."My very able gynecologist at home took me through it and made me understand what this meant," Koikai tells The Blossom. "He later advised me to seek specialized treatment." To date she's suffered from 12 lung collapses.
Koikai, (above, pre-hospitalization) strikes a regal pose. "What keeps me positive is God, my mom, and my sister," she tells The Blossom.

That specialized treatment would require her to journey 8,000 miles to America, to visit endometriosis specialists in Georgia. Soon enough, Koikai would learn her condition was even direr than she originally thought. Her full diagnosis was Stage IV Endometriosis, catamenial pneumothorax with diaphragmatic endometriosis, sigmoid and rectovaginal endometriosis, and abnormal appendix.
The entertainer recently underwent excision of endometriosis in her pelvic, bowel, right lung and diaphragm at Northside Hospital in Atlanta, GA where an endometriosis specialist and a cardiothoracic surgeon excised endo from Koikai's diaphragm and lungs. "I chose to come to America because these two doctors have experience with this disease and understand it's complexity."
RELATED: Endometriosis...In The Lung? EndoFound Co-Founder Dr. Tamer Seckin's Latest Case is a Must-Read
Thankfully, Koikai is recovering from those extensive procedures and says life is already dramatically different. "I am recovering well. I'm breathing well without any complications. This was a major surgery as I developed complications due to previous surgeries from back home that left damage in my right lung and that was fixed here." However, the surgical procedures and subsequent therapy, while seemingly successful, have now left the deejay with a $75,000 hospital bill. "I started a fundraiser back at home because I have no insurance in order to meet the costs. Unfortunately, after I was admitted, I developed complications," she adds. "I'm still fundraising, and any assistance is highly appreciated."

Koikai says she yearns for the day she can return to her home to her loved ones. "I'll be home after therapy depending on how fast my body responds to that. Our Kenyan people also keep [me] so positive and keep encouraging me because they have continuously supported me in this fight."
With the worst of her endometriosis hopefully behind her, Koikai wants to be a beacon of hope for other endo women. "I would like people to know that endometriosis robs women of their livelihoods, careers, relationships, self-esteem, fertility and their will to live because of the pain — but there is hope. We can overcome it, and we should be steadfast in fighting for a cure."
Editor's note: Njambi Koikai started a GoFundMe to help pay for her mounting medical bills. If you would like to donate, you can do so here.