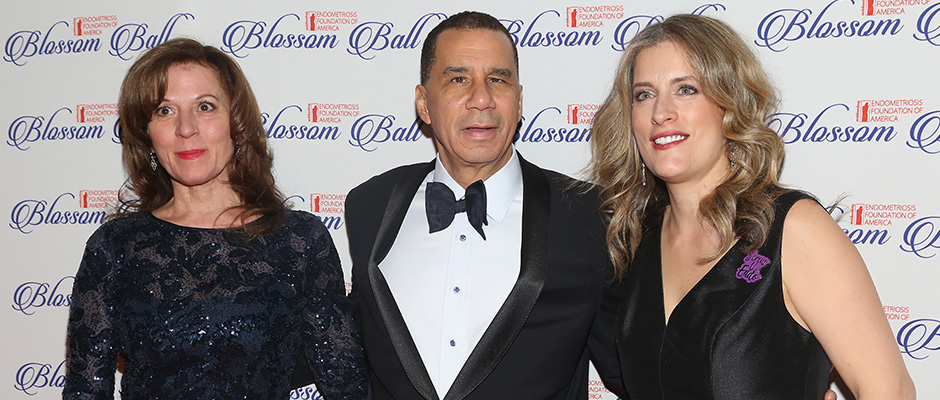 (From left: Mary Sliwa, former NY Governor David Paterson and Blossom Ball Co-Chair Dr. Sandra Gelbard pose at The 9th Annual Blossom Ball in NYC on March 19)
For American women with endometriosis, the workplace can be an unkind space as the disease often limits one's ability to compete alongside colleagues. Besides the emotional and physical impact of the disease, women with endo can face financial difficulties in the form of layoffs, demotions or be pushed aside for promotions as they struggle with their crippling menses each month.
It helps, of course, to have a compassionate employer who understands that women with endometriosis deserve an equal chance to work.
"I have a friend who is afflicted [with endometriosis]," former New York Governor David Paterson told The Blossom at the 9th Annual Blossom Ball in NYC on March 19. "I have always known that she had it. It's a former employee who struggled. We did our best to accommodate her. Things are working out pretty well for her right now, she's back to work and feeling good."
As progressive as the 63-year-old former governor's empathy and actions may sound, nationwide, many companies aren't following suit, with America sustaining an estimated $22 billion per year in losses stemming from the chronic condition. And that's just the tip of the iceberg when it comes to the uphill battle that endo women face.
"Women are still making 83 percent on the dollar as men doing the same jobs," adds Paterson. "Women's diseases don't raise as much money as the others and women's plight, when they have the disease, has not been mapped out or scheduled or chronicled in medical journals." Endometriosis, "is a disease that a lot of Americans don't know anything about," he adds. "When we are, hopefully, expanding our understanding of all of the people in this country and all of the problems that they have, we would want to raise money, we would want to have greater research and want to try to make the quality of life better for so many women who haven't had that opportunity."
But action without funding behind it, he acknowledges, won't take the movement where it needs to go.
"If we work hard enough, that moment may come when somebody comes up with a solution that no one did before," he adds, "and it might have been just those extra few dollars that people contributed that got them there."