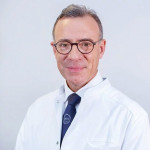 Marc Possover began his medical studies at the University of Nancy in France at the age of 15 and graduated at the age of 22. He is a specialist in Gynecology and Obstetrics as well as a certified specialist in Special Operative Gynecology and Oncological Surgery.
Prof. Possover is Director of The Possover International Medical Center AG in Zurich, Professor of Neuropelveology at the University of Aarhus, Denmark, and Associate Professor at the University of Cologne, Germany. Prof. Possover is also the Honorary and Founding President of the International Society of Neuropelveology (www.theison.org), the pioneer of minimally invasive surgical techniques for the treatment of pelvic gynecological tumors and deep infiltrating endometriosis, and the world's leading expert in the treatment of pelvic nerve disease.
Prof. Possover is nationally and internationally renowned for his research, academic and clinical merits in the fields of gynecological oncology, surgical endometriosis treatment and Neuropelveology.
He has written scientific papers for numerous scientific journals and published articles in various medical textbooks and reference books. His numerous awards from leading and highly respected medical associations prove his competence and exceptional knowledge.
Disclaimer: The opinions shared by each of our panelists and speakers belong to each of them respectively and may not accurately reflect the beliefs of the EndoFound organization as a whole.
Please register (free registration) to receive the password to access the presentations.