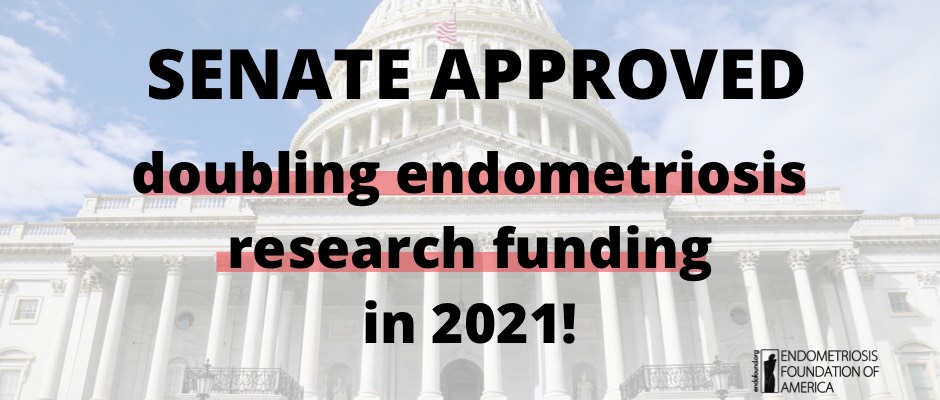 EndoFound is thrilled to share that the Senate approved a historic amendment doubling federal research funding for endometriosis research, allowing the National Institutes of Health to allocate $26 million to endometriosis research in 2021. The legislation passed in the U.S. House in July. And, endometriosis research is again included in the Department of Defense Peer-Reviewed Medical Research Program!
The amendment introduced by Congresswoman Abby Finkenauer (IA-01), chairwoman of the House Endometriosis Caucus, was supported by EndoFound who worked in partnership with her office and the endometriosis community to encourage elected officials to support the initiative.
"I think doubling the funding for endometriosis is one of the best low key, high-impact things Congress has achieved in this difficult year. Thank you, Congresswoman Finkenauer, for all your efforts," said Padma Lakshmi, co-founder of EndoFound.
"This completes a nearly year-long effort by Congresswoman Finkenauer and the House Endometriosis Caucus, EndoFound, and members of the endometriosis community who urged elected officials to support this much-needed and overdue increase to research funding," said EndoFound Executive Director Margaret Caspler Cianci.
"This is a game-changer," added Tamer Seckin, MD, co-founder of EndoFound. "Early detection and treatment of endometriosis will change the lives of millions of individuals suffering from this disease. Research is the key to understanding the disease and finding a cure!"
Endometriosis is a disease that affects one in ten women in the United States. Finkenauer, who has had endometriosis since she was a teenager, publicly shared her story for the first time in a speech on the House Floor in March. It was then when she founded the 33-member bipartisan caucus, the first such caucus ever dedicated to endometriosis.
"We are looking forward to continuing our work with the caucus in 2021," said Cianci. "Stewarding programs to increase disease awareness, address the socio-economic impact of the disease, and the racial disparity are priorities."
Endometriosis affects an estimated 200 million individuals with female reproductive organs worldwide. Many patients begin feeling symptoms with their first menstrual period, but because of the lack of education and awareness, even among medical professionals, it often takes more than a decade to be properly diagnosed.
Federal endometriosis research is overseen by the National Institute for Child Health and Human Development.
Earlier this year, Congresswoman Abby Finkenauer created the first-ever House Endometriosis Caucus to advocate for increased endo research funding. Since then, endometriosis advocates and supporters have called their senators, signed our petition, and worked tirelessly together to make an impact.