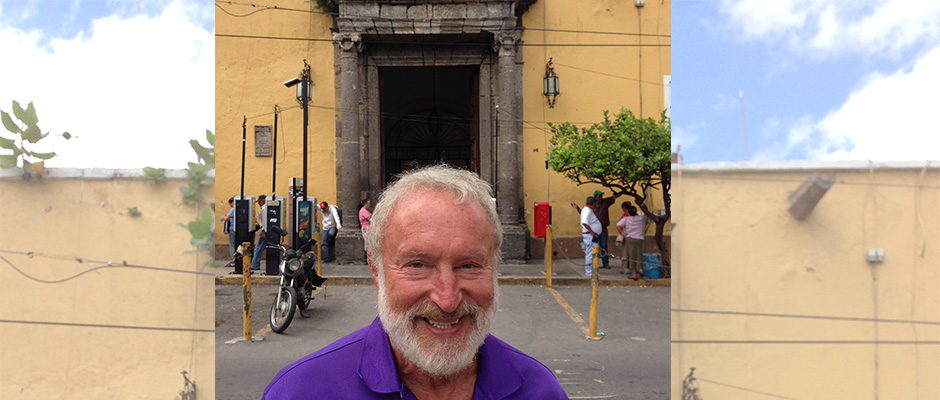 Dr. Harry Reich (above) poses outside of an ancient hospital during a visit to Guadalajara.
Do you have a burning question for EndoFound's Honorary Medical Director Emeritus and Senior Medical Advisor, Dr. Harry Reich? E-mail him at harry@endofound.org or visit EndoFound's official Instagram, Facebook or Twitter, tag us and ask a question with the hashtag #askharry, and you could see your answer featured here!
Laurie Z. M., via Facebook, asks: Assuming there isn't an endometriosis specialist that takes your insurance, what questions would you ask of a new Ob-Gyn to determine if they are the right doctor to perform your laparoscopy?
Ask about their training in laparoscopic surgery and if they trained with a laparoscopic surgeon. Also, ask if they work with a general surgeon with laparoscopic experience.
Carly B.R., via Facebook, asks: What would the symptoms for catamenial hemoptysis be and would they stop with the Depo-Provera shot? That's the only solution I've found for pain, but the side effects are ridiculous.
Catamenial hemoptysis means coughing up blood during a menstrual period. It is rarely caused by endometriosis in the lung tissue. There are other causes usually diagnosed by a family doctor or pulmonary specialist. If endometriosis is the cause, it may present with a pneumothorax, or lung collapse, during menses. Again it is very difficult to diagnose and, commonly, tissue diagnosis is not possible. In my experience, this diagnosis is usually associated with pelvic disease. If so, endometriosis excision surgery should work. If not, I would doubt the diagnosis of lung endometriosis.
2xdoxiemom asks: When will we be able to have effective options to choose from when it comes to treatment? Hormones don't work! Advil doesn't work!
You are right! Only excision works. Unfortunately, there is no substitute for good hard surgical work! And Big Pharma is not interested in good hard surgical work.
Erica H., via Facebook, asks: How do you know for sure if you have thoracic endo? Would one need to have collapsed lung episodes only? What symptoms should you look for? I have had multiple surgeries for Stage 5 [sic] endo in NYC.
Please realize that it is difficult to diagnose thoracic endometriosis before a collapse of the lung episode. If a patient has thoracoscopy (laparoscope of the lung cavity), the surgeon will see just a very small deflated lung and the peritoneum of the chest wall or cavity and diaphragm. A collapsed lung is one quarter or less the size of an inflated lung. There is very little to see. What is Stage V Endometriosis? I never used this American Fertility Society-classification anyway as it pays almost no attention to the rectum. Endometriosis lives on the rectum in many cases and is not treated. Almost all endometriosis causing pain is visible or palpable in adults, especially since it has caused a long-term inflammatory response. Examine yourself whenever the problem comes back and if something seems odd, see your doctor.
Sarah S., via Facebook, asks: I have Stage IV Endometriosis and had adenomyosis. I've had a hysterectomy to remove my uterus, fallopian tubes, and cervix but left both of my ovaries and I had deep adhesions removed by a leading endometriosis specialist. I was pain-free for about a year, but I'm now experiencing severe pain again. What kind of help can I seek for my pain at this time? I'm against taking the many Vicodin/Norco prescriptions I've received as they are addictive. Will another surgery be a waste of time? My question is, at this point, I'm so confused on what to do next. (I've had the da Vinci surgeries in the past.)
You need to see an endometriosis surgeon who does not use the robot. Remember that the robot cannot feel tissue. The surgeon uses only his eyes and removes what he sees, not what he feels. From your story above, I believe you may still have endometriosis at the top of the vagina and the anterior rectum and the ligaments supporting them.
Do not let any surgeons take your ovaries. They are not the problem. Endometriosis probably is!
If endometriosis was the cause of your original pain, I doubt that it was removed entirely during your surgeries. Obviously, you have persistent endometriosis that is causing your pain. I have little experience with narcotics for endometriosis causing pain as I rarely needed to prescribe them to my patients. Most post-surgical pain is relieved using nonsteroidal analgesics. I used Anaprox or Aleve after most of my endometriosis and hysterectomy surgeries, not narcotics. (I remember because narcotics required an additional prescription form with duplicates and that was more paperwork that I didn't need.)
Editor's note: The opinions, beliefs, and viewpoints expressed by Dr. Harry Reich in this column are solely his own and based on his experience.