Bernadette Higgins was 12 years old when she got her first period. It was the beginning of a nightmare.
"I thought it was cool when I got my period because all the girls were getting them, but I knew something was wrong," she said. "I was so sick and nobody believed me. I was sent to reform schools and treated like I had mental health problems."
Higgins wouldn't be diagnosed with endometriosis until she was in her early 20s, about a decade ago. She's suffered through eight miscarriages. Her first three endometriosis surgeries didn't help and, in some respects, made her condition worse. She had to rely heavily on pain medication to get through each day and couldn't walk without a cane.
But then she met Dr. Tamer Seckin. The founder of EndoFound has performed two surgeries on Higgins in the last few years, and they've changed her world.
"He saved my life," Higgins said. "I've got my mobility back and am back to normal pretty much. I owe him a lot."
To express her gratitude, Higgins and her husband, Oliver Ignatius, held a fundraiser last year for EndoFound. The couple—music producers who own Holy Fang Studios in Hopewell Junction, N.Y., about 70 miles north of Manhattan—created an album titled Warriors I and paired it with a small concert in the city. Proceeds benefitted the foundation.
At 6:30 P.M. on June 24, the second annual Warriors Benefit Concert will be at DROM in the East Village. It will be a significantly larger production than in 2022 that will include performances by the Overcoats, Swordes, Sofia Zarzuela, AJ Lee & Blue Summit, and Veronica Everheart. Those and a dozen other artists (except the Overcoats, who will likely appear on Warriors III next year) are featured on the Warriors II album, available as a download.
"The concert is to celebrate the release of this compilation record that aims to bring together female artists or female-led acts," Ignatius said. "Some of them are well established and others are quickly rising. It's a good picture of talent and energy in the music community."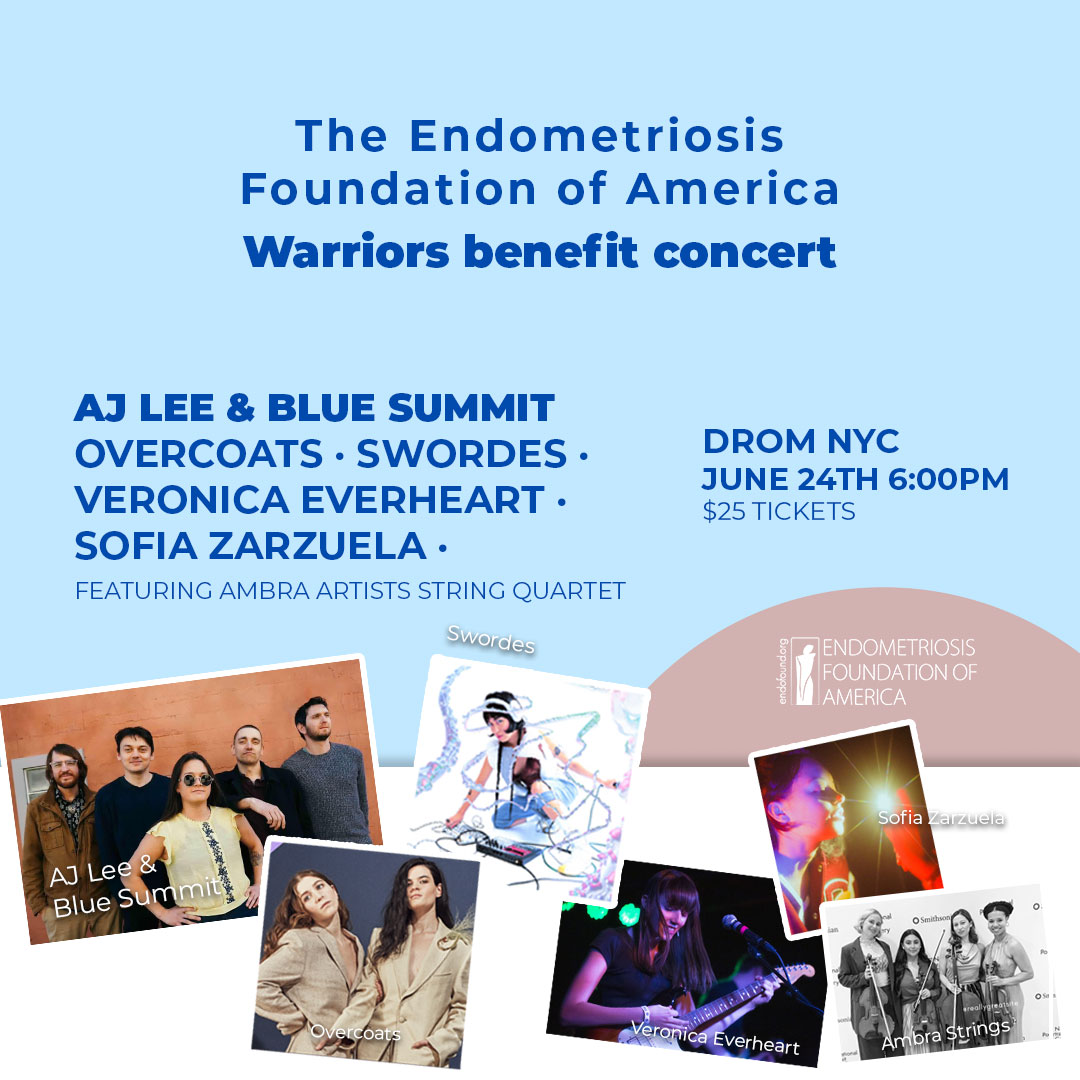 Ignatius has traveled each step with Higgins through her endometriosis journey, as they've been best friends since they were 16. He said he's seen the bias toward women's diseases and conditions and how difficult it is for them to be treated accurately, fairly, and honestly. That is what makes this project so meaningful to him.
"My feminism was awakened over the years by going through this with Bernadette, seeing her struggles, and coming to understand on a more personal and visceral level what the situation was," Ignatius said. "The thesis of this project is to take the pain and horror of endometriosis and transmute it into something beautiful, and it does my soul a massive amount of good to work on this music with these incredible women."
Some of the artists on the album are clients of Holy Fang. Ignatius and Higgins secured others through their connections in the industry. All of the singers have worked on the project pro bono. One of them is Lizzie No, an indie folk singer from Brooklyn whose debut album "Hard Won" in 2017 was called "simultaneously understated and fervent" by Billboard Magazine. She debuts her latest song, "Spake the Salt Pillar," on Warriors II.
"I just wanted to be part of a cause that affects primarily women and isn't spoken about enough," No said. "If there is a medical or social issue that affects mostly women, you can pretty much bet it's going to be underresourced, underresearched, and underrespected. I wanted to add my voice and efforts to those trying to bring awareness and show my solidarity."
Higgins said she sees the awareness spreading. She said even some of the women who contributed to this album have recently discovered that they may have the disease.
"This is why this project is so important. It's not something that's just going to help the listeners, but it's already helped some of these artists," Higgins said. "It took me so long to be diagnosed and get real help. By sharing what I know through this album, I can help change lives, and that means a lot to me."
If you go:
What: Warriors Benefit Concert. All proceeds benefit EndoFound.
When: 6:30 P.M. on Saturday, June 24. Doors open at 6 P.M.
Where: DROM, 85 Avenue A, New York, N.Y. 10009
Tickets: $25 in advance, $30 at the door, $40 for VIP. A $20 per person table minimum is required. To purchase, visit https://dromnyc.com/event/warriors-endometriosis-foundation-of-america-fundraiser.
To order and download the album, visit https://give.endofound.org/give/492522/#!/donation/checkout.