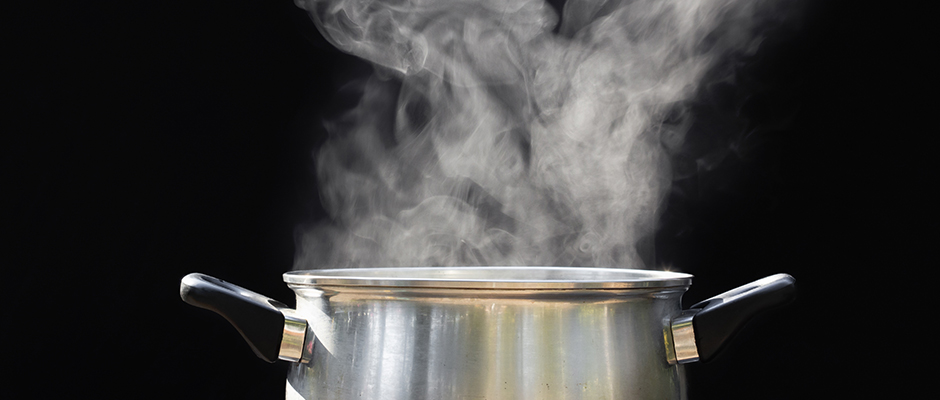 Chrissy Teigen Instagrammed a photo of herself doing it and Gwyneth Paltrow has sung its praises on her lifestyle site Goop, but is vaginal steaming, which is also known as v-steaming or yoni-steaming, a holistic healing treatment or a harmful new trend?
Ebony Johnson, who has undergone eight surgeries for endometriosis, is a faithful fan of vaginal steaming, which involves sitting over a pot of steaming water full of herbs. The practice claims to cleanse the vagina, alleviate cramping and rebalance hormone and energy levels. It also claims to aid in infertility, PCOS, fibroids and menopause.
Johnson is a client at Womb Therapy Indeed, a women's spa in Oxon Hill, Maryland offering cutting-edge services such as "womb smudging" and a series of vaginal steaming treatments.
"Vaginal steaming has helped decrease my pain between cycles," Johnson tells The Blossom. "At first I was skeptical, but the whole process was so therapeutic. It's really worth it. Women should take the chance to do it."
Johnson, who gave birth to her son at age 16, has suffered from period pain her entire life. She was diagnosed with Stage IV Endometriosis six years later. Now 30, Johnson is looking to more holistic approaches to treat her symptoms. "I also have Pelvic Congestion Syndrome, which are varicose veins in the pelvic area," Johnson said. "I'm tired of going to the doctor and the emergency room. Vaginal steaming offers me some relief from the pain."
Johnson says she's been hooked on steaming ever since she had her initial consultation with Womb Therapy Indeed owner and operator Endia Richardson.
"Women see instant results and over time, see even better results," said Richardson who's been offering vaginal steaming services for the past three years, but began her journey with holistic healing in 2009. "My process begins with an initial consultation, and then yoga poses to relax. You're covered from the waist down during the treatment, and it's non-intrusive and doesn't burn. Some clients come looking for relief from endometriosis, fibroids and for infertility."
The whole treatment takes about an hour and involves herbs such as red raspberry, red clover, and dandelion, which Richardson said is good for cleansing the blood. A few days after the treatment, women may experience a little more discharge than usual, but Richardson says it's a typical side effect of the increased blood flow to the vagina.
"We offer a solo session initially, and then women can have a group session with up to four women if they want," Richardson said. "My clients with endometriosis typically experience less period pain, lighter bleeding and a better balance of hormones."
Dr. Jessica Shepherd, M.D., a Dallas-based gynecologist and a women's health expert wouldn't discourage her patients from trying vaginal steaming but urges them to know the consequences before trying the trend.
"Vaginal steaming has become a popular Eastern holistic-type treatment, but we found there isn't any scientific evidence to it working," Shepherd tells The Blossom. "The vagina is self-cleansing and self-sustaining on it its own. Exposing the vagina to heat from steam could disrupt the pH balance in the vagina which could then lead to vaginitis and become more of an irritant than being helpful. But, I am always open to women trying something they feel they want to try."