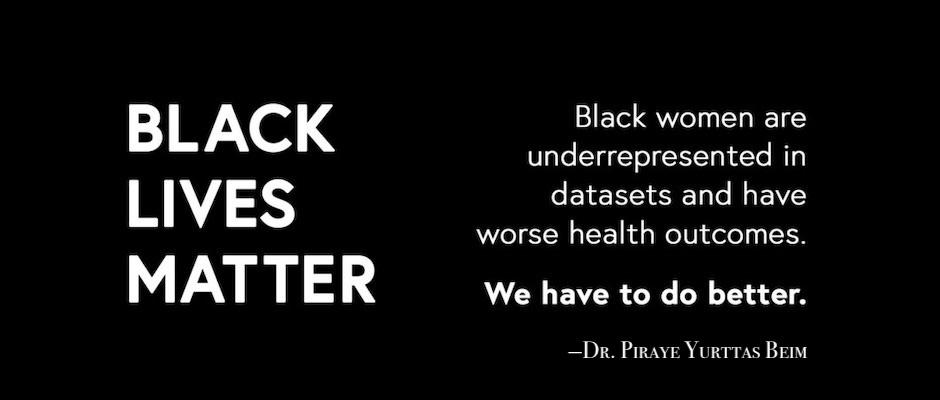 Like so many people across the United States and around the world, my colleagues and I at Celmatix feel deeply outraged by the brutal and senseless murders of Breonna Taylor, Ahmaud Arbery, and George Floyd. We stand in solidarity with the millions of people lifting their voices in protest and also join countless more in reflecting on what we can do to make this a turning point for racial inequality.
Inequality comes in many forms for People of Color, both here and abroad, but race-related health disparities are among the starkest and most resistant to progress. Being a Black female further amplifies these inequities, which is particularly troubling and ironic given the fact that Women of Color make up the majority of healthcare workers. Over the last few months, the COVID-19 pandemic has brought this unfortunate reality into even more clear focus.
An often-cited quote in the business world is "you can't manage what you can't measure." At Celmatix, we have been working for over a decade to address critical gaps in data collection for women's health. This has included thinking outside of the bubble of traditional research metropolises like Boston and San Francisco, and expanding our research partnerships to reproductive health centers of excellence across the US and to biological repositories that allow us to reach women at community health centers and urban hospitals which serve women who may not have access to reproductive specialist care. In addition to investing in diversified data for our scientific and clinical research studies, we've also made significant investments in our "Next Gen Women's Project," an ambitious two-year consumer research effort that interviewed or surveyed more than 4K millennial women to understand how their healthcare needs differ from earlier generations of women and to discern their attitudes concerning their reproductive health and fertility. As part of this research, we had the privilege of collaborating with the Black Women's Health Imperative, Women's Health Magazine, and Oprah Magazine to better understand why Black women are facing higher infertility rates, greater stigma around reproductive challenges, and larger barriers to accessing fertility care.
Diving into the numbers, a troubling pattern emerges:
Maternal mortality and injury rates are higher for Black females, irrespective of income or education level: Black women are 3–4 times more likely to die from pregnancy-related complications than White women. Black women are also 3–4 times more likely to suffer from a severe disability resulting from childbirth than White women (source).
Black women experience disparities in infertility rates, stigmatization, and access to fertility care: Infertility affects at least 12 percent of women of childbearing age, and studies suggest this number doubles for Black women in the US. However, while more than 20 percent of Black women may experience infertility, only 8 percent of them seek medical help to get pregnant compared to 15 percent of White women. (source)
Health conditions that disproportionately impact Black women, such as uterine fibroids, receive very little government research funding: Estimates reveal that nearly a quarter of Black women between the ages of 18 and 30 have fibroids — compared with 7 percent of white women. By age 35, that number increases to 60 percent. However, NIH annual funding for the condition is $17 million — compared to $86 million for cystic fibrosis, which impacts far fewer people each year (though the great majority of those impacted are Caucasian).
Black women are underrepresented in clinical trials that require consent and are overrepresented in studies that do not: While all women may be underrepresented in clinical research and trials for new drugs, this situation is even more critical for Black women. In fact, Black women (who as we mentioned are disproportionately impacted by uterine fibroids) only comprise 15 percent of participants in published clinical trials for the condition. (source) In addition, data from the FDA shows that in trials for 24 of the 31 cancer drugs approved since 2015, fewer than 5 percent of participants were Black. This diversity in study patients is needed to ensure that new drugs are both safe and effective for all patients. (source). Unfortunately, in contrast, Black participants are disproportionately over-represented in studies that do not require consent. (source)
Black women are significantly underrepresented in key biomedical research datasets, including genomic data repositories and related analyses: Nearly 80 percent of all individuals included in genomic studies are of European descent. While this may be a decrease from 20 years ago (when it was as high as 96 percent), this change is mostly driven by a higher number of studies being done in Asia on populations of Asian ancestry. The increase in participants of African ancestry has barely shifted in the last two decades. (source)
Taken together, the picture is clear: the disparities we see in women's health funding, research, delivery, innovation, data collection, and outcomes are consistently amplified multifold for women of color. As we reflect on policy changes that could have an outsized impact on addressing centuries of racial inequality in the US, we can think of no better place to start than with improving the health of black women.
Here are steps we can take immediately that will meaningfully impact these numbers:
Anti-racism and implicit bias training must be made mandatory for healthcare professionals working with black mothers: Anti-racism and implicit bias training needs to be incorporated into medical school education, but in the short term, state licensing boards and the American Board of Obstetrics and Gynecology (ABOG) should take the lead here to address disparities in maternal health. For maintenance of board certification, 35 hours of annual CME training is required for all OB/GYNs. The licensing bodies and ABOG should immediately require that a certain number of hours of CME training be mandated to include bias and anti-racism curriculum. This re-education needs to happen at every level of care, including for nurses and other healthcare professionals who interact with black women during labor and delivery. Recent initiatives are a good start, but we need to go further, faster. Relying on voluntary measures may mean we will have to wait a long time to see the impact of these recommendations.
Data about health outcomes for Black mothers should be tracked and reported: Hospitals and birthing centers should be required to publicly disclose health outcomes for labor and delivery for different demographic groups, and individual physicians and staff members should be presented with their own statistics to review on an annual basis as part of their institutional performance reviews.
The US NIH and FDA should update their policies to confront the underlying reasons for low clinical trial and voluntary research participation by Black women: The FDA should update its policies guiding clinical trial enrollment to better incentivize drug companies to increase enrollment of black clinical trial participants. The NIH should also revisit policies and incentives to expand research and address data disparities for People of Color. However, we also need to have a real open dialog about how Black people have been misused in clinical trials to date. The US has a long history of mistrust, with horrific examples such as American physician J. Marion Sims, who honed his techniques by performing surgery on enslaved Black women without the use of anesthesia. In the 1900s, poor Black women also endured forced sterilizations as birth control. And, for the last 70 years, some of the medical community's largest findings and largest profits were made possible through a Black woman named Henrietta Lacks. Lacks' cells have been cultured and used in experiments and commercialized without her, or her family's consent. (source) And as we mentioned, even today, Black Americans are overrepresented in studies that do not require their consent (source), nearly 30 percent compared to the making up just 13 percent of the US population. Importantly, in order to see real change, we must also correct the funding discrepancy for Black research investigators. An NIH study team found that taking into account factors including education, training, and experience, Black investigators are nearly 11 percent less likely to receive NIH funding compared to their White counterparts. (source) As researchers from these Black communities are more likely to study underrepresented communities and engender their trust, this lack of diversity in funding can also directly impact the inclusion of Black study participants. (source)
Black women should not be left behind in the march toward precision and personalized medicine: All stakeholders (public and private) generating and leveraging genomic datasets for both basic research and commercial product development should pledge to increase diversity in their datasets, even if it comes at a cost to profitability. This includes investing in diversity for analysis as well. As an extension, scientific journals should reward research groups that publish results from non-Northern European cohorts, even if the population sizes and power of those studies are impacted as a result of focusing on underserved and understudied populations.
Congress and citizens should exert pressure on government funding bodies like the NIH to dedicate more research funding for conditions that disproportionately impact black women: Conditions such as uterine fibroids and sickle cell anemia are grossly under-funded relative to their impact on large numbers of American women. More NIH and private sector funding must be generated for medical conditions that impact the lives of Black women.
There are a number of amazing institutions that are working tirelessly to address the multitude of health disparities for Black women. Please join us in supporting these important organizations.
Black Women's Health Imperative
The country's first nonprofit organization created by Black women to help protect and advance the health and wellness of Black women and girls
Black Mamas Matter Alliance
The alliance helps advocate for better legislation to reduce black maternal mortality, highlights necessary areas of research and spreads information about the social determinants of health that influence outcomes like traumatic birth or maternal and infant mortality.
Sister Song
SisterSong is a Southern-based, national membership organization; its purpose is to build an effective network of individuals and organizations to improve institutional policies and systems that impact the reproductive lives of marginalized communities
Fertility for Colored Girls
Provides services for underserved Black women and couples. This includes educational programming about treatment options, resources to connect with counselors, financial grants, and monthly support group meetings hosted by seven different chapters across the country,
Finally, there are a number of scholars and journalists who have been conducting research related to these health disparities and raising the alarm through their reporting. To learn more we recommend:
Linda Villarosa: Journalist
Patrice Peck: Journalist
Laurie Zephyrin, MD: Obgyn, VP Health Care Delivery System Reform at Commonwealth Fund
Reproductive Injustice: Racism, Pregnancy, and Preterm Birth. Davis DA.NY: NYU Press:
Black Lives Matter: Claiming a Space for Evidence-Based Outrage in Obstetrics and Gynecology. Eichelberger KY, Doll K, Ekpo GE, Zerden ML. Am J Public Health. 2016 Oct;106(10):1771–2. doi: 10.2105/AJPH.2016.303313.
Key Facts on Health and Health Care by Race and Ethnicity, Samantha Artiga and Kendal Orgera. KFF, Published: Nov 12, 2019
When Maternity Wards in Black Neighborhoods Disappear: NYT, Kelly Glass, May 4, 2020
A Preventable Cancer is on the Rise in Alabama: The New Yorker, Eyal Press, March 30, 2020
---
This article originally appeared on Celmatix, where Dr. Piraye Yurttas Beim, who is also an EndoFound Board Member, is the founder and CEO. If you have additional data to share or organizations you would like us to highlight here, please reach out to at info@celmatix.com or info@endofound.org. Please also check back as we plan to expand on this list in the coming weeks. And finally, we urge you to help us raise awareness about this important issue by sharing this in your networks.