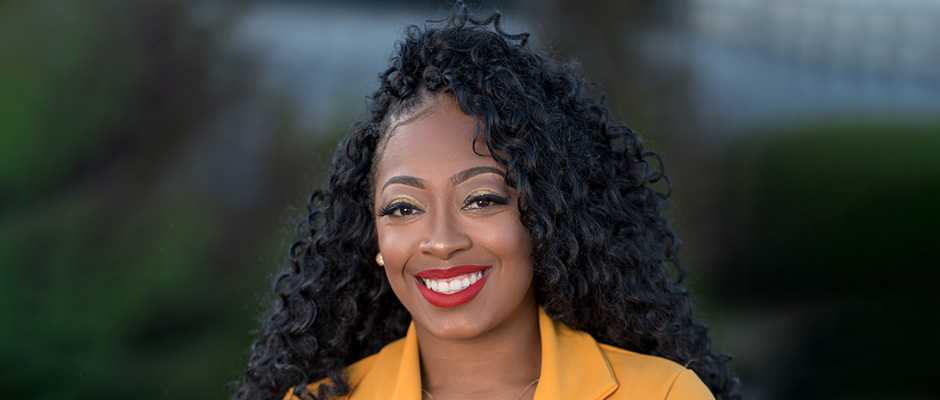 Author, screenwriter, and endometriosis educator Samantha Denäe was accustomed to painful periods; for years, her menstrual cycle was heavy, lasted for seven or eight days, and caused cramping and nausea. Countless time, doctors had told her that yes, her period is bad, but it'll get easier with time or when she becomes pregnant. It wasn't until she couldn't walk due to the pain that she knew there was a deeper problem.
At the age of twenty-four, she finally heard the word, "endometriosis." This delay in diagnosis, as well as the lack of information she found relating to the disease, drove Denäe to becoming an endo advocate and educator. She began intensive research on the disease, but little was coming up. "I couldn't find a lot of people who had endometriosis," Samantha said, "and I couldn't find a lot of people who had endometriosis who looked like me."
After getting diagnosed, Samantha found Facebook support groups, tried Lupron, and experienced the medication's many difficult side effects. "I was really going through a depressed state," Samantha said. "For a while, the hardest thing was getting out of bed. I had to really, really talk to myself and tell myself, 'I'm not going to allow endometriosis to defeat me.'"
She couldn't let endometriosis leave her bed ridden and cut off from everything that she'd known for her life. And she couldn't let others suffer for years without a diagnosis or proper endo education. She had to step up onto the empty podium; "I figured, if I can't really find a lot of people who have endometriosis or who talk about endometriosis, then maybe I'm supposed to talk about endometriosis."
Denäe's advocacy and educational work launched from there. She pursued educating the youth about endometriosis and period healthcare through EndoFound in 2019 with the ENPOWR Project's Endo EduKit. Since then, Samantha has educated 559 students in the Atlanta area about endometriosis, period healthcare, and advocating for themselves when they're faced with racial bias in the medical community—and all as an unpaid volunteer.
Denäe is also working to remove the tampon tax on sanitary products in the state of Georgia. "In the communities that I teach in, the students sometimes can't afford [period products]. A lot of these students don't even have health insurance, so they can't go to the doctor or get proper exams." At the very least, Samantha believes, she can advocate to guarantee these students receive the products that are a necessity, not a luxury.
"Out of everything I do," Samantha says, "teaching students is the most rewarding because we don't talk about reproductive health as a society." When Samantha was in high school, she remembers sitting in class feeling like she was going to die on her period, and wishing that she had somebody who at least knew how she felt—but she didn't. So, she decided she would be that person to young people.
Often Samantha has found that her students connect the dots to their own family, or bring up that they've told their doctors about irregular or heavy periods, but don't feel heard. In one class, a student was texting her mom about endometriosis as Samantha was giving her presentation. Unfortunately, the student's mother replied that period pain was all in her daughter's mind, and that nothing was wrong. "That's part of the problem," Samantha explains, and the generational silence and taboo concerning periods is why Samantha not only teaches young people about endometriosis, but also makes sure she's there for these students who don't have a support system to talk to. "If they have any questions, they can always message me, call me, email me. They can find me on Instagram. They always talk to me after a class session if they don't want to talk about it in front of other students. I'll sit there for as long as I need to, to answer as many questions that they have."
Although Samantha finds that she's usually teaching a majority of female-identifying students, she always gives male students the option to stay and learn—and many do. In one class, she had a male student who asked every question pertinent to endo diagnosis and treatment, from "do I have to eat certain kinds of foods so that I don't have flare ups?" to "what's the best kind of pad or tampon to use with endo?" Samantha figured this student must have a sister, cousin, mom, or aunt with endo symptoms, and that he wanted to collect as much information as possible to pass the message along. "You wouldn't think boys would be interested in this, but to have them stay and listen, and then to have them ask questions, is really powerful. Boys should learn about women's reproductive health just as much as we should learn about it."
Silence is no longer an option—concerning the taboo surrounding periods, as well as the racial biases that pervade the medical community. How can the medical community do the necessary work to dismantle these racial biases that continue to exist? The first steps are to understand that it's systematic. "For hundreds of years," Denäe says, "people have believed that black people can withstand pain at a higher rate than other racial groups. Sure, everybody has different thresholds for pain, but just because I'm black doesn't mean that I can bear pain for longer than somebody else." Denäe also explains that it's socioeconomic. "If you live in a better neighborhood, the resources and the quality of physicians that you can see will be better. But if you live in a lower-income economic background your resources may be limited."
But the medical community can't just acknowledge that there is a serious issue concerning racial inequities in healthcare without any actionable change. That's why Samantha Denäe partnered with Lauren Kornegay, Kyla Canzater, and April Christina and launched the Black Women's Health Coalition on June 26th, 2020. The BWHC mission is to change inequitable healthcare for individuals of color by advocating for six essential actions that hospitals should take. The six demands are urgent and necessary. Equity accountability, health education for adolescents, diversity training, prejudice free communication, pain management protocol, and inclusivity in research.
"The purpose of the Black Women's Health Coalition is to acknowledge the void, spark the drive and conversation for change in black health," Samantha says. The Black Women's Health Coalition also provides statistics, resources, and pre-written templates for people to easily send out to the ten major hospitals in the United States to demand a change in healthcare.
In addition, Denäe points out that a hysterectomy is the first medical procedure that a doctor will suggest as treatment for many Black women. According to a research article published in the 2019 December issue of The Journal of Minimally Invasive Gynecology, Black women and people of color experience early hysterectomy at a much higher rate than white women. "[These doctors]," Samantha says, "won't try to figure out if you have issues with other parts of your body to see if that affects your endometriosis or your other reproductive issues, it's just straight to hysterectomy."
"It's time to really just listen," Samantha concludes. "We've been saying the same thing for years and years, and it's not that we're saying it because we want to say it. We're tired."
To learn more about the Black Women's Health Coalition, and how you can participate in demanding change from the medical community, you can visit their website here. In addition, we recommend watching this video of Samantha Denäe to see for yourself how passionate and inspiring of an educator she is. Thank you, Samantha, for all of your dedicated and ongoing work for the endo community.
In the future, Samantha aims to dedicate her time to creating an endo curriculum that can be implemented into every school system as well as traveling to other high schools around the country to teach endo education. "That's what I would really love to do because I love going to teach the students about period healthcare and endometriosis."
---

Atlanta native and rising self-published author and screenwriter Samantha Denäe is a former magazine writer and entertainment blogger. Known for pushing the envelope to spark conversation, Samantha Denäe entices her readers with real-life story-telling through novels, short stories, and poetry with a twist. Beginning as a blog idea, Samantha Denäe decided to push the pen with her first novel, The Defense (2015). She has since released Traces of Her Mind: A Reflection of Life and Love, a poetry compilation (2016), and the sequel to The Defense Too (2018). Samantha Denäe did not stop there! At the age of 24, she was diagnosed with endometriosis and has since begun her mission to educate young ladies and women around the world as a public speaker and advocate, and as partner with the Endometriosis Foundation of America & The ENPOWR Project's Edukit, teaching students about Endometriosis and period healthcare.