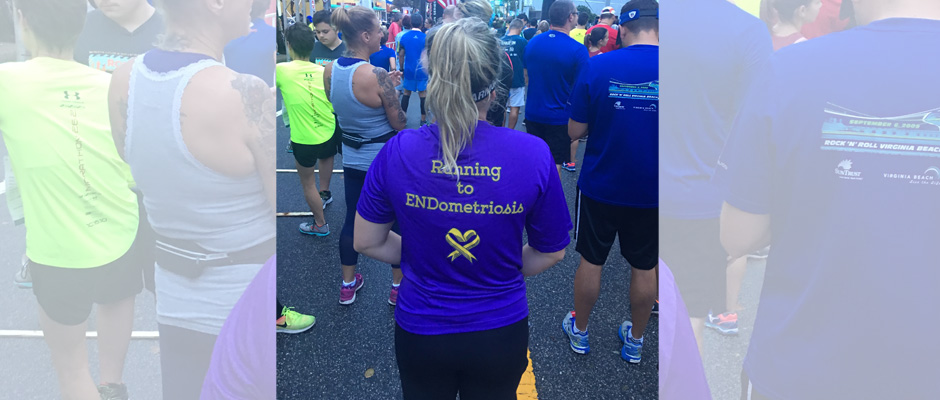 By Elleanor Wells, Proud Endometriosis Warrior
Annapolis, MD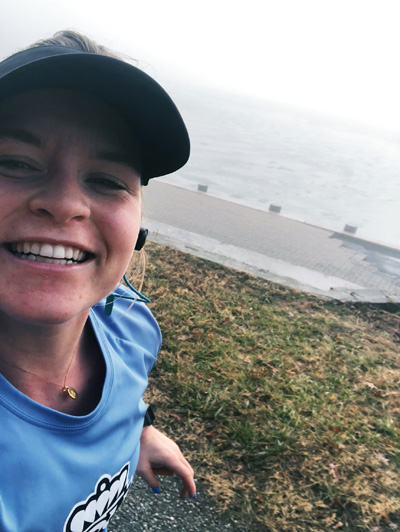 Until very recently, the idea of running reminded me of always finishing last in a fifth-grade Phys Ed test. I continued to hate running in high school, but I loved working out. I did TRX, cycling, yoga, CrossFit—you name it. But, running? I went through cycles where I would try to get excited about running but that never lasted very long.
I was diagnosed with endometriosis in July 2017, after a year and a half of being in pain and not knowing why. I stumbled upon a paperback copy of The Doctor Will See You Now and devoured it in one afternoon. That led me here, to EndoFound.org where I found information on EndoFound's fundraising marathons. At first, I thought to myself, Should I? laughed at the thought of running a marathon, and continued to scroll down the page. Then I discovered a 5K in Virginia Beach near my old school. Without hesitating, I put in a request to run with Team EndoFound, even though I'd be competing just five weeks after my excision surgery.
Fundraising before racing is a requirement. That's when the fun started. Not the running, that was not fun, yet. The fun was in sharing my endo story, despite how challenging it was, with friends and family. I quickly realized that if I didn't talk about my experience, I wasn't going to be able to fundraise. I shared a post on Facebook about my journey to diagnosis, which quickly reached the most likes and comments I had ever received on anything ever. The numbers weren't what made it important though; it was the overwhelming support. I had spent much of the past year feeling alone, scared, and confused. All of that disappeared while fundraising and advocating for EndoFound. It worked: I more than doubled the $500 fundraising goal.
The more I spoke about endo, the more I learned about other women in my community with the disease. I was happy I wasn't alone, but I was sad they hadn't spoken up about their experience for fear of being stigmatized. I still feel this way and am working to educate others about endo.
As for the running, somehow I don't hate it anymore. I find it fun. Fun enough that I have decided to run again on behalf of EndoFound for the Rock 'n' Roll Washington D.C. 5k on March 10th. You see, something magical happened while I was running that 5K in Virginia. It was raining and windy, and the sand from the beach blew in my face. As I neared the end, I should have been miserable, but I wasn't. I started thinking to myself: Running is easy. Running is easier than a year and a half of being in pain and not knowing why. Running is easier than being frustrated with doctors. Running is easier than missing out on normal college experiences because I was too tired or in too much pain. Running is easy. Being diagnosed with endometriosis is the hard part. Committing to run with Team EndoFound or a local group can change your perspective on your diagnosis or maybe even life. No matter how scary it feels, find some sneakers. And go run.
(Editor's note: This interview has been edited and condensed for clarity.)