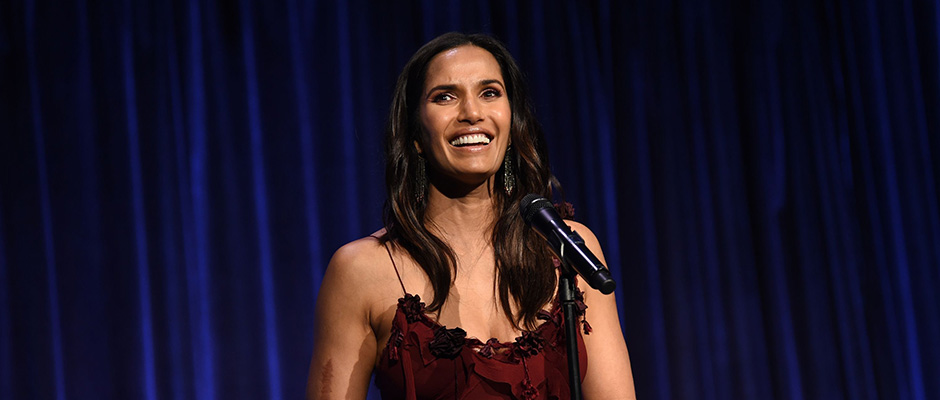 Blossom Ball 2019
WEDNESDAY, MAY 8TH - Cipriani Wall Street
Padma Lakshmi, we'd like to welcome to the stage with a little 'This Joy'.
We're going to take us off with 'This Joy'. But we need Padma.
(singing)
What a beautiful group. What a beautiful group. What a great introduction. Can I just take them with me everywhere? Good evening. I'm Padma Lakshmi. And I am the co-founder of the Endometriosis Foundation of America. I'm really proud to be here tonight. When I walked into Dr. Seckin's office in 2006, I really was at my wit's end. And then, I got better. And then we started this organization, just because I saw what life was like without suffering the ramifications of endometriosis.
And Dr. Seckin was there when I was told I couldn't have a baby. And I really wasn't thinking about having a baby yet. But when someone tells you you can't, or at least if you're me, of course, you want to right away. And I was very saddened by that. And because of the immense pain and sadness, I felt, Dr. Seckin counseled me to talk about that. And beyond restoring my motherhood, I have a 9 year old daughter, named Krishna.
Beyond that, he taught me to open my mouth. He taught me to use my voice. He encouraged me to speak out about an issue that, as many of you know, is incredibly personal. And not easy to talk about. I'm incredibly proud to be standing here, celebrating our tenth anniversary with all of you. All of you who are in the room, and a lot of you who aren't in the room. New friends, old friends, I want to thank all of you. Everyone who's worked hard, everyone who's ever mailed our invite, volunteered at our nurses conference, come to our medical conference. All of the things that so many people have helped us achieve.
I want to thank each and every one of those people. Because it has been hard work. But it has been so worth it. In our first year, Tamer and I were able to help launch the Center for... Sorry. The Center for Gynopathology Research at MIT. That institution continues to do amazing work. In our fourth year, Tamer and I were able to start the Empower program. Where we decided that we wanted to educate young people. So that they wouldn't wind up like me, and like so many other millions of women, that they could get help.
And educate both boys and girls. So that boys would be more supportive colleagues, brothers, fathers, lovers, and sons. I'm incredibly proud to say that in 2016, we also came up with the Edukit, with the help of a lot of people who aren't here tonight. Where we allowed counselors and therapists, and teachers to educate their students without us being there. And I'm incredibly pleased that today, standing here 10 years after we started this organization, that 35,000 students have benefited from our education program.
We've also been successful legislatively. I went up to Albany a few years ago. And we were able to pass very crucial legislation for teen health. There's another bill that sits there today. And I want to make sure I get this right. So forgive me for reading. I just want to make sure I acknowledge exactly who I need to. So this bill is in the legislature. And it has to pass by June 19. And this bill was introduced by Senator Sue Serino and State Assembly member, Linda Rosenthal. And it would require the commissioners of health and education to develop age appropriate education materials about menstrual health, including endometriosis, to continue the work on a much larger scale that we have started as a grass roots program.
And as Tamer mentioned, we've given away over a million dollars in grants. Including to MIT, and Stanford, and so many others. And I'm incredibly proud that we've been able to do that. I also want to say a special thank you to Subrata De, and Dr. Sandra Gelbard, our co-chairs. These two women have taken what basically Tucker and I used to do. Turned it into something much bigger than anyone could hope for. It's so beautiful. This night is so great. It's wonderful to be here, and just be relaxed, like a guest. It's amazing.
And I want to thank all of the people who have generously given to us over the years, and tonight. Your generosity has not gone in vain. We appreciate every kind of support, including the financial support that very many people have given us over the years. I also want to say a special thank you to Elif Seckin. I don't think it can be overestimated at all. I think it's vastly underestimated what she does for this organization. And has always done for this organization. And I really, from a personal level, and on a foundation level, say we could've never done it without you. So I really thank you, Elif.
I also want to thank the event organizers. You guys have done a beautiful job. So, Phil Alongi, and the event planners, Gene Reviard, Marilyn Galefski, and of course, [Sarver 00:08:39]. Where's [Sarver 00:08:40]? My good friend [Sarver 00:08:41]. Mwah. [Sarver's 00:08:44] been with us for 10 years.
And before I go, I just want to say, the thing that I am most proud of, the thing that Dr. Seckin and I set out to achieve. I just want to take a minute to have a victory moment of silence for us. Because I think what we set out to achieve, we achieved. We put endometriosis on the map. Nobody did that. Nobody wanted to talk about it. Since then, there have been so many other little organizations that have come up. I see you. I see you all on social media. Endo Sisters, Endo Warriors, I have all the hashtags. Everybody writes to me.
I am so happy. Because all of those groups are the seeds of our labor. All of those beautiful, young organizations are there because we planted those seeds. And look, now they're blossoming, Tamer. I look forward to a day where my daughter, or my granddaughter, don't have to suffer with this illness, like many of us have. But until that day, we will keep fighting for young women, young girls, and old women like me, too, all over the world. Thank you so much for being here. It's an honor to be here after 10 years, and see the whole thing happen yet again. I'm really, really blessed. And I'm really thankful. And I'm very happy to pass the torch to Subrata and Dr, and Sandra. Thank you all so much.