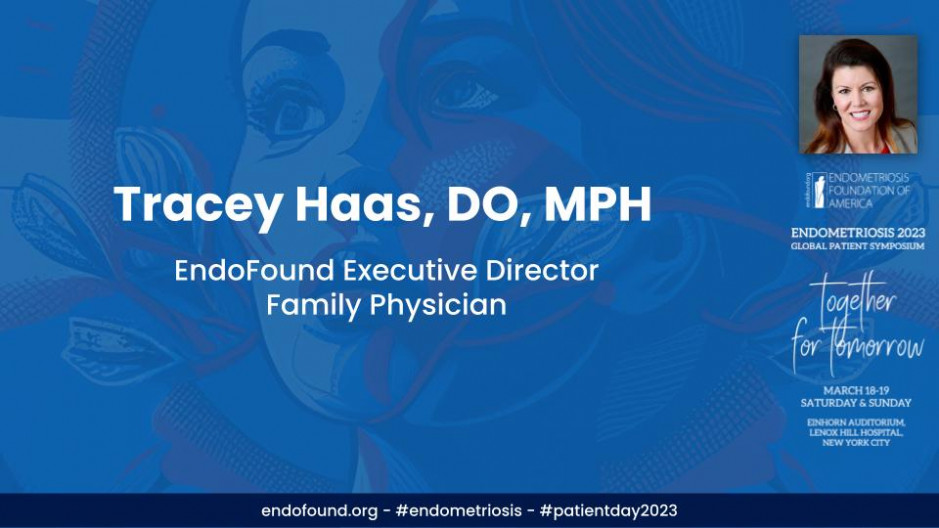 Endometriosis 2023:
Global Patient Symposium
Together for Tomorrow
March 18-19, 2023 - Einhorn Auditorium, Lenox Hill Hospital, NYC
Morning, everybody. Welcome to our 14th Annual Global Patient Symposium. Um, our past three have been virtual, as most of you know. This will be my fourth one to do, but my first one in person here in New York; everyone else is; it's been on Zoom. So just so excited that you guys are all in the city for this. I'm excited to be in the city for this. Um, so as Dr. Suskin mentioned, I'm the new executive director of Endo Found. Um, I'm also a family physician. I practice in Wyoming, as he mentioned. I also am a clinical instructor for the University of Washington School of Medicine. We have a campus on, uh, our University of Wyoming campus. So, um, I'm also an endometriosis patient, and so I bring that here. I know many in the room are also patients. Uh, so I have a passion for moving this cause forward for so many different reasons for the treatment of my patients, but also because of my own personal 30-plus year journey with the disease.
Um, searching for why so many women, uh, are affected by endo is a, is a huge passion of mine. How we can diagnose it earlier, um, how we can search for new ways to treat, uh, hopefully in the future, prevent the disease and truly cure it. So, so many different things that we want to address this weekend. We believe that by bringing everybody together, patients, researchers, physicians, nurses, therapists of all kinds, um, that we'll, we'll have real collaboration. And so this weekend, we're hoping will be very interactive. Our theme is together for tomorrow, and that's exactly what we're aiming to do. So I'm joined today by many members of our Endo Found team. As Dr. Suskin mentioned, we have Jake and Carolyn. We have Jean Andrew Harper. Later today, Diana Falzone will join us. Please look for us with our name badges, ask questions, and grab us if you've got thoughts, ideas, or things to share.
We all are here for that all weekend. Um, we hope that, uh, you guys will get to know each other in the room, so please introduce yourselves to each other. Shake hands, and get to know each other. Um, we're gonna be featuring patient stories and interactive q and as with just about every session this weekend. So it's a chance for you to get to meet the experts and talk with each other. Um, we're gonna have lunch in this room later today. We're gonna have a networking social in this room later today. So make sure you get up and walk around. Um, go out and meet our vendors get to get to talk with our sponsors who are out in the lobby. Um, get some fresh air. We have nice weather now. Um, I I really wanna, uh, take a chance to thank Lennox Hill Hospital for generously lending us this beautiful space to meet for this weekend.
Um, also, I wanna thank Myovant Pfizer for being our key sponsor along with Generation Next Fertility. So please get a chance to go out and interact with everybody out in the lobby today. It is our sincere hope that each of you will learn something new this weekend, that you will meet someone new this weekend, um, and give support, but also feel supported by this growing endometriosis community. So, wanna welcome, thank you guys for being here. And with that, um, I would love to introduce our very first speakers of the morning, um, Dr. Goldstein. And, uh, Dr. Suskin will be speaking about what's new in endometriosis. I know that everyone in this room has been impacted by endometriosis in some way. Um, Dr. Carly Goldstein is an endometriosis excision surgeon at the Seskin uh, endometriosis Center. She also has endometriosis, and she's joined by Dr. Seskin and who are all here today to talk about the emerging facts and truths about this illness and what still mystifies so many in the medical community. So I'd like to welcome them today.