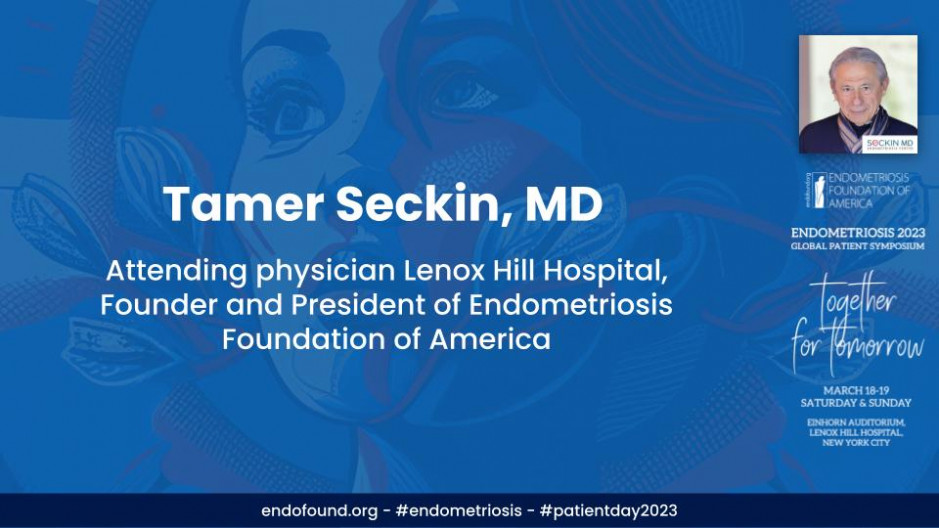 Endometriosis 2023:
Global Patient Symposium
Together for Tomorrow
March 18-19, 2023 - Einhorn Auditorium, Lenox Hill Hospital, NYC
Hello everyone. This was a nice prayer of the morning, right? That was good, Lena. Thank you. Leah, thank you so much. Um, I really appreciate you showing up on a weekend of yours. We are humbled. We are really, um, excited. We've been doing this for many years and this is the first year I didn't have to do anything, so I mean it, so it's been tiresome, but I, I want to take, uh, recognize, uh, Jake, who, who really single-handedly run this old operation with Carolyn. And where's Carolyn? All right, she's there. Okay. And, uh, particular Sark, who has been my sideman for over a decade. He's been always next to me. And, uh, certainly Ashley who did these flowers. Ashley, great job as always. Um, yeah. How many of you from New York years? Well, not bad. We have people from Kansas, Texas, Japan, Turkey, Ireland.
Yeah. So, um, I'm so humble to be in front of you. I hope that today will be very helpful to you. So, you know that we, I have gotten this, uh, foundation almost, ah, 2006. It was officially established and then, um, we went public with partner coming. So it's like going public. So with her really, uh, voice, the subject of endometriosis became very visible in America. And I think the foundation impact on changing the rhetoric of endometriosis as far as awareness cannot be ignored. We really made the first step. Now many universities have endo centers, many groups, everyone, and we all have different opinions maybe about the disease, how it forms, how it develops. But don't forget, we, I represent a surgical point of view, so I'm a little bit opinionated. So my conflict of interest is basically I'm a surgeon. So, and I do believe at one point surgery is necessary for patients who, who wish to have surgery.
And it's the patient autonomy to request surgery. We don't tell anyone they need surgery. That's my philosophy. And ethically I'm on that line. Please understand that. So today is gonna be an open forum Throughout today, there will be microphone. We are here for you. We want to hear your voice. We are not here to lecture you. We'll give our opinions. There will do different opinions. Please say so. There is, there is gonna be decent argumentation here, but it should be for the best of you. And there will be microphone around. We would like you to speak up. If your voice is not heard, we will not be happy. I wanna invite Dr. Tracy Haas, who joined us, our new executive director. I am so lucky to have her. She's a, she's a scholar, she's a practice and p physician from Wyoming. So this is a important step for us to recognize. Tracy ha's, uh, input to us and please welcome here, Tracy. Come.