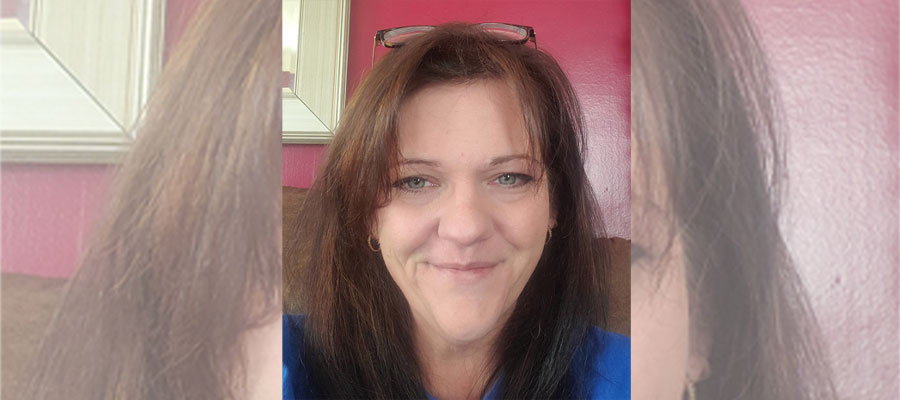 I'm 44 years old, a nurse, and have Stage 4 endometriosis.
My story is probably a little different than most. I didn't get my first menstrual period until I was 16. I became pregnant at 18, dropped out of high school, had my son at 19, and had no complications with the pregnancy. Soon after he was born, I got a Depo-Provera shot to prevent another pregnancy, earned my GED, and enrolled in college.
A decade later, doing well as a nurse and with a healthy 10-year-old boy, I wanted to have another baby. When I went to see my gynecologist about getting off the Depo-Provera, she did an exam and found that I had cervical cancer. Instead of having a baby, I had a partial hysterectomy at 29.
I had pelvic pain in the years following the hysterectomy, but I didn't think anything of it. It wasn't debilitating. It was more like a sharp stabbing pain that would hurt momentarily and disappear. I figured it was to be expected after having cancer and body parts removed. It didn't keep me from living my life, as endometriosis pain does to so many women.
Fast forward to September 2020. The pain was much more frequent. I was urinating blood and had vaginal bleeding and painful bowel movements. Multiple biopsies over the next year didn't reveal the cause. In February 2022, when the blood I was urinating was clotted, doctors said it was time to return to oncology. They assumed the cancer was back.
At oncology, I had the most painful biopsy I'd ever had. The doctor then ordered an MRI, and after reviewing the results, she sent me for minimally invasive gynecologic surgery. There, I met with a specialist who told me the gravity of my situation. I had three masses in my pelvis the size of gold balls, lesions on both ovaries and the peritoneum wall, a strangled ureter that killed my kidney, lesions in my bladder, and a crushed rectum.
In September 2022, three surgeons operated on me for more than 10 hours. They removed my right ureter, a quarter of my bladder, and most of my rectum. I had an ileostomy for 14 weeks. They tried to do everything laparoscopically, and they did, for the most part. I ended up with five small abdominal incisions, the ileostomy, and a larger abdominal incision to remove the rectum. The surgery was so complex that one of my surgeons wrote and published a paper about it.
While I felt better when I woke up, my doctors told me they couldn't remove some endometriosis that was wrapped around the vessels and nerves in my groin because of the risk. They also said that because the endometriosis was so advanced when they found it, there could be lesions they didn't get because they couldn't see them. And I believe that to be the case. The pelvic pain has returned, and I have an appointment in May to see my endometriosis specialist.
Reflecting on this journey thus far, I've learned how important it is to take care of myself. Sometimes as a mother, wife, daughter—whatever our roles are—we take care of everyone else around us and forget to take care of ourselves. I'm a nurse, yet even I skipped a few yearly checkups I should have had before the cancer was found. I'll always wonder if they would have found it sooner if I had been paying attention to my health.
I've also learned to be honest with my doctor about how I feel and ask a lot of questions. I questioned all three of my surgeons multiple times to ensure I understood what they would do and what I could expect when I woke up. I was still terrified going into surgery because I knew it would be complex, but probably less than I would have been had I not asked questions.
I'm sad that I couldn't have more children. But I'm grateful that I was able to have one because I know many women with this disease aren't that fortunate. My son will turn 25 this month, and I'm a grandmother now. Given the pain I'm in today, I don't know what lies ahead, but I have a lot to be thankful for and will continue to fight this disease with everything I have.
Editor's note: Would you like to contribute to EndoStories? Click here to learn how to submit your work.
*Patient stories submitted to EndoFound.org are the patient's views, not necessarily those of the foundation. All testimonials are from real patients, may not reflect the typical patient's experience, and are not intended to represent or guarantee that anyone will achieve the same or similar results.