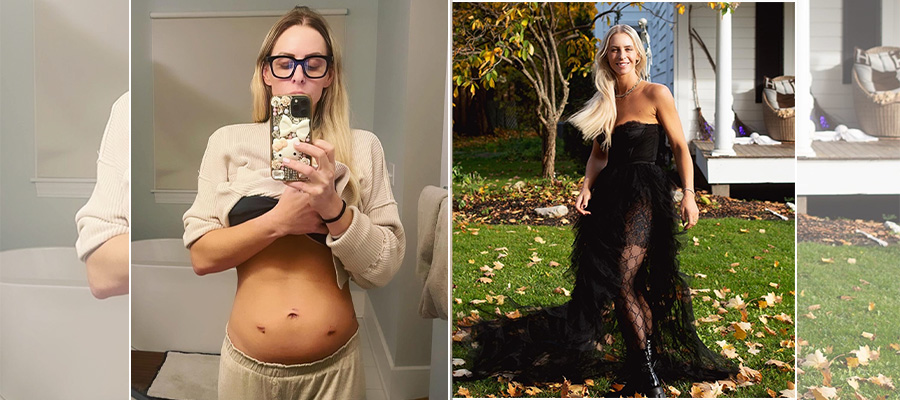 Jeanne St. Claire asked the writer of this story almost as many questions about endometriosis as he'd asked her. She also ordered Dr. Tamer Seckin's first book, The Doctor Will See You Now, during the interview so it would be waiting for her when the interview concluded.
These are the latest examples of St. Claire refusing to rest for herself or anyone else fighting endometriosis after the disease nearly took her life five years ago, and following a second surgery at the end of September.
"There's this battle within me that I don't ever want to go back to where I was," she said. "I'm going to continue to demand answers."
St. Claire, 41, is a brand development business owner and married mother of two in Upstate New York. She has an older sister who was diagnosed with endometriosis at 17. Her maternal cousin, Alaia Baldwin, is an endometriosis patient and longtime EndoFound advocate. She also has a paternal cousin with the disease. But until that near-fatal night in 2018, at the age of 35, St. Claire had never had any symptoms.
"I fainted around midnight and woke up on the bathroom floor with bad stomach pains," St. Claire said. "I wasn't better in the morning and couldn't get it out of my head that I'd fainted. That's what made me go to the hospital."
She got to the ER at about noon and was there for 12 hours. Doctors ran several tests and diagnosed her with irritable bowel syndrome. But when the on-call gynecologist saw the images around midnight, he immediately knew St. Claire's condition wasn't IBS.
"He determined that an ovarian cyst had ruptured, and I'd been bleeding internally all that time," St. Claire said. "The staff rushed into my room and told me I had to have surgery now."
The doctor stopped the bleeding and removed a significant amount of endometriosis and scar tissue that he'd found on and around the ovary. St. Claire had lost so much blood that she had to have a transfusion and remained in the hospital for a few days to heal.
"That doctor saved my life," she said. "Nobody knew that I was bleeding internally until he saw it, which was about 24 hours after the cyst had ruptured."
St. Claire was also fortunate that the surgeon had the experience to identify and remove the endometriosis. But this is where her story took an odd twist.
St. Claire never met her surgeon. She was under anesthesia before he came in to operate, and he left the hospital before she woke up in recovery. But he was clear in his notes that she had endometriosis and that her post-op doctor visit should be with her own OBGYN.
"I never got to talk to the surgeon. I just followed his orders and went to my OBGYN," St. Claire said. "But I was pretty frustrated and uncomfortable with it because she wasn't the one who got to see the inside of me."
St. Claire's concern proved valid.
"When I went in, my OBGYN looked me straight in the face and said, 'You don't have endometriosis. You have chronic bacterial vaginosis,'" St. Claire recalled. "I said, 'I thought you could only diagnose endometriosis through surgery.' She said, 'Yeah, well, you don't have it.' I was confused. My surgeon said I had it, but my OBGYN was someone I knew and the one who delivered my babies, so I believed her."
St. Claire continued to have some pain after surgery, though not as severe as the night she fainted. She attributed it to the bacterial vaginosis and continued living her life. But about a year after surgery, the pain became more severe.
"It was affecting me three out of four weeks every month," she said.
She stayed with that doctor for another year, trying to find solutions, before deciding to move on.
"The aha moment for me was when I was in her waiting room for an appointment one day surrounded by pregnant women," St. Claire said. "It's a phenomenal practice for delivering babies, but I was there for pain. I knew it wasn't where I needed to be."
St. Claire went to two new doctors over the next couple of years, but their only solution was birth control, which didn't help as the pain intensified. In January of this year, she found a doctor who created a plan to do surgery in the fall with the idea that the first surgeon in 2018 did, in fact, remove endometriosis, and that it was still the source of St. Claire's pain.
"She found and removed a ton of endometriosis," St. Claire said. "She also took out my fallopian tubes because the right one was strangling the ovary and cutting off circulation to my body, and the left one was twisted. My bowel had adhesions everywhere, and it was stuck to my back pelvic area. The endometriosis was stage four."
St. Claire said she feels better, though she's not sure what's next on her journey. She said her new doctor is not an endometriosis specialist, so St. Claire is doing as much research as time allows to learn more about the disease to figure out what to expect going forward.
She's also made it her mission to help every woman suffering from endometriosis symptoms. St. Claire recently shared her story in detail on Instagram, along with photos of her body post-surgery, to help other women feel more comfortable about advocating for themselves.
"A very long time ago, I told a younger version of myself that I am tough and strong, never weak. Never a victim. I'm learning that it takes a brave and strong person to share their weaknesses," she said. "If your mind, body, and spirit are telling you something isn't right, don't ignore it. Don't give up on you, ever. Listen to you and demand answers."