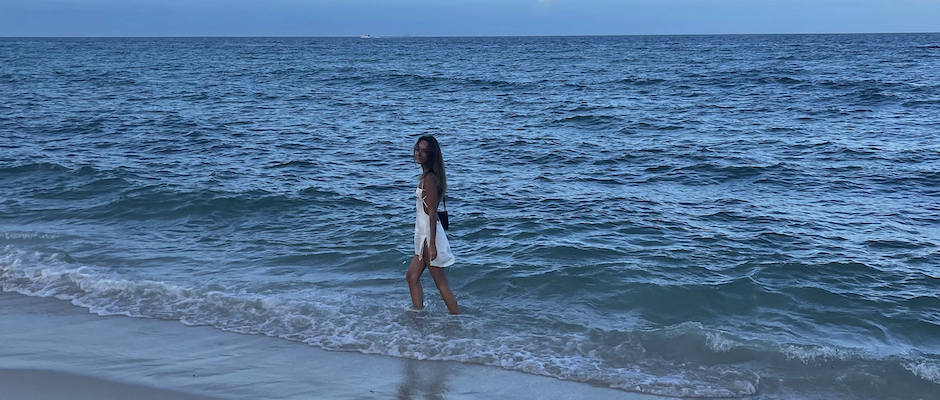 Growing up, I suffered from severe stomach pain which started at around six years-old. When I was about 20 years old, other symptoms began including incredibly painful intercourse, unbearable period-induced stomach pain, constant bleeding/spotting, and intense stabbing pain and cramping in certain areas of my pelvis. When I brought these concerns to the attention of my OBGYN at the time, I was told I just wasn't used to sex or having a period, and not to worry. I would "grow out of it," my doctor said. I felt so dumb and embarrassed. I brushed it off and tried to ignore the pain I constantly felt.
After years of testing (focused on digestive-related issues), one of my GI doctors, who I still see today (Dr. Yaffe in NYC), brought up endometriosis when I was 23 years-old. Not even knowing what it was, I did some research and quickly found myself scheduling laparoscopic diagnostic surgery with my OBGYN at the time. I never believed it could be endometriosis due to the fact that the pain started significantly before I got my first period in pre-pubescent years. I then learned that, although incredibly rare, endometriosis precursors can be disseminated before birth, while still in the womb. As your organs form, there is a chance that tissue that was programmed to be inside of your uterus gets misplaced in other organs in your body, thus setting up the potential for endometriosis if those areas are activated later. This theory sounded crazy to me, but desperate for answers, I went along with the surgery.
Waking up with sharp pain, I was told I had the worst case of endometriosis my doctor had ever seen for someone my age. I was diagnosed with advanced stage III endometriosis. My doctor was able to ablate any lesions that could be seen during laparoscopy on my uterus, ovaries, and fallopian tubes, but warned me he was unable to get to my bowels to see if the endometriosis has spread there. Still not fully understanding the condition, or what it all meant, I didn't think that was a big deal.
Months following surgery, I felt relieved to finally have an answer, and my pain felt somewhat in-check for the first time in my life. As soon as I felt like I could maybe live a normal life, my pain came back almost exactly one year after my first surgery, and was worse than ever. Every period brought stomach pain that would leave me bawling and shaking on the floor. Several trips to the ER and many scary moments left my parents and me feeling hopeless and defeated. I'd never felt that kind of pain before, and it terrified me.
I followed up with my OBGYN, who performed an MRI to try to detect any new endometriosis growth. Since MRI's typically don't show endometriosis, I felt like it was not necessary, but decided to go along with what my doctors were telling me to do. My MRI showed some new growth that formed a mass on the side of my torso near my large intestine. Not knowing if the mass was endometriosis, cancer, or some other benign cluster, my doctors became concerned and recommended another surgery—this time, surgery that I was told could potentially result in a bowel resection.
Following a few hours in surgery, I woke up to find a five-inch incision down the center of my stomach leaving me with permanent nerve damage and feeling really weak, scared, and confused. The mass was in fact endometriosis that became so severe it caused the tissue to stick together and form a tumor-like mass on my colon, which then pushed against my intestines. This meant that anytime I ate anything, and my bowels tried to expand to digest the food, they couldn't as this mass was preventing expansion and proper digestion, resulting in crippling pain every single day. It was then that I was diagnosed with advanced bowel endometriosis. Additionally, I was diagnosed with adenomyosis at the same time, posing a threat to the future of my fertility, but was assured that everything looks good as of now, and I shouldn't face issues getting pregnant down the road, as long as I don't wait too long.
Most days, I'm still unable to process what I've been through, and now, at 26, I'm constantly faced with so many unknowns surrounding my fertility and my future. I have already been told that I will need another surgery within the next one-two years, which will be my third surgery before turning 30. Never in a million years would I have thought that endometriosis was the root of my pain all along, starting in childhood. I can't help but wonder what my life today would look like if my doctors took my family and I seriously 10-15 years ago.
All I can say is I encourage ALL women to ask their doctors about endometriosis. Ask the question, and stay knowledgeable about the condition, as most physicians won't even mention it due to a lack of awareness. So many women have endometriosis in early stages and will be able to live comfortable, normal lives without a diagnosis or treatment, but for the women who are suffering: be assertive for answers because it's NOT normal. I continue to work with some of the top OBGYN's, GI's and fertility doctors in Manhattan and I will continue to share my story in hopes that it can help other women.
Endometriosis has taken as much of a mental toll on my body as it has a physical one. I worry about my fertility every day. I struggle with body dysmorphic disorder and disordered eating. Every time I've had surgery, I've struggled with postoperative depression and anxiety. Endometriosis is not just physical, and it's okay to recognize that. I hope that in addition to more medical research in the future, we can eventually have more answers to the mental effects of endometriosis, too.
Kayla grew up in upstate New York with her parents and brother, frequently traveling and spending time with family. She received a B.S from a small university outside of Boston, and after graduating early, she moved to Manhattan to pursue her career within the fashion industry. She now works in E-Commerce for LoveShackFancy, and spends her free time exploring the city, shopping, trying new workouts, designing and making frequent trips to different beaches. Her favorite destination is Bermuda, where she feels most at ease and worry-free.

---
Editor's note: Would you like to contribute to EndoStories? Click here to learn how to submit your work.
*Patient stories submitted to EndoFound.org are the views of the patient and not necessarily those of the foundation. All testimonials are from real patients, and may not reflect the typical patient's experience, and are not intended to represent or guarantee that anyone will achieve the same or similar results.