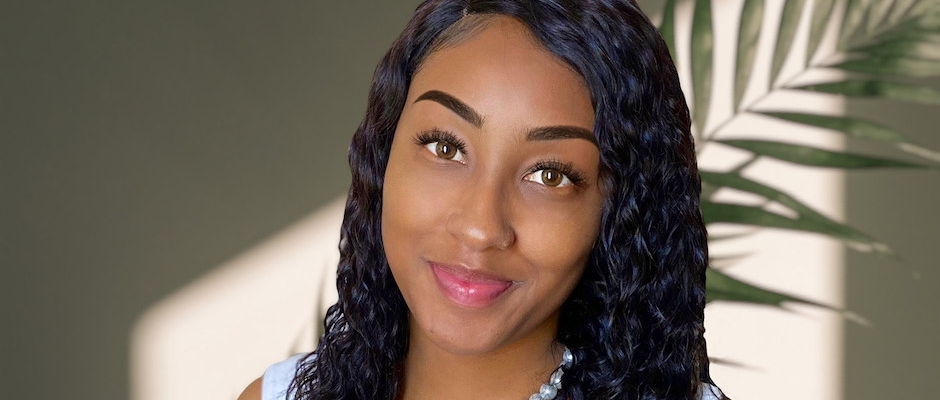 I remember being on the bathroom floor at my university, curled over in pain. My body was so hot that I thought I was going to faint. I kept thinking, "If I can't get up, I can at least crawl in the hallway so someone could see me just in case I pass out." That was the day I knew that my periods weren't normal, and something else was terribly wrong with my body.
That same day, I researched my symptoms, which were painful: heavy periods, bowel pain, bloating, and nausea. I came across the term endometriosis. I read about how it affects 1 in 10 people assigned female at birth, how it can spread all over the body, and how there is no known cure. I was terrified. So I immediately made an appointment with my gynecologist to discuss my situation.
At the appointment, I shared my symptoms and research findings with my OBGYN. He agreed that it could be endometriosis, but first he wanted to do a few other exams just to rule out other conditions that present similar symptoms, like fibroids. What's interesting is that I have heard of fibroids being a condition that's "common" in Black women; in fact, I knew several African-American women close to me who had them—but I had never heard of endometriosis in my life. I was honestly hoping I had fibroids instead of a disease that was a complete mystery to me.
All of my tests came back negative: no fibroids, not even a single cyst. My doctor gave me the rundown on how the procedure would go and how he would burn off any endometrial tissue that is found. This is also when he told me that my pain may only be relieved for a very short time before coming back. I felt so defeated. I knew there was no cure, but I was hoping that I could at least get a few years of being pain-free. However at that point, I was looking forward to any amount of time without the pain, so we decided to go ahead and schedule a laparoscopic surgery a week out from my appointment.
After the surgery, my doctor told me that he found endometriosis. I was diagnosed at stage 3, meaning that there were many deep implants and adhesions. Note that it's possible to have ovarian cysts as well in this stage, but that just didn't apply to my specific diagnosis. He told me that my surgery was a "textbook case", and definitely one of the worst he had seen. I looked at the pictures that were taken during surgery and I was so shocked to see these little adhesions everywhere. With the amount of pain that I was in, I expected them to be a lot bigger. It's amazing how something so tiny can cause so much damage.
I had some pain relief for several months post-surgery and I even ended up conceiving. I had no pain during my pregnancy, which I was so thankful for because I know this isn't the case for everyone with endometriosis. However, after I had my son, the pain returned, and it was worse. This time I had new symptoms like rectal bleeding and chest pain during menstruation and ovulation. It was so mentally and physically exhausting to deal with these symptoms every month that my anxiety and depression worsened. I didn't have decent health insurance, nor did I have the money to pay for excision surgery out-of-pocket. The pain led me back down a dark path of suicidal thoughts. I didn't want to live if I had to deal with the stress and inconvenience that endometriosis brings. Being in pain constantly, canceling plans because of random flare-ups, and always being too tired to do anything is not living—it's just simply existing. I almost gave up on myself, but thankfully, I didn't. I made the decision to fight.
I started doing extensive research on endometriosis, like what foods to avoid, what types of treatments work best, etc. I joined support groups on Facebook so that I could connect with others who live with the condition. I attended my first endometriosis conference held by Endo Black Inc., an organization that advocates for African-American women and other women of color, and I learned so much more about the disease, including how misunderstood it is and how common it is for someone to be misdiagnosed. Hearing different women share their experiences with endometriosis was very inspiring—it motivated me to share my story with others who live with the condition, especially women of color, a group that is even less likely to be diagnosed. As a person of faith, I knew that God's purpose for my life was to educate and encourage those who needed it, so I saw this as an opportunity to turn my pain into purpose: I was done letting endometriosis make me into a miserable person. If I have to live with this for the rest of my life, I may as well share what I know about the disease and try to help the next person.
Combining research with my personal experiences, I wrote, "For You, Endo Warrior: A Guide for People of Color Living With Endometriosis." Though I want to reach endometriosis patients of all races, cultures, ethnicities, I wanted to focus on people of color with this guide since they are less likely to be diagnosed. My goal is to show them how to recognize the symptoms of endometriosis and how to advocate for their health, in the hopes of reducing diagnostic delay. I also created a printable symptom diary so those living with endometriosis can better manage their pain and other symptoms related to the condition.
Helping others to understand endometriosis and how to manage it has truly fulfilled me more as a person. Knowing that I can help save someone else years of pain and suffering not only motivates me to keep sharing my knowledge and experiences with this condition, but also gives me the strength to keep fighting for myself, too.
Angelique Hill is a self-published author, Certified Family Life Educator (CFLE) through the National Council on Family Relations (NCFR), and an advocate for endometriosis. She is also the founder of Rising Adults Academy, an online learning center that provides life skills education to emerging adults, and the founder of The Business Shower School—center that teaches female entrepreneurs how to get resources for their start-ups. She obtained her B.S. in Psychology, with a minor in Human Development, from Athens State University and is currently pursuing her Master of Science degree in Family and Community Services. Angelique is also a blogger who writes content about personal and physical development, entrepreneurship, and women's health based on her professional and personal experiences. When she isn't creating content or writing books, she spends her time reading, writing blog content, "thrifting", going to concerts, and enjoying her family.
---
Editor's note: Would you like to contribute to EndoStories? Click here to learn how to submit your work.
*Patient stories submitted to EndoFound.org are the views of the patient and not necessarily those of the foundation. All testimonials are from real patients, and may not reflect the typical patient's experience, and are not intended to represent or guarantee that anyone will achieve the same or similar results.