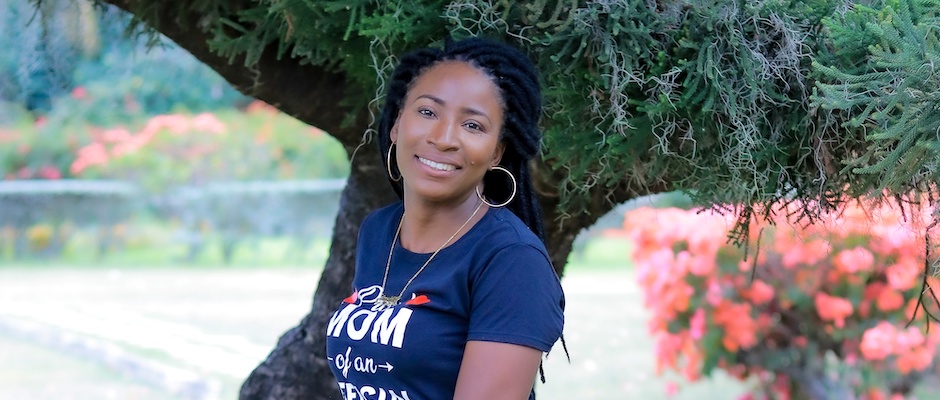 I have had menstrual pain since my period started when I was 14 years-old. Sometimes I would sleep on the cold tiles to not feel so much pain. Period cramps had me missing school, but I was told this was normal and that once I had a child the pain would stop. Once, in 5th form, I remember I climbed to the top bunk of my cousin's bunk bed and had my head dangling off my stomach pressed against the rails. I was told to stop being dramatic, and I didn't think anyone understood my pain.
I started my first job and missed one day of each month because of the severity of the pain. I would also go to my GP, who would give me Baralgin, a pain killer injection, so I could survive and go to work. I had to pay for this medication in cash, as insurance does not cover it.
I started taking contraceptives in 2007 in order to try to manage my period, however Yasmin made me bleed for thirty-three consecutive days, so again, I had to go back to the drawing board. The doctor recommended another contraceptive but I had the same issue.
I did my first pap smear, and it came back as irregular, but I got pregnant soon after and had to wait until post labor to do a detailed assessment. Labor was difficult but I had a healthy child. My first period after the baby was horrible. I was on the floor writhing in pain. I would have given anything to stop this pain, so I went to the colposcopy unit at the University Hospital of the West Indies. I did the colposcopy and I thought the pain would end.
But I was wrong. I endured 12 more years of menstrual pain—up until 2020, when my gynecologist finally diagnosed my condition as endometriosis. The diagnosis did not lessen my pain but now I know I'm not crazy or dramatic.
In December 2019 I started having this incessant pain on my left side that radiated to my lower back. I went to the doctor, and after a urine sample, I was treated for a UTI. The painkiller (injection) was far more expensive than in previous years, and of course was still not covered by health insurance.
The pain continued in the same area, and in February 2020, I went for a pelvic ultrasound. This time they used a trans-vaginal one as well, so it was more detailed, and I learned I had a ruptured cyst as well as uterine fibroids. Not good news, but at least now I knew definitively that something was wrong.
I got prescribed painkillers and whilst standing in line at the pharmacy, the pain was so overwhelming that I had to stoop down in the line.When I got to the front of the line,the pharmacist informed me that she couldn't dispense the medication as prescribed unless she spoke with the doctor. I had to endure the pain because she could not get through to the doctor on the phone and she was wondering why I was prescribed more painkillers after I had gotten powerful painkillers just the week before. I was an emotional mess. I didn't feel I should have to disclose my condition to her since I had a valid prescription. I told her to do whatever she wanted.
The pain stopped for about two days, so for most of 2020 I had no sex life because most times I was in too much pain. It was worse when my period started. In October, I started having blackouts. I'd sit on the toilet seat and would come back into consciousness on the ground. I hit my head on the wall once and scratched my face. Everyone thought I'd been in a domestic dispute, and I knew they would not understand, so I just let it go.
I've had episodes where I'm in so much pain I can't move. As a single parent, it's hard because my son is forced to get fast food or cereal. He made me cry one day because he said that I was lying on the floor in my room, ignoring him. I explained that I was in pain and not ignoring him at all, and in times of stress, this pain is heightened significantly.
The doctor said that the surgery that may help with my pain costs half a million Jamaican dollars and the insurance company would only be willing to pay 100 thousand dollars of this cost.
So I have to keep enduring the pain because I can't afford the treatment.
I've read numerous articles—some suggesting getting pregnant—but I am not sure if taking that route will work or if I'm even able to have another child, and it's so frustrating because it feels like I am feeding on painkillers, and after a couple months they don't even seem to work anymore. I tried a contraceptive pill again, but it made me feel so awful I discontinued it after two months. It's a journey where I have to work hard to control my emotions and reactions and I hope to get past this one day.
The pain now radiates from the back of my bottom to the soles of my feet. I dread the week before and after my period when the pain is a bitch, so three or four weeks in a month are spent in pain. Sometimes I have one pain free day all month. I am so scared that I will black out on the road one day, but what can I do but hope someone catches me before I hit my head.
I wrote this while I was in pain; I was trying to distract myself. It's during the darkest times of my life that I do the most research on endometriosis and reflection. I really hope to help someone by disclosing a bit of my journey.
​​Althercia Stephenson is a 36 year-old who is from Jamaica. She is the mother of a thirteen year-old and was finally diagnosed with endometriosis in October 2020. She likes reading and eating ackee and saltfish and roast breadfruit. She is also an avid track and field fan. She would love for more people to know what endometriosis is and how it affects women and how we can help young girls just starting their periods who might be experiencing severe pain to know they are not alone and the pain is not normal.
---
Editor's note: Would you like to contribute to EndoStories? Click here to learn how to submit your work.
*Patient stories submitted to EndoFound.org are the views of the patient and not necessarily those of the foundation. All testimonials are from real patients, and may not reflect the typical patient's experience, and are not intended to represent or guarantee that anyone will achieve the same or similar results.