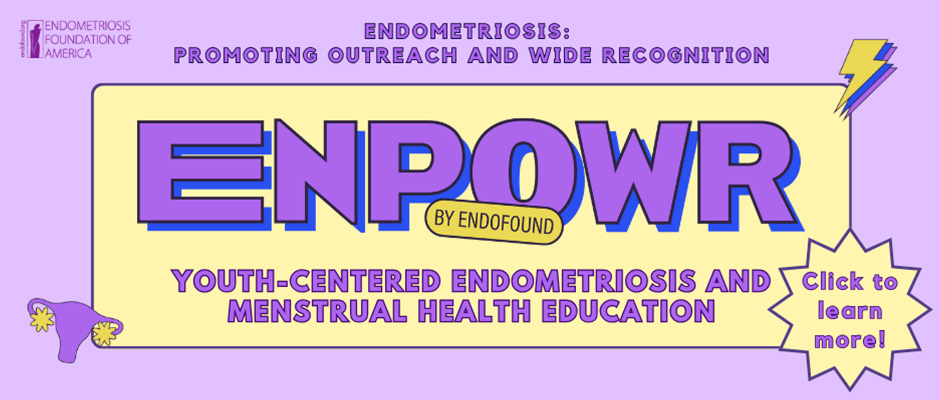 FOR IMMEDIATE RELEASE
Groundbreaking Program Aims to Eradicate the Silence and Stigma Around Menstrual Health, Empowering the Next Generation to Take Charge of Their Well-being
NEW YORK (November 16, 2023) – The Endometriosis Foundation of America (EndoFound) is excited to introduce its latest initiative, the ENPOWR™ (ENdometriosis: Promoting Outreach and Wide Recognition) Project. This innovative medical education program is tailored for high school students, aiming to increase awareness about endometriosis, empower young individuals with crucial knowledge, eliminate the stigma around menstrual health, and encourage a proactive approach for those displaying signs of the disease.
Endometriosis is a common but often misunderstood disease affecting and estimated 1 in 10 individuals assigned female at birth. With ENPOWR, EndoFound seeks to close the knowledge gap by providing high school students with the tools to understand, identify, and address endometriosis.
A pilot program of ENPOWR launched in New York City in 2013 by EndoFound co-founder Padma Lakshmi in collaboration with the New York State Senate IDC, ENPOWR educated over 30,000 students in New York City and played a crucial role in the 2019 New York State Law for statewide availability of endometriosis materials.
Upon completion of ENPOWR, learners will be able to:
Define endometriosis, identify common signs and symptoms, and outline management and treatment options.
Identify and self-assess for abnormal menstruation symptoms.
Communicate effectively to medical professionals, friends, and family members about endometriosis.
Self-advocate when seeking care for menstrual-health-related concerns.
ENPOWR incorporates animated module videos that follow Maya's journey from high school, where she grapples with debilitating period pain and various other symptoms, to adulthood, culminating in her eventual diagnosis of endometriosis. This captivating storytelling approach delivers a relatable narrative, making intricate medical information accessible to a younger audience.
"This program represents a pivotal initiative in addressing a significant gap in menstrual health education, where teens have endured unnecessary suffering due to symptoms of a disease they may not have heard of, let alone understood that its symptoms are not normal. With most teens waiting until adulthood for a diagnosis, coupled with an unacceptable 7 to 10 years delay-to-diagnosis, early intervention is crucial," emphasized Dr. Tamer Seckin, co-founder of the Endometriosis Foundation of America. "By empowering young individuals with knowledge and fostering open conversations about periods, we aim to contribute to the early detection and improved management of endometriosis, bridging a long-standing gap in awareness and understanding among high school students."
"ENPOWR is the program I desperately needed in high school," shared Padma Lakshmi, co-founder of the Endometriosis Foundation of America. "Suffering from pervasive pain and bedridden several days a month with debilitating symptoms, I endured decades of headaches, nausea, lower back pain, digestive issues, moodiness, and bloating. I never heard of endometriosis until my mid- 30s—far too long to wait for a diagnosis and completely unacceptable. It's time to shatter the idea that painful periods are normal. We need to make sure today's youth know about endometriosis. It's time to break the silence—It's time to talk PERIODS! Period."
Engaging with the ENPOWR Project is a powerful way to raise awareness about endometriosis. Individuals can actively participate by taking the ENPOWR course to gain comprehensive insights into endometriosis, becoming an "Endo Educator" to share knowledge within their school and community, and signing up for their school to host an ENPOWR presentation. Following ENPOWR on social media is another effective way to stay updated and join the conversation. Lastly, spreading the word by telling a friend about ENPOWR amplifies the impact, creating a network of informed advocates dedicated to breaking the silence surrounding endometriosis.
The ENPOWR Project is available here: https://www.endofound.org/enpowr. For more information, please visit www.endofound.org.
Follow EndoFound @endofound and The ENPOWR Project @enpowr_endofound.
About the Endometriosis Foundation of America:
The Endometriosis Foundation of America (EndoFound) is the country's largest non-profit 501(c)(3) organization dedicated to increasing disease recognition, providing advocacy, facilitating expert surgical training, and funding landmark research for endometriosis. Engaged in a robust campaign to inform the medical community and the public, EndoFound emphasizes the critical importance of early diagnosis and effective intervention while educating medical professionals and their patients. To learn more or get involved, go towww.endofound.org/.
EndoFound Media Contacts:
Lauren Peteroy Kelly, Scenario PR
Lauren.peteroy@scenariopr.com
Jeanne Rebillard, EndoFound